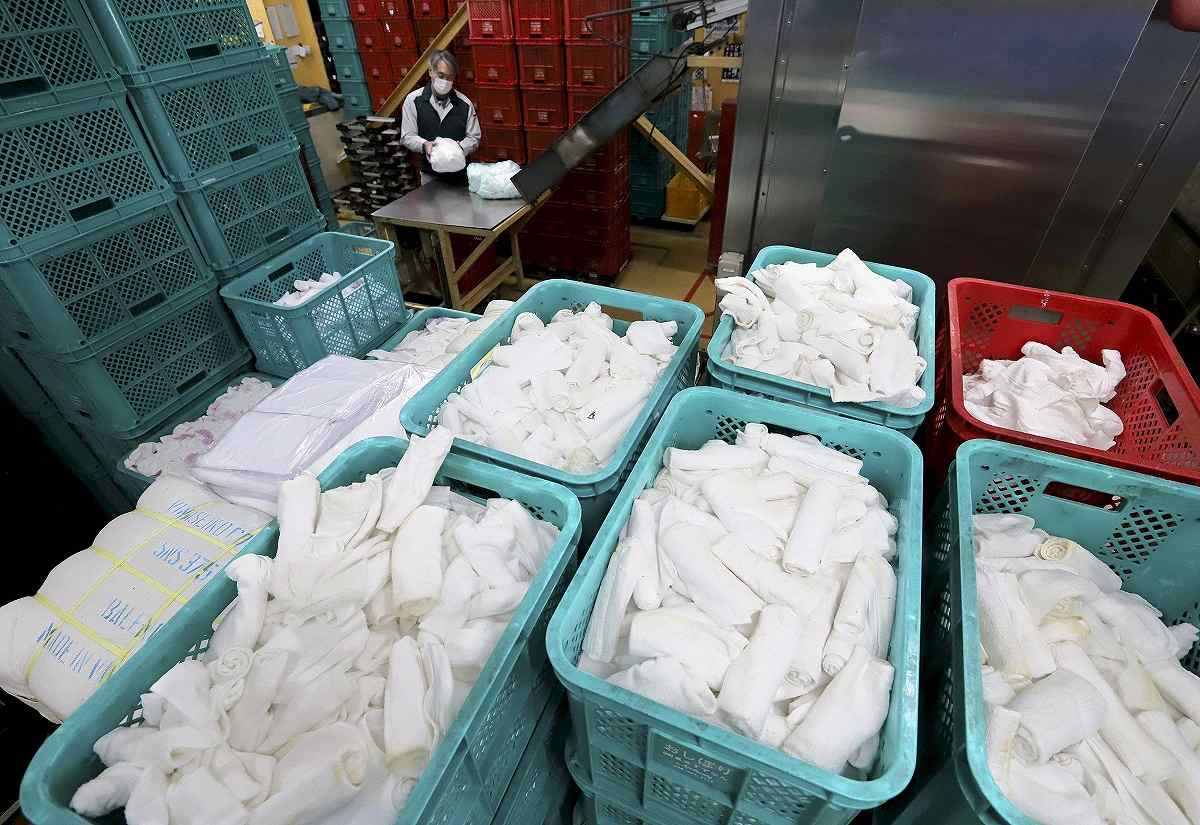 20:01 JST, February 5, 2021
Sales at restaurants and department stores are expected to decline for a long time, even more so now that the state of emergency in the Tokyo metropolitan and Kansai areas and other prefectures has been extended by one month. A number of companies in different businesses comprise the restaurant industry, from oshibori wet towel rental firms to wholesalers supplying ingredients. To survive in such a situation, companies are being forced to review their business strategies.
■ Piles of wet towels
At a factory of wet towel supplier Tokyo Suzuran in Warabi, Saitama Prefecture, crates of products were piling up Monday instead of getting shipped out that day. The company had been delivering about 150,000 wet towels a day. Then, coronavirus infections surged and many restaurants closed temporarily or cut their hours. Tokyo Suzuran's delivery volume dropped to about 70,000. In response, the factory has reduced operations from six days a week to four.
Tokyo Suzuran needs more work in order to protect the 85 people it employs, so the company since last spring has branched into washing restaurant staff uniforms and is considering taking orders for cleaning shoes and futons as well.
"Even if infections are contained, it'll take time for sales to recover," company president Takao Ishikawa said. "I'm worried about my employees. They're feeling anxious."
According to Tokyo Suzuran, the firm that makes the plastic wrapping for the towels is also suffering because of the pandemic. It has also heard of bankruptcies at detergent suppliers as well as its rivals supplying wet towels.
Sales in January at Tokyo Suzuran dropped to about 70% of those in the previous year.
"Some restaurants will go under because of the extension of the [state of emergency] declaration," a company official said, adding, "This will lead to a decrease in the use of wet towels, which will only make things more difficult."
A major food wholesaler in Tokyo that does business with restaurant chains and other eateries saw a sharp decline in sales to restaurants as telecommuting has become commonplace. Since last spring, the firm has been trying to cut costs by reducing the number of trucks it uses and reviewing delivery routes.
"If eggs and milk aren't sold, they will be disposed of, so we're reducing our purchases," a company spokesman said. "Sales will decrease, and if this situation continues, the impact on our business will become ever greater."
The government plans to support not only restaurants, but their business partners as well. The government will pay suppliers up to ¥400,000 in lump-sum payments to small and midsize businesses whose monthly sales have halved from the previous year in the regions covered by the declaration. Plans are in the works, but it is likely to take some time before payments go out.
■ Shorter business hours slash revenues
The performance of major restaurant chains has begun to deteriorate once again.
Sales at family restaurant Royal Host fell 31% in January from a year earlier, which was the lowest level since last May, Royal Holdings Co. said Monday. This is largely due to restaurants closing at 8 p.m. in the areas covered by the declaration.
Royal Holdings in December solicited voluntary retirements, and about 300 staff members — approximately 10% of its regular employee workforce — left at the end of January.
■ Consumption dries up
Department store sales have been sluggish for many months, and the outlook is grim. According to a preliminary report for January released Monday, sales at major department stores fell about 30% from a year ago. In an effort to avoid overcrowding, many stores refrained from having large-scale New Year sales events and discounts, which reverberated across the industry.
In a normal year, such a shock could be smoothed over by an expected rise in sales during the Chinese New Year holiday from late January to February. However, with few foreign visitors to the country, this bump in consumption has evaporated.
Add TheJapanNews to your Google News feed.