Atomic bomb survivor calls nuclear weapons 'absolute evil' at Vienna conference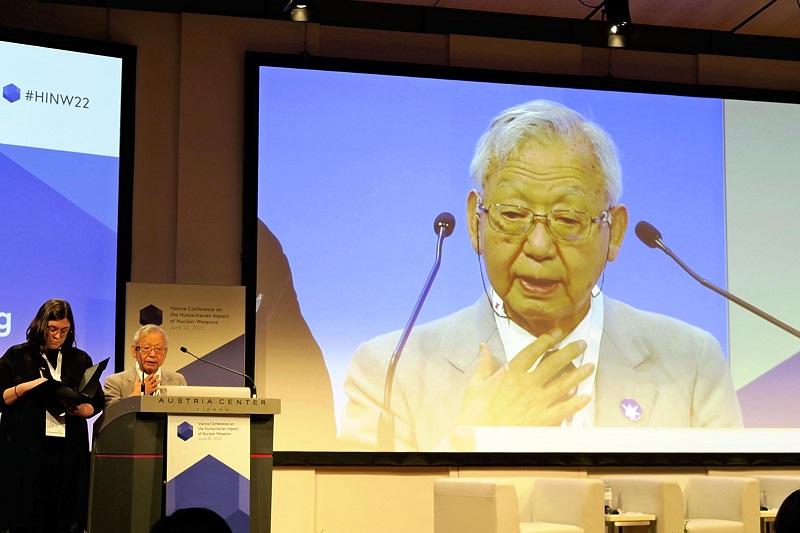 14:25 JST, June 21, 2022
VIENNA — Atomic bombs are "absolute evil" and inhumane, an 82-year-old Japanese survivor of the 1945 U.S. atomic bombing of Nagasaki said Monday in a speech delivered at an international conference hosted by the Austrian government in Vienna.
"The atomic bomb is a weapon of absolute evil that does not even allow us to live as human beings," said Sueichi Kido, secretary general of Nihon Hidankyo, the Japan Confederation of A- and H-Bomb Sufferers Organizations.
Kido was part of a Japanese government delegation taking part in the 2022 Vienna Conference on the Humanitarian Impact of Nuclear Weapons, held amid growing concerns that Russia might use nuclear weapons in its invasion of Ukraine.
The conference was scheduled ahead of the first meeting of parties to the U.N. Treaty on the Prohibition of Nuclear Weapons, which is also being held in Vienna from Tuesday through Thursday. Japan and the nuclear powers including the United States are not parties to the treaty.
Reflecting on his own experience, Kido emphasized the horror of the nuclear weapon that devastated and claimed the lives of so many people.
Kido was 5 on Aug. 9, 1945, when the United States dropped its second atomic bomb, this time on Nagasaki. The first was dropped on Hiroshima on Aug. 6. Kido was in front of his house in Nagasaki, about 2 kilometers from the hypocenter. Heat rays burned half his face. There were many charred bodies in devastated fields while survivors walked in a daze in search of water.
Shortly after, Kido suffered from high fever and pain in his gums, which he learned later had been acute symptoms of radiation exposure. After he entered a university outside Nagasaki Prefecture, he did not tell others that he was a hibakusha atomic bomb survivor due to fears of discrimination and prejudice.
His turning point arrived in 1990 when he took part in a meeting of hibakusha held in Gifu Prefecture, where he now lives. More than 100 people participated in the meeting and complained about physical and mental disorders caused by radiation exposure. There, Kido decided to squarely face the issue of atomic bombs as a member of the last generation to remember the bombing.
Many atomic bomb survivors at the time, including the late Senji Yamaguchi, revealed the parts of their bodies burned by heat and called for the elimination of nuclear weapons around the world. Their hope was that nobody would go through the hell they had suffered. Their efforts bore fruit when the Treaty on the Prohibition of Nuclear Weapons entered into force in January 2021.
This February, however, Russia invaded Ukraine and threatened the use of nuclear weapons. Along with resentment, Kido felt a fear of the possibility that the horrors of Aug. 9, 1945, would be repeated.
Kido has reached an advanced age and suffers from ill health, but he delivered his speech in Japanese on Monday for the sake of his fellow hibakusha.
"The treaty embodies the aspirations of hibakusha," Kido said, adding that he hoped for the meeting's success.
With the situation of Ukraine in mind, Kido concluded his speech by saying: "Hibakusha do not call for the use of force to counter force. Dialogue is the most important thing."
Add TheJapanNews to your Google News feed.