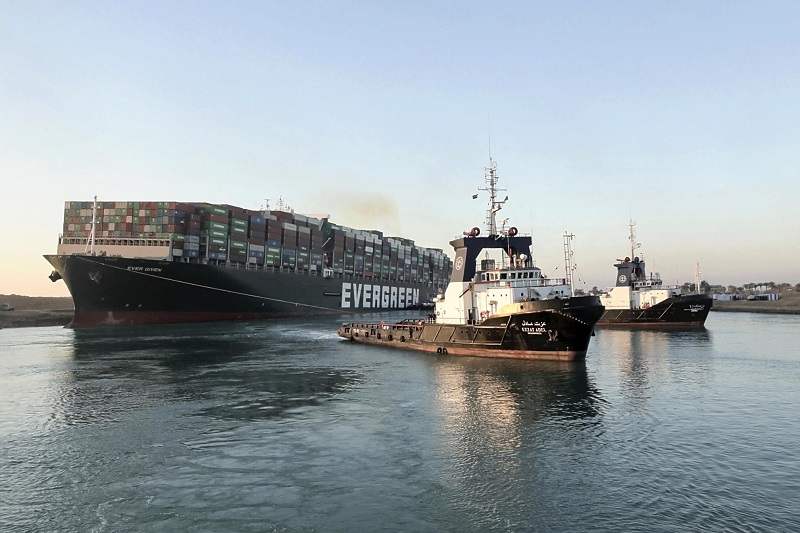 15:51 JST, June 23, 2021
CAIRO — In the wake of the March grounding of the Ever Given container ship in Egypt's Suez Canal, negotiations over compensation between the Japanese shipowner and the Suez Canal Authority have floundered.
Three months had passed as of Wednesday since the accident, but the ship, owned by Shoei Kisen Kaisha Ltd., remains moored for an unusually long period of time. The huge amount of damages sought by the canal authority have caused consternation in the shipping industry, according to sources.
Earlier this month, a major Japanese shipping company instructed the captain of a container ship that was approaching the Suez Canal: "We can't allow even the slightest accident. Remain vigilant as you navigate."
The shipping company was certainly thinking about the negotiations over compensation that Shoei Kisen was facing.
The Ever Given was refloated six days after the accident, but an Egyptian court ordered that the vessel be seized in April.
According to a Japanese law firm familiar with such incidents, a ship that causes an accident usually resumes operations swiftly, and negotiations over compensation are treated as a separate issue. It is customary for a ship to be released after taking measures such as posting a security deposit of a certain amount.
The canal authority, however, has maintained its hard-line stance, saying that it will not release the Ever Given until compensation is paid.
A hearing was scheduled to be held on June 20 in a local court to determine the legality of holding the ship. However, the court postponed the hearing to July, saying that it would respect the negotiations over compensation.
The problem is the gap in the envisioned amount. At first, the canal authority demanded $916 million (about ¥100 billion), taking into account the harm caused by rumors that it is dangerous for ships to pass through the Suez Canal.
At the end of May, the authority reduced the amount it was seeking to $550 million. But the Japanese Shipowners' Association said: "That's still enormous, unheard of for a maritime accident."
Both sides continue to lock horns over this issue. The UK P&I Club N.V., which provides shipowners with liability insurance, is said to have cited $150 million as an appropriate figure.
At the end of May, the canal authority claimed that the main causes of the accident were the vessel's speed and the captain's steering decisions. UK P&I Club has called for responsibility to be shared, citing the fact that a Suez Canal Authority pilot was on board the container ship.
According to CNN, the ship is still loaded with about 18,000 containers of furniture, bicycles and other items destined for Europe, worth about ¥70 billion in total.
Shipping companies may also have to pay for the losses, but there are concerns that this will hurt small and medium-sized firms that did not purchase adequate insurance, observers said.

Add TheJapanNews to your Google News feed.