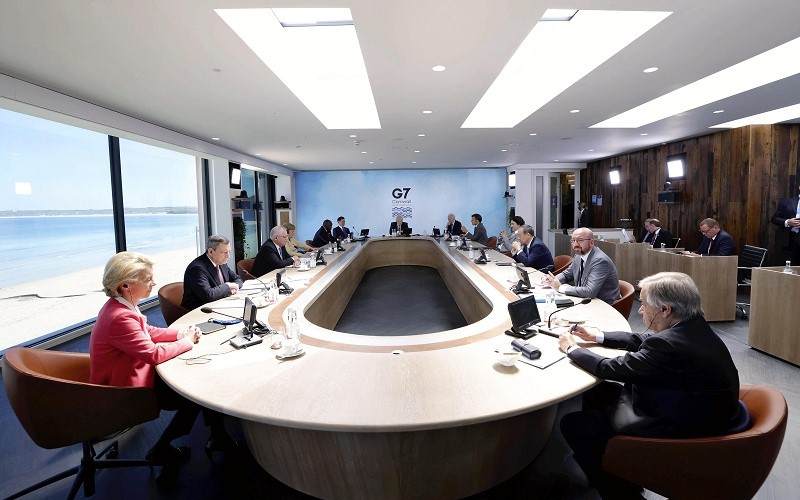 15:58 JST, June 15, 2021
CORNWALL, England / WASHINGTON — The leaders of the Group of Seven industrialized nations clearly defined a global framework that is split between democratic nations and authoritarian states such as China and Russia.
European nations shared the view that China and Russia must be countered, but there are subtle differences with the United States in their assessment of the situation.
Power of democracies
"Everyone at the table understood and understands both the seriousness and the challenges that we're up against, and the responsibility of our proud democracies to step up and deliver for the rest of the world. That's what the G7 is all about," U.S. President Joe Biden told reporters on Sunday after the Cornwall summit meeting.
Biden touted the power of democracies by enumerating a series of agreements made at the latest summit. These included the provision of 1 billion doses of COVID-19 vaccine and infrastructure investment to support developing countries, in order to counter China's Belt and Road Initiative.
The Biden administration is wary of China, which is swiftly catching up with the United States economically and militarily. Biden's stance is prompted by concern that international relations based on the rule of law, which are valued by the United States, Europe and Japan, will be threatened if China — which scoffs at the current international order, and freedom and democracy — continues to increase its influence in the world.
"Last time the G7 met, there was no mention of China. But this time, there is mention of China," Biden said.
Another serious threat to European countries is Russia, which is geographically close to them. The summit communique also condemned the suppression of human rights in Russia and its military pressure on Ukraine.
'Not hostile to China'
Distrust and concern have also grown in Europe over China's lack of transparency in handling the novel coronavirus crisis, as well as the human rights situations in Hong Kong and the Xinjiang Uygur Autonomous Region.
However, despite their broad agreement regarding China, there are differences in position between the United States and Europe.
At a post-summit press conference, French President Emmanuel Macron said the G7 is not a club hostile to China, while Italian Prime Minister Mario Draghi said Italy would not be tough on China.
During discussions on forced labor, Biden singled out China's attitude toward the Xinjiang Uygur Autonomous Region, but the communique avoided naming a country. In terms of infrastructure investment in developing countries, the United States immediately announced during the summit that G7 leaders reached an agreement on the issue, but establishing a specific framework was left up to a task force.
A senior U.S. government official who attended discussions admitted there were differences of opinion over how strongly G7 nations should oppose China's actions, leaving some worries over future diplomacy with China.
Minimum impact on economy
Japan's Prime Minister Yoshihide Suga joined Biden in taking a hard-line approach to China.
The communique included a clause that G7 nations "remain seriously concerned" about the situation in the East and South China seas as well as the Taiwan Strait. A Japanese senior foreign ministry official welcomed the clause, saying it was compiled "in agreement with Japan's arguments."
The Japanese economy is highly dependent on China, and the prime minister wants to minimize the impact on the economy while confronting China on matters of security.
Japan also hopes to maintain a certain level of cooperation with Russia, with which it has territorial disputes. However, Japan may face a difficult challenge if the United States and Europe deepen confrontations with China and Russia.
Add TheJapanNews to your Google News feed.