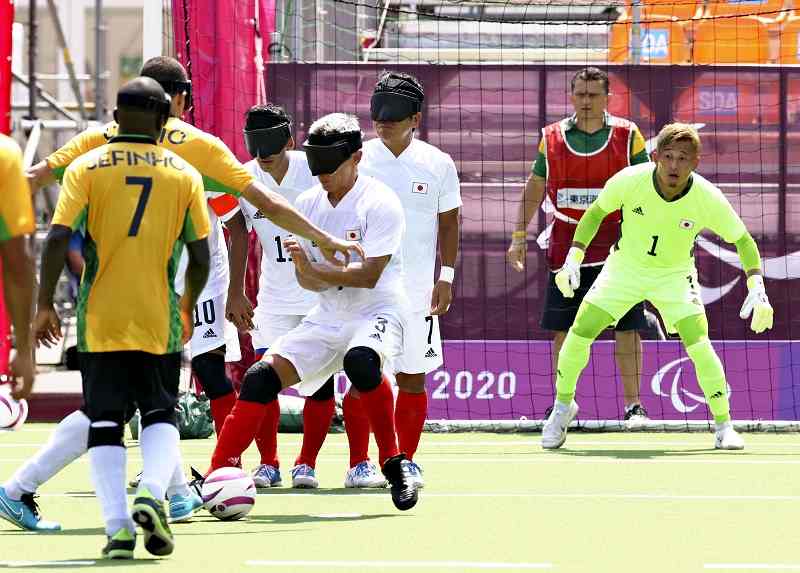 18:28 JST, August 31, 2021
Blind soccer is attracting rising attention in Japan, as the Tokyo Paralympics mark the first time a Japanese team has qualified for the competition.
A major characteristic of the sport, known as "football 5-a-side" in official Paralympic parlance, is that people with and without visual impairments can socially connect while playing. Many companies use blind soccer as part of employee training.
An association to promote the sport has made various efforts toward self-reliance, including charging spectators for admission — an unprecedented move in Japan for a sport for people with disabilities.
At an event for elementary and junior high school students to experience blind soccer, an instructor said, "Listen very carefully to sounds, and forecast the position of the ball."
The students, wearing eye masks, turned their faces left and right, searching for a ball that made sounds as it rolled.
The event was organized by the Okayama Devil Busters, a club team of the sport based in Okayama City. The classes have been held mainly at elementary and junior high schools.
Because of people's rising interest in the sport ahead of the Paralympics, 20 blind soccer experience events were held in 2019, double the number of the previous year.
A team for blind soccer has five players. There are four visually impaired players wearing eye masks and one goalie, who has at least some eyesight and may even be nondisabled.
The ball makes rattling sounds as it rolls. Also, players can hear instructions given by either their goalkeeper or a guide stationed behind the opposing team's goal.
Blind soccer began to be played in the 2000s in Japan, and now a Japanese championship event and league competitions are held.
In blind soccer events held in Japan, people without visual impairments can participate in games if they wear eye masks.
In the Japan championship event of the sport, which began with four teams, the number of teams increased to 22 in 2019. The number of club teams in the sport is now about 30.
The Devil Busters, established in 2015, has 15 members, three of whom are visually impaired.
Masaaki Kajino, 58, chief of the secretariat of the club, said, "I hope people with and without visual impairments will jointly give a boost to the sport."
Companies have increasingly been paying attention to the sport. In fiscal 2012, the Japan Blind Football Association (JBFA) began the Off Time Biz program, which is training for company employees.
The Tokyo-based nonprofit organization for promoting blind soccer has received a total of 500 applications for the program, in which about 20,000 people have participated.
In the training sessions, participants wearing eye masks are divided into groups. They do such things as figuring out the number of people gathered in a certain spot, and experience the challenge of getting others wearing eye masks to act in line with their instructions.
The JBFA aims for an ideal society in which those with and without visual impairments "coexist as a matter of course." Thus the JBFA devised the training program using blind soccer as a reference.
Sojitz Corp., a Tokyo-based major trading company, became a corporate partner of the JBFA in 2018. The company has introduced the training program for its employees.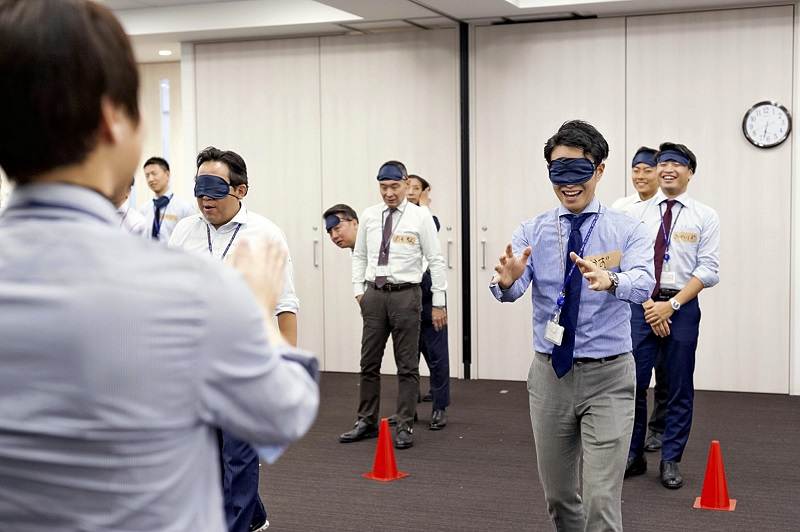 Masayuki Kobayashi, chief of the company's sustainability promotion division, said: "Participants can deeply understand how important communications are, and it creates an atmosphere in which they cooperate with each other as a team. I believe the activity is very meaningful and can lead to deeper understanding about people with disabilities."
Daring to charge fees
The JBFA aims to become a self-supporting sport organizer.
Revenues from its business activities, such as sponsor fees and those from the corporate training program, account for about 70% of total revenue.
In fiscal 2016, the business revenues amounted to about ¥150 million. The amount in fiscal 2019 was double that, at about ¥300 million.
When a world championship was held in Japan in 2014 and some other competition events were held inside Japan, the JBFA began charging admission fees for spectators.
The JBFA's managing director, Eigo Matsuzaki, 41, said: "It will take time before a society of coexistence is realized. By making the foundation firmer, we will be able to secure successors for the sport and earn our supporters' trust. I want to step forward to a more diverse society together with as many people as possible."
According to a 2016 survey by the Education, Culture, Sports, Science and Technology Ministry, about 60% of 48 associations of sports for the disabled needed aid to maintain their organizational structure, mainly because their financial foundations are weak.
Government subsidies to the sports associations increased ahead of the Tokyo Paralympics, but it is feared that such financial aid may shrink after the Games end.
Prof. Motoaki Fujita of Nihon Fukushi University said: "The JBFA's efforts show the possibility that sports for the disabled can also make a big leap, if the characteristics of the sports are better utilized. Long-term assistance is also necessary so that each of the sports associations can continue activities in stable ways."
Add TheJapanNews to your Google News feed.