Kumagai Following in Footsteps of Top Japan Captains in Her Own Way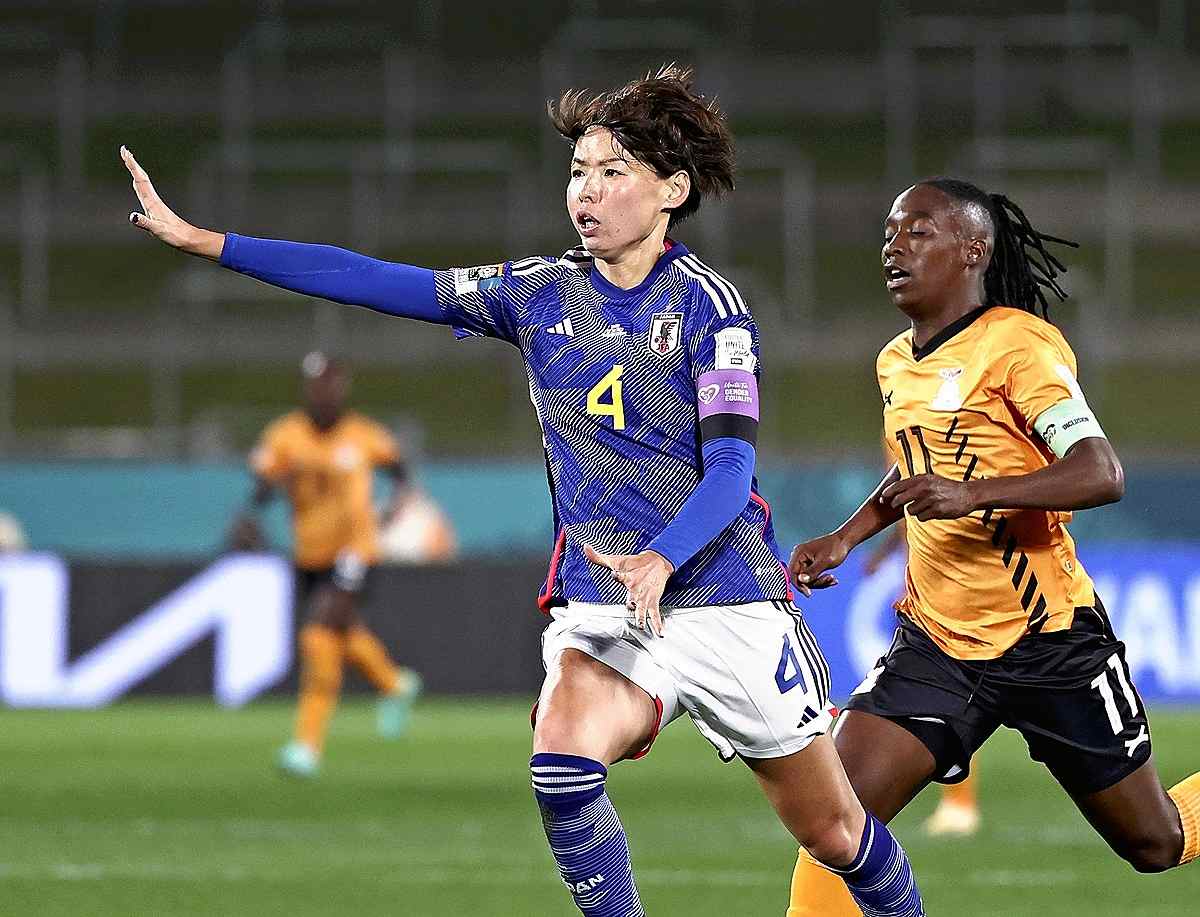 16:19 JST, July 23, 2023
HAMILTON, New Zealand — As Japan was pelting Zambia with five goals in its opening match at the FIFA Women's World Cup, team captain Saki Kumagai was providing leadership in a defensive line that shut out the African squad.
After the whistle blew ending Japan's 5-0 rout of Zambia in their opening Group C match on Saturday in Hamilton, New Zealand, Kumagai threw her fists in the air and shared hugs with teammates for whom she has become a source of inspiration.
"This is the best," the 32-year-old Kumagai said.
Kumagai is appearing in her fourth consecutive World Cup at this year's tournament cohosted by Australia and New Zealand, and is the only remaining member of the Japanese team, known as Nadeshiko Japan, that captured the nation's lone title in 2011 in Germany.
Having also established herself as a key player in Europe over the years, she has become a role model for the younger players.
"She has achieved all of my dreams," said 20-year-old Rion Ishikawa, 20, who is making her World Cup debut,
Kumagai is serving as team captain for a second straight World Cup, following in the footsteps of a pair of high-profile predecessors who have set the bar high.
Homare Sawa wore the captain's arm band when she starred in Nadeshiko's championship run in 2011, and Aya Miyama provided the leadership that resulted in a runner-up finish at the 2015 tournament in Canada.
But she has no intention of being a clone of the other two. "I can't be Sawa, and I can't be Aya, either," Kumagai said after being selected as captain. "I have to be myself."
Her objective is to form a team where all members feel free to express their thoughts without regard to age. During friendly matches leading up the World Cup, she could be critical at times as needed, but has kept the lines of communication open with and between the players.
"There is a leader at each position, and the team is coming together that has been formed by everyone," Kumagai said.
Kumagai encouraged her teammates before the match against Zambia, saying, "Have confidence in the way we have prepared." In the match, Kumagai coordinated the defensive line that totally kept Zambia's top striker from finding free space.
Kumagai said that at her age, she expects this to be her last World Cup, and wants it to last for awhile. "I want to play with this team for as long as I can," she said.
Her battle to reclaim the World Cup has just begun.
Add TheJapanNews to your Google News feed.