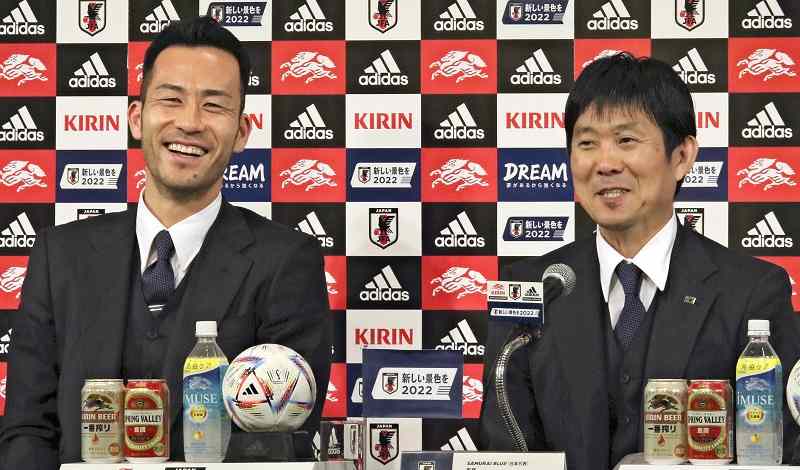 14:21 JST, December 8, 2022
The Samurai Blue may have been defeated by Croatia in the round-of-16 at the World Cup soccer tournament in Qatar, but they have won over their fans.
"The players showed that they can compete on the world stage through their individual strengths and their unity," head coach Hajime Moriyasu said.
Moriyasu was taking part in a press conference with captain Maya Yoshida at a hotel in Narita, Chiba Prefecture, on Wednesday after the team's return to Japan.
The men's team did not make it to the quarterfinals for the first time at a World Cup, which was Moriyasu's goal ahead of the tournament.
"We did not see a new landscape," Moriyasu said. "The players showed us a new era, but I believe we are only at the beginning of this new era."
The younger generation, including World Cup debutant Ritsu Doan, 24, contributed greatly to the team.
"Young players, even inexperienced players, can do it if they do train properly day after day," Moriyasu said. "They played with courage and confidence, and it would make me happy if young people of Japan understand that."
As Japan was knocked out by Croatia on penalties, the inevitable question came about how the penalty takers were decided.
"In our preparations, we had decided the team would make the decisions rather than just the head coach," Moriyasu said. "We didn't get the result we wanted, but the players took on the responsibility. Some part of me thinks that perhaps it would have been better if I had determined everything."
Yoshida said, however: "I don't think it was the wrong way to do it. All of this is just second-guessing."
Much attention has been paid to whether the Japan Football Association will retain Moriyasu, whose contract expires after the World Cup.
"We will have a thorough discussion at the technical committee and after that we will discuss the matter among several people before putting it to the board," said JFA President Kozo Tashima. "There will be no decision at this point."
Earlier Wednesday, the head coach and captain came out to an arrival lobby of Narita Airport along with other national soccer team members after their arrival from Qatar.
Shouts of "Bravo!" and "Good job!" serenaded the players when they appeared in the lobby shortly after 6 p.m. About 650 fans wearing Samurai Blue uniforms welcomed the team.
"I didn't expect that people will rejoice so much," Moriyasu said. "I feel so happy to be given such a warm greeting."
It was only Tuesday early morning Japan time that Croatia defeated Samurai Blue in the penalty shootout. In the group stage, however, Japan defeated heavyweights Germany and Spain, generating excitement among fans.
"I hope that as many children as possible will like soccer and that Japan's soccer will flourish," Yoshida said. "I'm happy to have played a part in that and hope to continue to do so in the future."
Add TheJapanNews to your Google News feed.