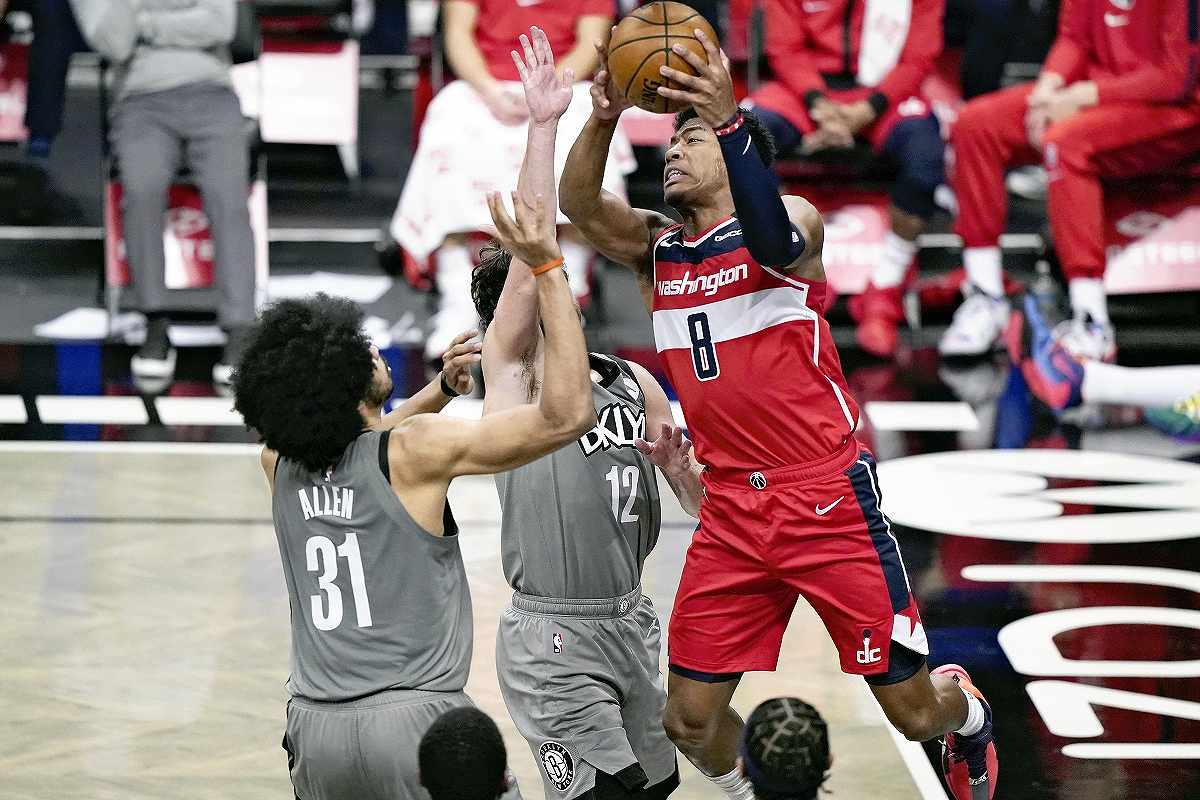 16:06 JST, January 9, 2021
A case of pink eye delayed Washington Wizards second-year forward Rui Hachimura's season debut, but he certainly had an eye-popping opening quarter in his first action this season at home on New Year's Eve against the Chicago Bulls.
The Wizards fell 133-130, dropping to 0-5 at the time, but Hachimura started off the game by hitting his first three shots, including two 3-pointers, and finished the first period with 10 points and a pair of rebounds in 6-plus minutes on the floor.
The 203-centimeter forward followed that performance up with 11 points and four rebounds the next day in the team's first victory of the season, a 130-109 blitz of the Minnesota Timberwolves on New Year's Day.
Hachimura suffered a groin injury last year and missed time, and then had to start off this season sidelined with conjunctivitis that rendered him with blurred vision and unable to work out. Instead of helping his teammates on the court, the 22-year-old found himself sitting at home and watching his teammates on TV.
"It was sad to see the first home game and the opener [from] my apartment because I was really looking forward to the season and I couldn't start with these guys," Hachimura said, not masking his frustration of the situation during a videoconference ahead of Washington's Dec. 31 matchup against the Bulls.
Expectations are through the roof for Hachimura, who became the first Japanese native to be drafted into the NBA when the Wizards grabbed him with the ninth pick in 2019. In fact, Wizards coach Scott Brooks pointed out a couple of areas the Gonzaga University product will show improvement.
"One is just the experience of just going through the league and going through all the teams' philosophies and players' tendencies," Brooks said. "And then just going around — the awe of being in every new arena, playing against some of the greatest players in the game — that will kind of fade away and then it's only basketball.
"And as far as strategy, I think his body has gotten better. He's a little more physical and he's going to be able to guard better, multiple style of players."
Brooks also pointed out that the team has helped Hachimura, who said he added about 5 kilograms of muscle in the offseason, change his approach to shooting.
"I think his shot is going to be better — he shoots with more arch. The angle that he shot with last year, it had to be a perfect shot from the 3 to give it a decent chance of going in. I think he's going to have a better chance now," said Brooks, who stressed that it'll also be important for Hachimura to keep firing even when the ball isn't going through the hoop.
"He's going to have to step up and shoot with confidence and stay with it if he doesn't start off shooting the ball well, because you're not always going to start off every game shooting well."
Hachimura, the product of a father from Benin in Africa and a Japanese mother, was on the quiet side last season, according to Brooks. But he is coming out of that shell in his second year.
Wizards starting center Thomas Bryant praised the up-and-coming player's verbal skills, saying the Toyama Prefecture native's on-court interaction with teammates is better.
"His communication has gone up," Bryant said. "His defensive efficiency has gone up, his offensive efficiency is super, super aggressive, and it helps us in so many ways.
"Rui has improved so much and you can see it from his game from in the summer when we played in L.A. together to what's he doing is now, is absolutely marvelous — it's great."
Said Brooks: "He's a quiet guy, he came to the country not too long ago. But I've seen it now — even before his injury — that he not as as reserved. Communication's big on defense, and we have a lot of quiet guys. And you can hear his voice more."
The Wizards are five games under .500, after falling to the Celtics 116-107 on Friday in Boston, to start this planned 72-game truncated regular season near the bottom in the Eastern Conference. The team, which traded for superstar Russell Westbrook in the offseason, has playoff aspirations with the addition of the one-time league MVP and nine-time All-NBA guard.
"I been a fan of the NBA since I was young, so he's a player I grew up watching," Hachimura said of Westbrook. "He has a lot of energy and being on the court with him, I see he's a strong leader and I think he good for us because he'll help us tighten things up."
Improved play on the defensive end of the court will be key for the Wizards, who allowed 141 points to the Philadelphia 76ers in a recent loss, but Hachimura's growth is certain to be a big part of Washington's push up the standings.
Add TheJapanNews to your Google News feed.