Tokyo: 100 Years of Urban Regeneration / Tokyo's Nihonbashi Area Transforming into Life Science Hub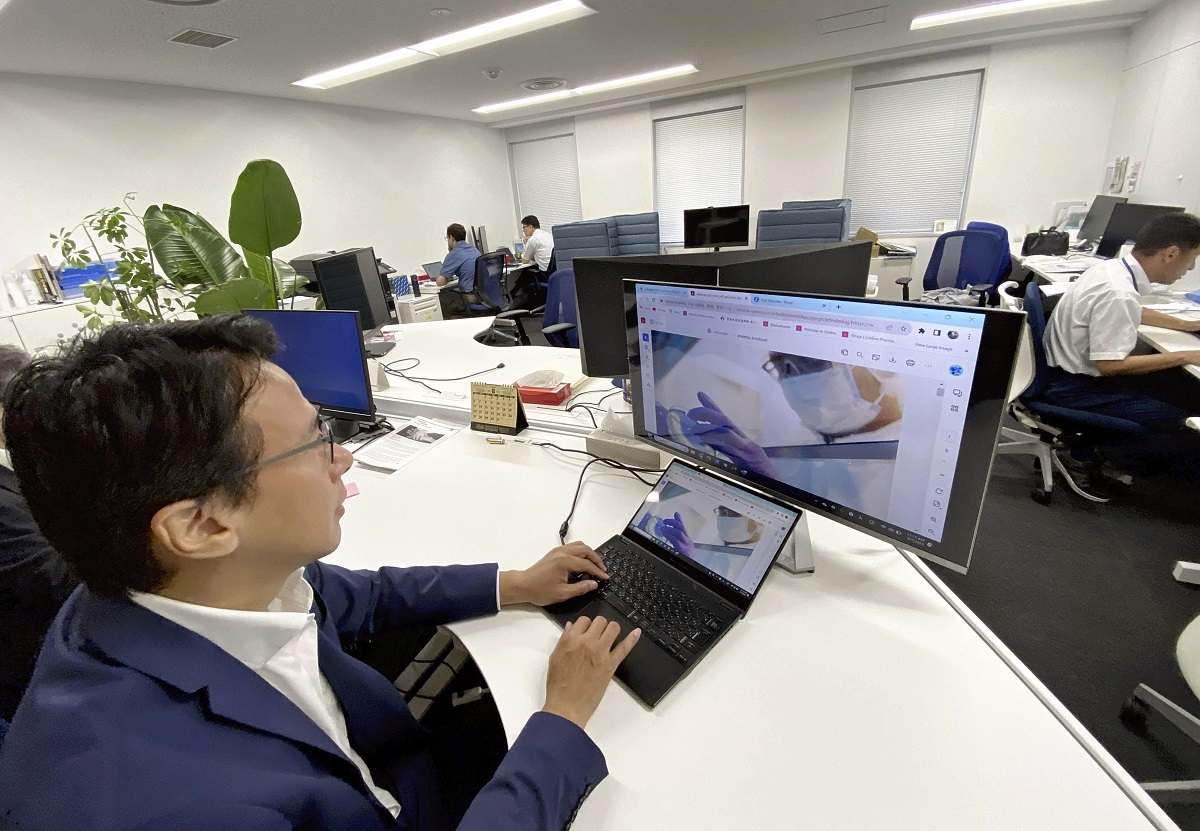 The Yomiuri Shimbun
1:00 JST, August 31, 2023
This is the fifth and final installment in a series looking at lessons that have been learned over the past 100 years since the Great Kanto Earthquake as Tokyo enters a new era of urban development.
***
The Nihonbashi area of Tokyo is developing into a major hub of the pharmaceutical industry.
Medical supply shops were concentrated in the area even during the Edo period (1603-1868). Currently, long-established drugmakers, such as Takeda Pharmaceutical Co. and Astellas Pharma Inc., plus foreign-capitalized companies, have head offices in the area.
Efforts are underway to invite startups and academic organizations into the area with the aim of encouraging innovation. Real estate developer Mitsui Fudosan Co. is playing a leading role in such moves.
Takashi Ueda became president of Mitsui Fudosan this year. He says that around 2012, when he was a vice head of the company's building department, which was in charge of redevelopment, he began to ask himself every day, "How should we revitalize the Nihonbashi area?"
His business mission in those years was to make the best use of buildings in and around the Nihonbashi area where the company's head office is located, through redevelopments of the area. The redeveloped sites were to have a total area of about 700,000 square meters.
The goal could not be achieved just by re-accommodating tenants of existing office buildings.
At the time, the nation was excited by news that Japanese researcher Shinya Yamanaka had won the 2012 Nobel Prize in Physiology and Medicine for his work generating induced pluripotent stem (iPS) cells. The reports gave Ueda an idea.
"Let's create new demand by making Nihonbashi a hub of life science industries," Ueda thought.
Similar hubs existed in other countries, and Yamanaka had spoken of the need for Japan to have one as well. The scientist felt a sense of crisis over what he saw as the inferiority of Japan's research infrastructure in comparison to that of other countries. He argued that united frameworks of industrial, academic and bureaucratic circles would be essential to foster an "all-Japan team" to compete with overseas rivals.
The following autumn, Ueda heard that a symposium to celebrate the first anniversary of Yamanaka's receiving the Nobel Prize would be held in San Francisco. He went there to directly request his cooperation.
Ueda asked the Nobel laureate, "Couldn't you let us join the all-Japan team that you have mentioned?"
From then on, Ueda and Yamanaka deepened friendly ties. In 2016, when Ueda established LINK-J, a network of relevant companies for exchange and collaboration, Yamanaka joined it as a special member.
Rental lab
Preparing a place and bringing companies together is not enough by itself to create anything new. A framework to connect as many people as possible is necessary.
LINK-J aims to introduce products that member companies are studying or developing, and to lure investment in them. The number of events held by LINK-J or member companies was about 500 in 2021 and about 800 in 2022.
Now the Nihonbashi area has become a place where such companies share each other's technologies and ideas, and a place for connecting them with actual business activities.
A business strategy that put so much importance on life sciences was initially questioned inside and outside of the company. Could it really make business grow?
Ueda, along with a subordinate more than 10 years his junior, visited universities and companies to look for entities that would move to the Nihonbashi buildings as tenants.
Startups did not have enough money to rent offices in central parts of Tokyo, and so Ueda introduced them to older buildings where rents were low. The startups could use them as business bases until they began to achieve significant growth.
Under Ueda's leadership, Mitsui Fudosan purchased old buildings one after another near the Nihonbashi area, and named them "life science buildings."
Currently, about 160 companies are accommodated in 15 buildings under this brand. Of them, 90 are startups with potential for rapid growth in the near future.
Opening a new research facility in central Tokyo was a challenge, as procuring land for the purpose was difficult. So Ueda prepared a rental laboratory in the Shin-Kiba area facing Tokyo Bay, as the area has many quasi-industrial zones.
LUCA Science Inc., a startup established in 2018, aims to develop new medicines for hard-to-treat mitochondrial diseases.
Rick Tsai, the American president of the company, said that he and his employees can be near business partners, and the company can rent a nearby building if the number of employees increases. He also said the situation would be much better if there were an environment in which personnel could move between major companies and startups, as they can in the United States.
Once in 100 years
Urban development tends to rely on the success of locally based companies. From the perspective of real estate companies that have a sense of responsibility for urban development, areas become vigorous if their tenant companies grow and more people spend their working hours in the areas.
Therefore, many real estate development companies are competing to create business hubs.
Tokyo's Shibuya area has been called Bit Valley because many information technology companies gather there. The Tokyu group aims to lure more IT companies into the area through redevelopment.
The Roppongi Hills zone of Tokyo became a symbol of success for young entrepreneurs. Mori Building Co. has continued redevelopment efforts to make nearby areas attractive places for international businesspeople to live.
Major urban redevelopment projects going on in central Tokyo are said to be on a scale seen once in 100 years. Developers aim to attract many people and companies to the redeveloped areas, thereby making them even more attractive.
In economically mature Japan, can Tokyo create industries that can fare well globally?
Traces of 1923 quake
The Nihonbashi bridge was first built in 1603, when Tokugawa Ieyasu established the Tokugawa shogunate government. The bridge was the starting point of five major travel routes in the Edo period.
The bridge repeatedly burned down, and was rebuilt each time. Today's bridge, the 20th to stand on that spot, is a twin-arched stone structure built in 1911. When the Great Kanto Earthquake struck in 1923, boats burned under the bridge, and traces of the fires still remain.
In those years, Japan was eager to catch up with Western countries, and a city-planning slogan was "Make Tokyo like Paris."
Then Tokyo City Mayor Yukio Ozaki wanted to keep some of the atmosphere of Edo and thus asked Tokugawa Yoshinobu, who had been the last shogun of the Tokugawa shogunate and ***was still alive when the bridge was built,*** to write the kanji characters for "Nihonbashi" in calligraphy. The result was reproduced on the bridge's metal nameplate.
Today, an elevated section of Metropolitan Expressway passes above the bridge. The road was built over the river to avoid the need to purchase land. The construction was hurriedly done to complete by the start of the 1964 Tokyo Olympics.
Partly because of local residents' desire to bring back a view of blue sky over the Nihonbashi bridge, the elevated expressway is to be moved underground starting in 2035.
After completion of the underground expressway section, riverside trails and commercial facilities will be built so people can better enjoy spending time along the riverside.
Add TheJapanNews to your Google News feed.