Tokyo: 100 Years of Urban Regeneration / Bay Area Skyline Changing As 'Towering Condominiums' Spring Up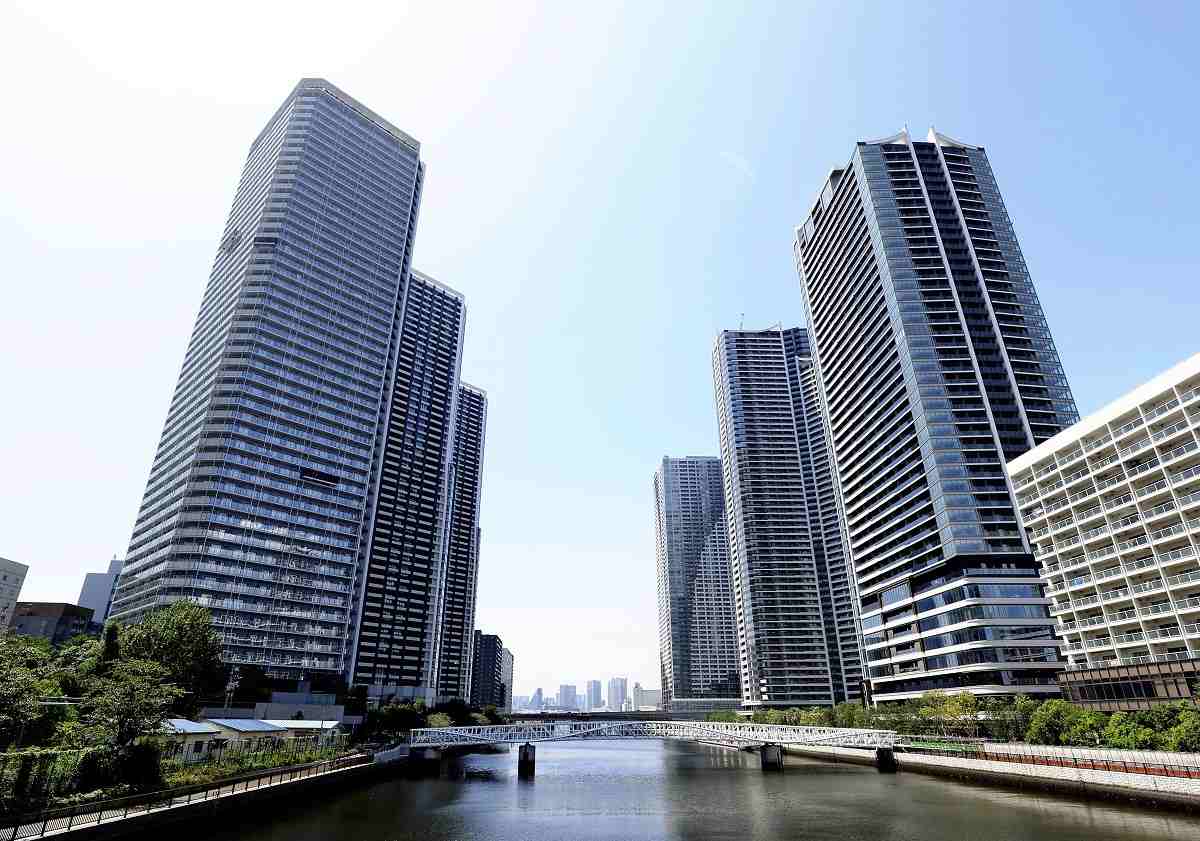 The Yomiuri Shimbun
20:00 JST, August 28, 2023
This is the third installment in a series looking at lessons that have been learned over the past 100 years since the Great Kanto Earthquake as Tokyo enters a new era of urban development.
***
The Tsukishima area in Chuo Ward, Tokyo, is nicknamed Monja Street, a name that comes from the many restaurants there serving monjayaki, a savory pancake cooked with various ingredients. Japanese and foreign visitors are drawn to the area's traditional atmosphere with shorter buildings, but so-called towering condominiums have recently sprung up as part of a redevelopment project, completely changing the skyline.
The name Tsukishima is written in kanji characters meaning "moon island." It is located on land created through reclamation during the Meiji era (1868-1912).
"Many young couples have moved into this area. It's been rejuvenated," said Kazuo Mikami, 77, who lives in the Mid Tower Grand, a 32-story condominium by Mitsui Fudosan Co. completed three years ago.
In the evening, elementary school students on their way home from school gather and chat at the condominium's atrium entrance. A tanabata star festival event is held each year to facilitate interaction among residents.
Mikami has lived in Tsukishima since he was young. A large factory of Ishikawajima-Harima Heavy Industries Co. (now IHI Corp.) used to stand nearby, and workers and their families lived in the area. The factory closed more than 40 years ago.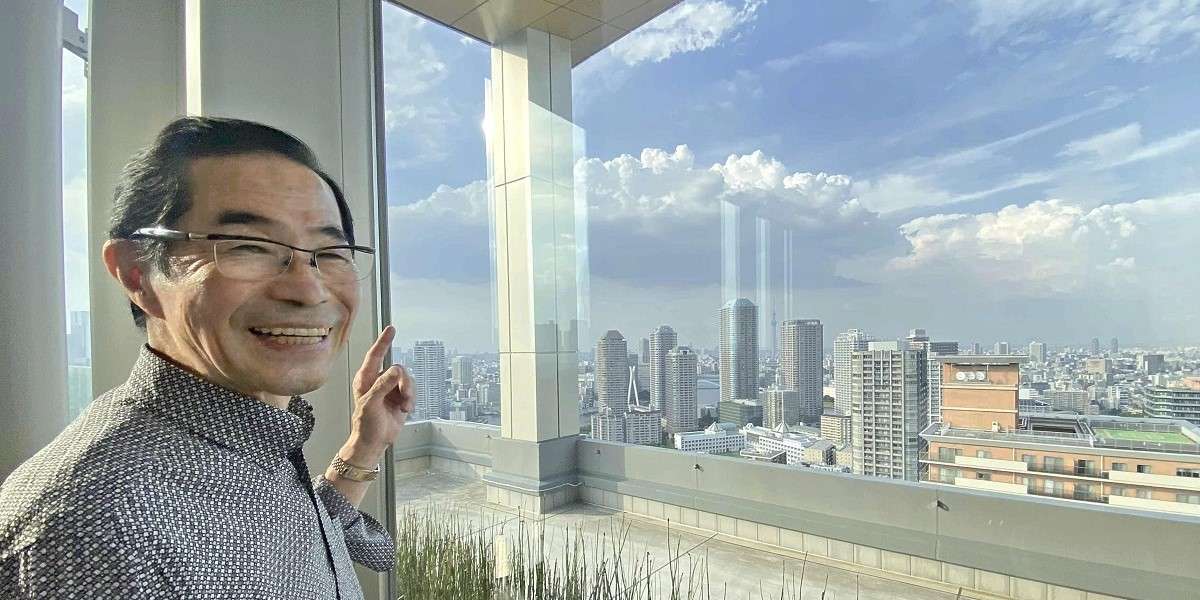 The local population, mainly people living in nagaya row houses in the area, is graying. The skyline suddenly changed with the construction of a towering condominium complex on the former site of the factory.
Most of the purchasers of the condominium units are young, dual-earning couples with a substantial household income. Their creditworthiness allows them to obtain mortgages for around ¥100 million.
Due to large-scale monetary easing, it is possible to get loans at low interest rates.
The area facing Tokyo Bay is transforming itself into a community of towering condominiums.
Toyosu was created on land reclaimed with the rubble of buildings destroyed in the 1923 Great Kanto Earthquake. The name Toyosu, which is written with two kanji characters meaning "rich" and "small island in a river or lake," was given to the reclaimed area in the hope that it would become an affluent district.
Its current population is nearly six times that of 20 years ago. This year, Toyosu was ranked first in a real estate company survey of areas where people with annual incomes of at least ¥10 million want to live.
The Harumi Flag condominium complex located in Harumi, on the site that housed athletes during the Tokyo Olympics and Paralympics, attracted many applications to buy its units, with more than 200 applications for the most popular one. When residents are allowed to move in — scheduled for 2025 at the earliest — a town with 12,000 residents will spring up.
Return to urban center
The Great Kanto Earthquake caused liquefaction damage to low-lying land. People did not want to live on reclaimed land, so housing development proceeded on the Tama Hills and Musashino Plateau from western Tokyo to Kanagawa and Saitama prefectures, where the ground is strong.
Real estate giants focused on the bay area largely because there were fewer suitable areas for housing development as a result of the rapid increase in population and advances had been made in earthquake resistance technology.
Changes in industrial structure and government administration were also key factors.
"In the 20th century, the manufacturing sector was the center of Japan's industrial structure. Most factories were located in the suburbs," said Hiroo Ichikawa, a professor emeritus specializing in urban policy at Meiji University. "With the development of the service sector, people realized that these locations were inconvenient for commuting.
"In the course of time, laws were revised to allow the construction of taller buildings, and people began to return to urban centers and also move into the bay area, which had been developed later than other places in urban centers."
The 1997 revision of the Building Standards Law made it easier to build towering condominiums. Aiming to stop the hollowing out of the metropolitan center, the Tokyo metropolitan government similarly revised its system. As a result, the bay area, which had been undervalued, attracted attention as "the last frontier."
For a condominium near the Imperial Palace in Chiyoda Ward, the price per tsubo (3.3 square meters) is about ¥10 million, so a 60-square-meter unit would cost nearly ¥200 million.
The towering condominiums in Harumi Flag costs about ¥4 million per tsubo.
The costs are different among Chiyoda, Chuo and Minato wards, all in central Tokyo. When choosing one of these three wards, the only option in terms of price is the bay area, a major real estate sales representative said.
However, there are some issues with the towering condominiums there; one is poor transportation. There are few railways compared to the size of local population, causing crowded trains during rush hour.
Second, the area is separated from the city center by rivers, so it could become isolated in case of a major natural disaster.
Third, although other locations have a similar problem, there is always the risk that elevators may go out of service in a power outage, which is especially hard on elderly people living on higher floors.
Masayuki Takemura, a visiting professor at Nagoya University's Disaster Mitigation Research Center, is concerned about the future of towering condominiums.
"Maintenance and repair fees for towering condominiums are relatively high, which puts a heavy financial burden on residents," Takemura said. "As both the buildings and residents grow older, they will probably follow the same path as 'new towns' in the suburbs that were developed during the period of rapid economic growth in the 1960s and 1970s. They have a greater risk of becoming dilapidated than ordinary condominiums."
Yono House: First towering condominium
The Fire Service Law defines a building over 31 meters high as a "high-rise." Accordingly, condominiums with 10 or more floors above the ground are generally called high-rise condominiums.
Condominiums with 20 or more floors above the ground and measuring 60 meters or taller are considered a "towering condominium."
According to Sumitomo Realty & Development Co., the Yono House condominium complex in Saitama includes Japan's first towering condominiums. The complex was completed in 1976, including 21-story condominiums that are 66 meters high.
Its about 460 units are still in use after nearly 50 years.
The project to build the complex was started in anticipation of a railway opening nearby. An about 120-square-meter unit for a family on the top floor was priced at about ¥41 million. The price was "quite expensive for the time," according to a spokesperson for the company.
Before many towering condominiums were built in the 2000s, the highest was Elsa Tower 55 in Kawaguchi, Saitama Prefecture. Completed in 1998, it is about 185 meters high.
The current tallest is Toranomon Hills Residential Tower in Minato Ward, Tokyo, which is about 220 meters tall.
Add TheJapanNews to your Google News feed.