Raising Naomi Osaka, as Told by Her Mother / Emotional Milestones Included Encounter with Idolized Role Model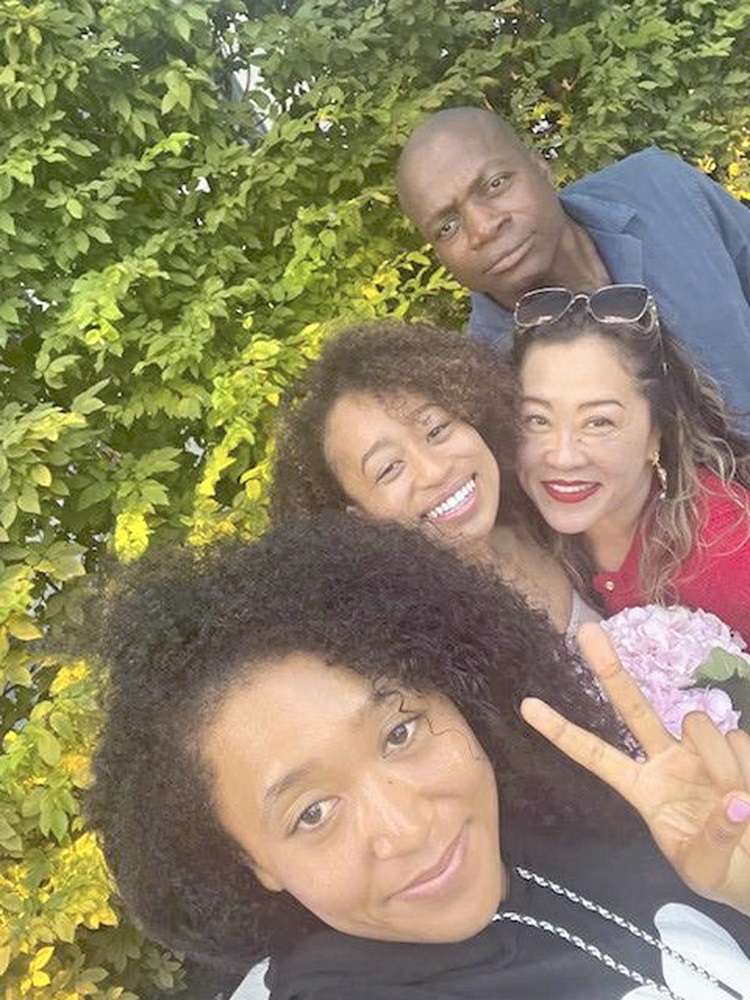 The Yomiuri Shimbun
19:37 JST, August 12, 2023
This is the final installment in a three-part series of interviews with Tamaki Osaka, mother of former world No. 1 and four-time Grand Slam tennis champion Naomi Osaka, on the tribulations of raising a future star in a cash-strapped biracial household.
***
Naomi Osaka had just won her first tournament as a pro, but that wasn't what was causing all of the excitement when her mother called to congratulate her.
It was March 2018, and a long-awaited moment had come for Osaka and her family. She had been drawn to face Serena Williams, her childhood hero and the undisputed queen of tennis with 23 Grand Slam titles, in the first round of her next tournament, the Miami Open.
And she won.
"If it weren't for Venus and Serena Williams, we would never have taken up playing tennis," said Naomi's mother, Tamaki. "Those two women had always been a beacon of hope for us."
Tamaki had decided long ago that she would put daughters Mari and Naomi — born to Tamaki and her Haitian-American husband, Max — on a path to becoming professional tennis players. Mari was 3 at the time, and Naomi still in a stroller.
It was not easy. "We experienced a lot of racial harassment that made us realize tennis is a sport for white people," Tamaki said.
Sometimes while they were practicing for long hours on a public court in a park, the police would be called. At junior tournaments in which players made their own calls, balls that they hit onto the line were inevitably declared out.
There was verbal abuse as well, with remarks like "there's no way you can succeed."
"Each time, we bonded together and became stronger as a family," Tamaki said.
Later in 2018, Naomi faced Serena Williams for a second time, this time in the final of the U.S. Open.
During the match, Williams received warnings and then penalties for violations, such as when she smashed her racket on the court in frustration. A tense, strange atmosphere set over center court at the Billie Jean King National Tennis Center in New York.
Osaka's victory, which made her the first Japanese player to win a Grand Slam title — and at the age of only 20 — was marred when the awards ceremony began with spectators expressing dissatisfaction with calls that went against Williams.
But the tension suddenly dissipated when Naomi bowed during her on-court interview and said: "I'm sorry it had to end like this," adding, "I'm really grateful I was able to play with you [Serena]. Thank you."
Her humility and honesty turned the boos to applause.
Watching it all from the family box, Tamaki found it hard to breathe. She started to take deep breaths while continuing to look at the court.
"Naomi is very shy, as she didn't have many opportunities to talk to people outside of the family. I think that even though she was extremely nervous at the time, she was able to convey her straightforward respect for Serena," Tamaki said.
Actually, Tamaki had rarely seen her daughters' matches from the stands. It had been impossible for her to accompany them to tournaments until, at their repeated request, she quit the company where she was working in Miami in the spring of 2018.
In an interview several years later, Naomi expressed her gratitude to her mother, saying she had played tennis so seriously for many years because she wanted her mother to be happy and "to stop working."
From the time her daughters were very young, Tamaki worked to protect them, such as walking on the side of traffic to keep them farther away from moving vehicles. She was also very careful about making sure they had a balanced diet, giving them broccoli and salmon as regular snacks.
Taking a clue from legendary sprinter Usain Bolt, she made original dishes using yams, which are said to improve athletic performance.
Tamaki said: "I thought about my children 200%, and dedicated myself to doing what I thought I must do for them. My daughters naturally learned what they needed to do to raise their living standard."
At the 2020 U.S. Open, Naomi wore masks as a form of protest against racial discrimination that bore the names of Black people who had been killed in racially motivated incidents. The next year, she refused to attend a press conference as an appeal for consideration for the mental health of athletes, among her heightened efforts to influence society through her words and actions.
"The protest with the masks was Naomi's idea, and she was ready to face criticism. I'm certain it was based on her childhood experiences," Tamaki said.
Mari, who had mutually developed into a pro tennis player with Naomi, retired in 2021. In 2022, Tamaki wrote a book describing her own life, titled "Tonneru no muko e" (Beyond the tunnel), which was published by Shueisha Inc.
"Things may feel hard now, but if you keep moving toward your dream, you can make it — I want to convey this message to mothers raising children," she wrote.
Naomi entered a new stage of her life by becoming a mother when she gave birth to her first child in July.
Tamaki moved to Los Angeles, where Naomi lives, several months ago, giving them quality time as a family for the first time in a long while.
"I hope she will always show her child how she lives earnestly, with regard to tennis and everything else," Tamaki said. "I hope she'll put highest priority on what she can and must do to give her child the best possible future."
Add TheJapanNews to your Google News feed.