Amazing Nippon / Tourists to Japan Enjoy Bento Making Classes, Cookware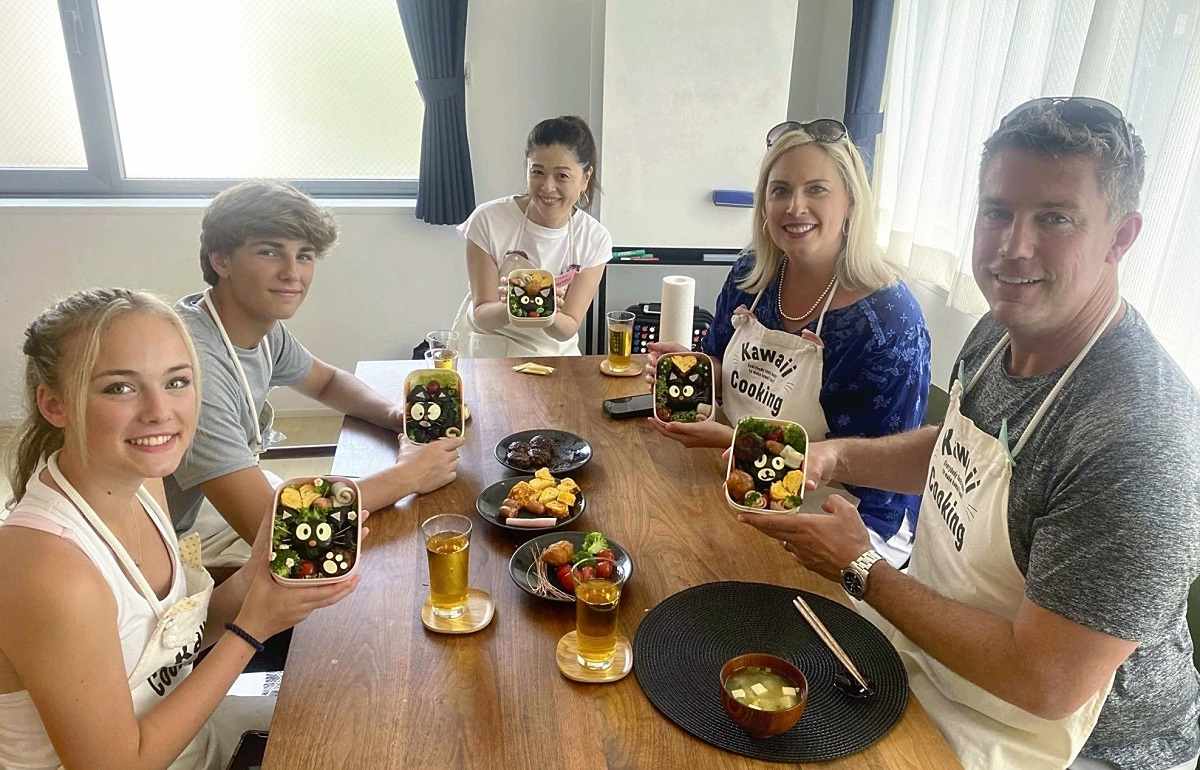 The Yomiuri Shimbun
13:20 JST, August 6, 2023
This is the second installment of a series exploring places that attract overseas visitors, allowing them to deepen their knowledge of Japan's charms.
***
At Kawaii Cooking, a cooking school aimed at foreigners, Jonathon Pentecost, 47, and his family, made kyara-ben character bento that had cat-shaped onigiri rice balls and other decorative touches, in Tokyo last month.
The Pentecost family was visiting Japan from the United States for the first time. They wanted to experience Japanese culture, so instead of only visiting tourist spots, they decided to take the class. Pentecost said his family all love Japanese food, and noted that the word "bento" even appears in English dictionaries, adding that there is also a highly rated Japanese bento boxed meal shop in New York.
On the day, the Pentecost family made not only onigiri but also various okazu, or main and side dishes. Under the instruction of school operator Kaoru Nakazawa, they made tamago-yaki rolled omelets with a specialty pan they had never seen before. They also used sausages and chikuwa — a tube-shaped fish cake — to fashion morsels in the shape of a snail, taking around 90 minutes to complete their bentos.
Making a kyara-ben is very different from preparing a typical American lunchbox of, for example, a ham and lettuce sandwich, fruit and potato chips, said Jonathon's wife, Sherry, 48. Their 16-year-old daughter Paisley, who enjoys cooking, said that making such gorgeous bento may only be possible for dexterous Japanese people.
Nakazawa started the school in 2019. The coronavirus pandemic hit soon afterward, but this spring, the school has had an increasing number of participants. In May, more than 100 foreign tourists took cooking classes that teach how to make dishes such as ramen, sushi rolls and gyoza dumplings, in addition to kyara-ben.
"Japanese food is gaining recognition around the world, and more and more people from overseas want to enjoy not only eating it but also making it," Nakazawa said.
Cookware, dishware popular
Many foreign visitors who are interested in Japanese cooking visit Kappabashi Dougu Street in Asakusa, Tokyo, and Sennichimae Kitchenware Street in Chuo Ward, Osaka, which have many specialty stores selling cooking utensils and dishware. The Kappabashi area has about 160 stores along the street extending 800 meters.
Adi Zanari, 30, who was visiting Japan from Indonesia last month on a business trip, said that he came to love sushi through eating at a Japanese restaurant in his home country. He bought a sushi-oke, a round, shallow wooden tub for preparing sushi rice; and a rice scoop in the Kappabashi area. Zanari, who enjoys cooking as a hobby, said: "When I return to my country, I want to make salmon and tuna sushi for my family. My home will be like a Japanese restaurant."
An official of the Kappabashi Dougugai Promotion Association says that popular items among foreign visitors are Japanese kitchen knives, confectionery and breadmaking utensils, and Japanese dishware. Donburi rice bowls with lids are also popular as tourists enjoy the surprise felt when lifting the lids of the bowl. "Thanks to the weak yen, sales per customer have been increasing, which indicates the popularity of Japanese food overseas," said the official.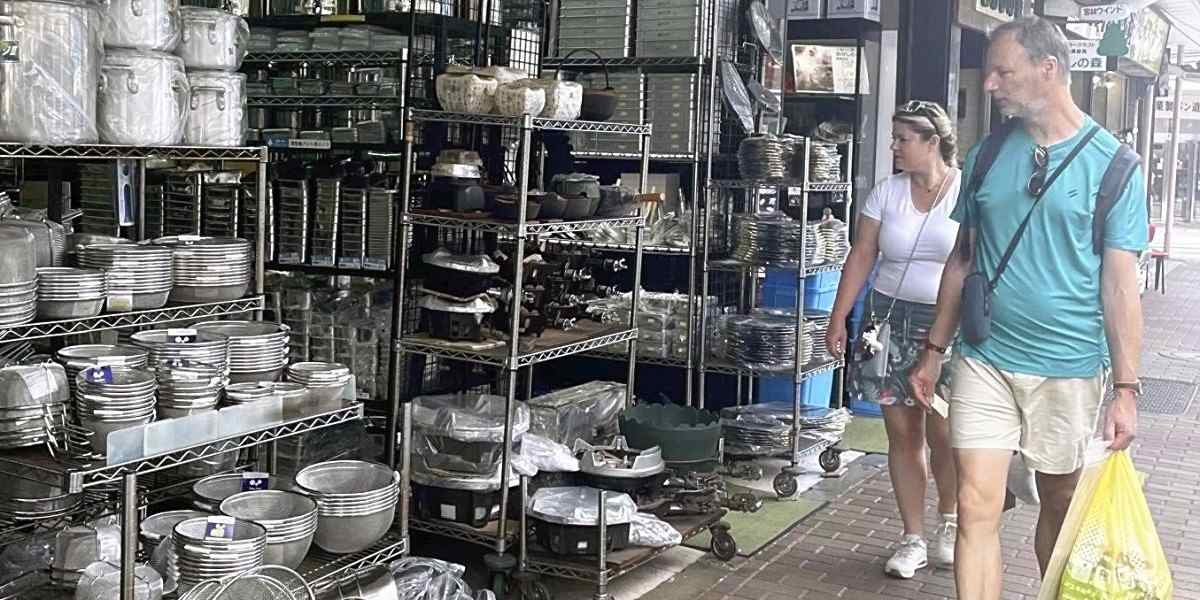 Manga school thriving
Due to the global popularity of Japanese manga and anime, Manga School Nakano International in Nakano Ward, Tokyo, welcomes many foreign tourists, including from the United States, France and the Philippines.
The classes are two hours long, with as many as eight held on some days and two English-speaking professional manga artists serving as instructors. Participants draw characters based on the instructors' samples or paste screentone, a manga drawing material, onto backgrounds and characters' clothes.
Instructor Nao Yazawa said: "All participants take the classes with great interest. I hope our school contributes to increasing the number of manga and anime fans."
Add TheJapanNews to your Google News feed.