Amazing Nippon / Digital Art Museum in Tokyo Enchants Overseas Tourists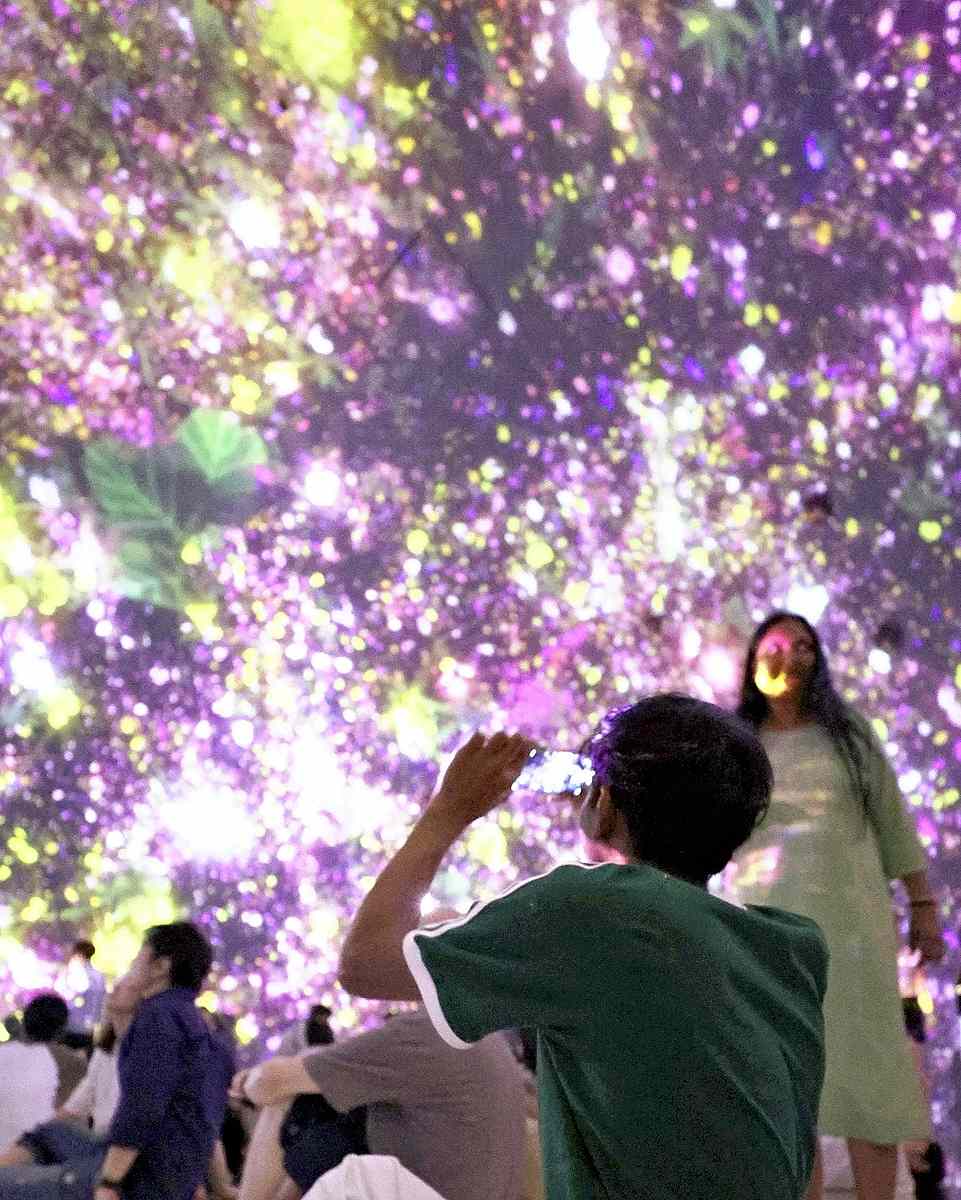 The Yomiuri Shimbun
17:48 JST, August 5, 2023
Foreign tourists have started returning to Japan following the easing of COVID-19-related travel restrictions. In addition to such celebrated locations as Kyoto and Asakusa, other places, too, have been attracting overseas visitors, allowing them to deepen their knowledge of the nation's charms. In this first installment of a new series titled "Amazing Nippon," we explore a number of such spots to help fathom this recent trend.
※※※
"Wonderful," enthused Sam Salmond as he walked through a sea of virtual orchids "hanging" from the ceiling at a digital art museum in Toyosu, Tokyo. Enveloped by an accompanying fragrance and bedazzled by mirrored reflections, the New Yorker reveled in the new experience in which he "became one with the flowers."
Meanwhile, in a different room, Robin Mukherjee, 48, of the United Arab Emirates — accompanied by his wife — enthusiastically snapped photos of flickering light-induced 3-D images. Mukherjee expressed strong enthusiasm for the teamLab Planets venue, which specializes in computer-generated art, saying he was "unsure what would happen next."
I visited the facility in mid-July and found it crowded with non-Japanese, to the extent that I momentarily wondered if I was still in Japan.
According to museum operations head Satoshi Fujihata, about 80% of the people who patronize the facility are overseas tourists. In April alone, about 170,000 foreigners visited the facility, a record high for the venue, which opened in 2018.
About 1.95 million foreign people visited Japan in April, giving rise to the possibility that nearly 1 in 10 tourists visited the museum.
"There aren't many art museums that encourage visitors to use all five senses to appreciate the exhibits," opined Fujihata, when asked what attracts overseas tourists to the museum.
The museum's exhibits were created by teamLab, a pioneering digital art collective. The group's increasing exposure at overseas exhibitions has prompted more and more tourists to seek out teamLab works during visits to Japan. The group's creations are highly distinctive, ranging from walks amid virtual flowers or through watery spaces, to interactive works that visitors can actually touch.
Some 70% to 80% of overseas visitors reportedly buy tickets to visit the facility before leaving for Japan. Tanya Bagley, 52, from Australia figures among such people. Bagley raved about the museum, lauding the exhibits as unique and beautiful, adding that she very glad she had made the visit.
Meanwhile, Toyo University Prof. Miho Masuko, an expert in art and tourism, said, "Works embracing the concept of art as an immersive experience coupled with [the museum's] liberal approach — including no restrictions on visitors taking photographs — resonate with young people who excel in the use of social media."
Images and videos featuring museum exhibits have become viral internet hits, creating a new legion of fans. The museum also has welcomed luminaries from the world of entertainment, including Canadian singer Justin Bieber and Jennie of South Korean girl band Blackpink. When such artists upload photos from the museum to social media fans tend to follow suit.
Nature-cradled museum
The Hakone Open-Air Museum in the town of Hakone in Kanagawa Prefecture, has proved a hit with tourists, too.
The facility, which makes the most of its beautiful natural surroundings, exhibits about 120 works by leading modern and contemporary sculptors from home and abroad in an outdoor space that spans some 70,000 square meters. About one in three visitors to the museum hail from overseas.
In a 2020 Tripadvisor ranking, the museum placed third among non-Japanese visitors, trailing the Hiroshima Peace Memorial Museum in Hiroshima and the Fushimi Inari Taisha shrine in Kyoto.
Visitor reviews have been very positive, with some saying they enjoyed viewing the sculptures while strolling around the facility, while others enthused about taking a foot bath while looking at the beautiful gardens.
2 million tourists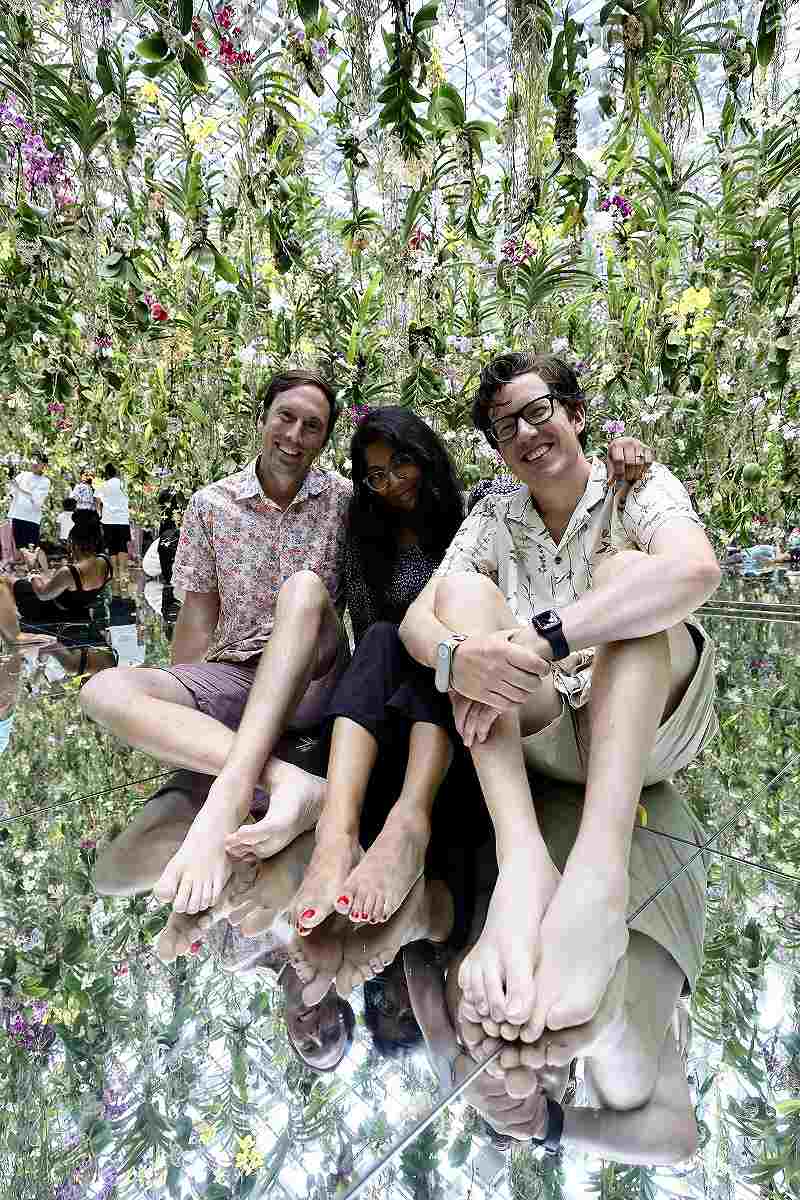 According to the Japan National Tourism Organization, about 2.07 million people visited Japan in June, surpassing the 2 million mark for the first time since January 2020 and marking a 72% recovery from the pre-pandemic figure for June 2019.
Travel expenditure per foreign tourist for the April-to-June period reached ¥204,509, up 32% on the same period for 2019, according to preliminary figures of the Japan Tourism Agency's Consumption Trend Survey for Foreigners Visiting Japan.
According to the JTA data, tourists from Britain tended to spend more on accommodation and travel expenses, French visitors splashed out on dining and drinking, Australians spent a lot in the service industry, and visitors from China loosened their purse-strings for lavish shopping sprees.
Add TheJapanNews to your Google News feed.