Emperor in Reiwa Era — 1st Goodwill Visit / Emperor's Knowledge of Water Key to International Amity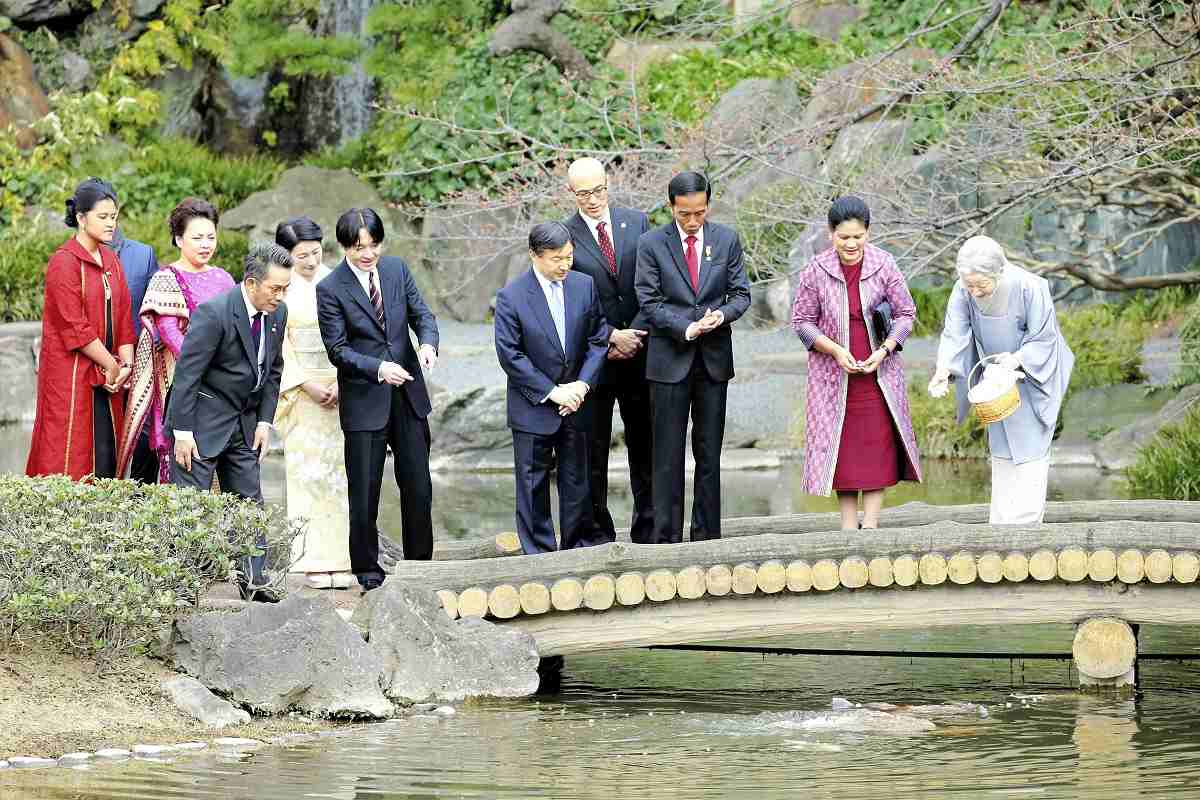 The Yomiuri Shimbun
6:00 JST, June 16, 2023
This is the second installment in a series that looks into royal international visits in the current Reiwa era.
***
The upcoming visit of the Emperor and Empress to Indonesia marks the start of international goodwill efforts conducted in "Reiwa-era style," drawing on the Emperor's knowledge of water research.
"I think His Majesty is envisioning friendship and goodwill through water," said Prof. Kenzo Hiroki of the National Graduate Institute for Policy Studies, who serves as an advisor on the Emperor's water research.
Hiroki said he was most impressed by the Emperor's commemorative lecture, delivered online, to the Asia-Pacific Water Summit in Kumamoto in April last year.
In the speech, the Emperor said that in Japan and elsewhere in the Asia-Pacific region, including Indonesia, people's appreciation and awe of water had led them to view it "as a means to purify their minds and hearts and even a subject of their worship."
"The deep relationship between people and water over the ages and distance seem to have formed a stable foundation for sympathy and solidarity for all people in this region," he said.
During the trip to Indonesia from Sunday, the Emperor will visit the Pluit drainage pump station. This is a flood control facility in Jakarta that stores rainwater and river water in ponds and releases it to the nearby ocean using pumps when the water level rises.
The station was renovated with financial assistance from Japan, which like Indonesia has long suffered from flooding damage and tsunami.
A senior Imperial Household Agency official said the Emperor's visit would "become an opportunity to turn people's interest toward water issues and raise their awareness of disaster prevention."
Lifetime's work
In using his life's work in international exchange, the Emperor is following in the footsteps of his father, who specializes in ichthyology.
When the Emperor Emeritus visited Indonesia in 1962 as crown prince, he saw a long-finned Indonesian carp and suggested crossbreeding with Japanese nishikigoi carp. He later gave Indonesia some of the crossbred carp, called hirenaga nishikigoi and born at the Saitama prefectural fisheries experiment station, and also released some in a pond at the Imperial Palace.
In 2015, the Emperor Emeritus invited Indonesian President Joko Widodo and his wife to the pond, where they enjoyed feeding the carp with the current Emperor, who was crown prince at that time.
In his visit to Japan in July last year, Joko reminisced to the Emperor — who had moved his residence to the Imperial Palace — about feeding the carp and said they must have grown well under the Emperor's care.
Hirenaga nishikigoi still serve as a testament to the friendship between the two countries.
Good communication skills
For the Empress, who is being treated for adjustment disorder, this will be her first goodwill visit to a foreign country in 21 years, except for attending royal coronations and funerals overseas. An aide to the Empress said she would support the Emperor with her witty conversation, a skill acquired during her time as a diplomat.
The Empress demonstrated her conversational abilities at last year's meeting with Joko and his wife Iriana. The Empress struck up a conversation with Iriana saying, "You're from Solo [on Java], aren't you?"
Iriana nodded and said, "Speaking of Solo, do you know a song called 'Bengawan Solo?'" and started singing the tune. The Empress quickly responded that she did know it, and their conversation turned to Indonesian culture.
"Bengawan Solo" is a famous Indonesian song written in 1940 by a musician from Solo. It was sung by Japanese soldiers during World War II. After the war, Japanese lyrics were added to the song, and it became popular in Japan as well.
According to the Empress's aide, before meeting with foreign dignitaries, the Empress diligently studies their profiles and their nation's history, and memorizes information. She then weaves that information and her own knowledge into her remarks to come up with topics that her conversational partners will enjoy taking about.
"The Empress is very good at shortening the distance quickly through conversations," her aide said. "She will surely win the hearts of many people in Indonesia, as much as the Emperor.
Add TheJapanNews to your Google News feed.