Generative AI Shock Wave / ChatGPT Raises Host of Issues over Extent of Usage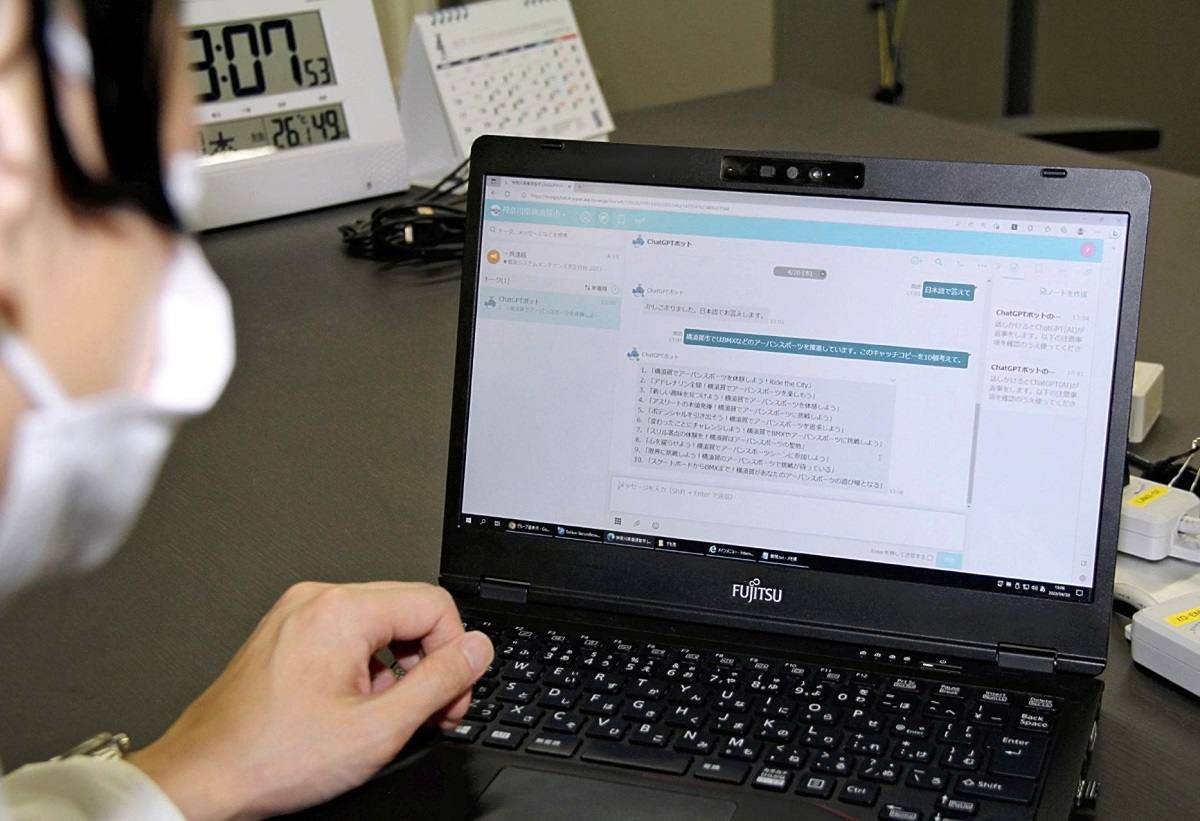 The Yomiuri Shimbun

1:00 JST, April 28, 2023
The use of the conversational AI model ChatGPT continues to extend to a variety of organizations and individuals.
At the public relations division of the Yokosuka City Hall in Kanagawa Prefecture on Tuesday, staff prompted ChatGPT for examples of catchphrases for its city bulletin to promote welfare activities.
Responses such as "Interacting, smiling, supporting: A close look at the city's welfare work" or "Hoping to enrich everyone's life, let us show you the city's welfare efforts" began to appear in about 30 seconds.
To improve operational efficiency, the Yokosuka government began to introduce ChatGPT on a trial basis from April 20. The settings are such that the information entered into the artificial intelligence system cannot be used for secondary purposes by outside parties, while staff are forbidden to enter confidential or personal information.
The municipality intends to officially introduce the system after sorting out issues and points to note based on the approximately one-month experiment.
The Fujioka municipal government in Gunma Prefecture also plans to introduce ChatGPT on a trial basis in early May. The municipality said that it will explore the possibility of using it to formulate policies and prepare answers to council members' questions during the trial period.
Some central government entities intend to employ ChatGPT as well, with the Agriculture, Forestry and Fisheries Ministry saying it wants to use it to revise the manual for online services.
"There are thousands of revisions per year if minor ones are included," said a ministry official. "It will help us reduce our burden."
On the flip side, the Tottori prefectural government has banned its employees from using the system in principle. Tottori Gov. Shinji Hirai said at an April 20 press conference that the computers in the prefectural office have been set up so that employees cannot connect to ChatGPT. He emphasized the importance of staff's efforts to gather information for themselves.
"If machine-generated words become our answers to the assembly and our policy, it means we'll have abandoned democracy," Hirai said.
A matter for debate in the Diet is whether the system should be used to prepare answers to lawmakers' questions.
"AI can be a powerful tool to supplement our tasks, but it is the job of humans to come up with the final answers," said Economy, Trade and Industry Minister Yasutoshi Nishimura at a press conference on April 21, toning down his advocacy of actively using ChatGPT at an April 11 media briefing.
During a House of Representatives committee deliberation in March, lawmaker Kazuma Nakatani of the opposition Constitutional Democratic Party of Japan used ChatGPT to create not only his question to the prime minister, but also the answer, and read them out to compare them to Prime Minister Fumio Kishida's actual response.
"It's more sincere and focused than the prime minister's answer," Nakatani claimed.
The facile use of AI in Diet deliberations has been criticized by experts.
"AI could effectively take over legislative power," said Keio University Prof. Tatsuhiko Yamamoto.
Students also use the system in such a way that it takes the place of human thought. Among the most serious cases is the use of an AI system to write job application documents.
This spring, a male student at Keio University submitted application documents drafted by ChatGPT to five companies, all of which accepted them.
"It was easier to read and more organized than my own writing," the student said without a hint of having done anything morally wrong.
Companies lack the means to detect texts written by AI. A recruiting official at a medical device manufacturer said they have no choice but to assess human nature and aptitude in interviews.
Universities are also trying to take measures against the use of AI for papers and reports.
Sophia University has banned the use of AI without faculty permission, and Tohoku University is considering revising its evaluation methods, such as having students write their reports in the classroom.
Information can be found on the internet about how teachers can use ChatGPT to create comments that they should write in students' report cards.
"If adults become dependent on AI for everything, they can't be good models for children," said a principal of a junior high school in Tokyo.
The Education, Culture, Sports, Science and Technology Ministry has begun formulating guidelines on how to handle AI in educational settings.
How effective such measures will be remains to be seen.
What is appropriate to entrust to AI? To what extent should we trust it? The use of AI is proceeding in a haphazard manner without much discussion.
Related Articles
---
---
---
Add TheJapanNews to your Google News feed.