12 Years Since Great East Japan Earthquake / Post-disaster Shift from Railways to Express Buses in Gear, but Potholes Remain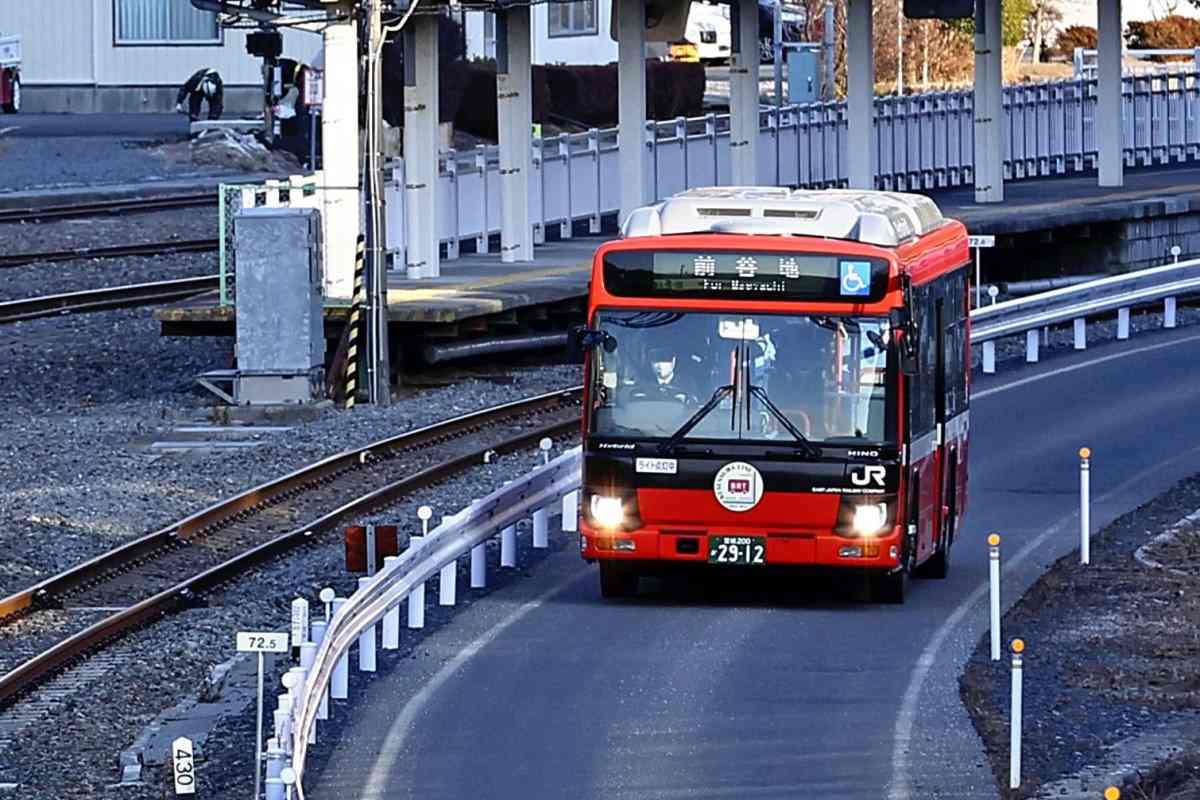 The Yomiuri Shimbun
7:00 JST, March 14, 2023
Saturday marked 12 years since the 2011 Great East Japan Earthquake. While continuing to grapple with post-quake reconstruction issues, affected communities are giving serious thought to how best to prepare for another calamity. This is the third and final installment of a series in which we take a close look at the main issues to be addressed.
***
KESENNUMA, Miyagi — Setting out from JR Kesennuma Station in Miyagi Prefecture one morning earlier this month, the red bus turns onto the clear road where the driver does not have to worry about fighting traffic.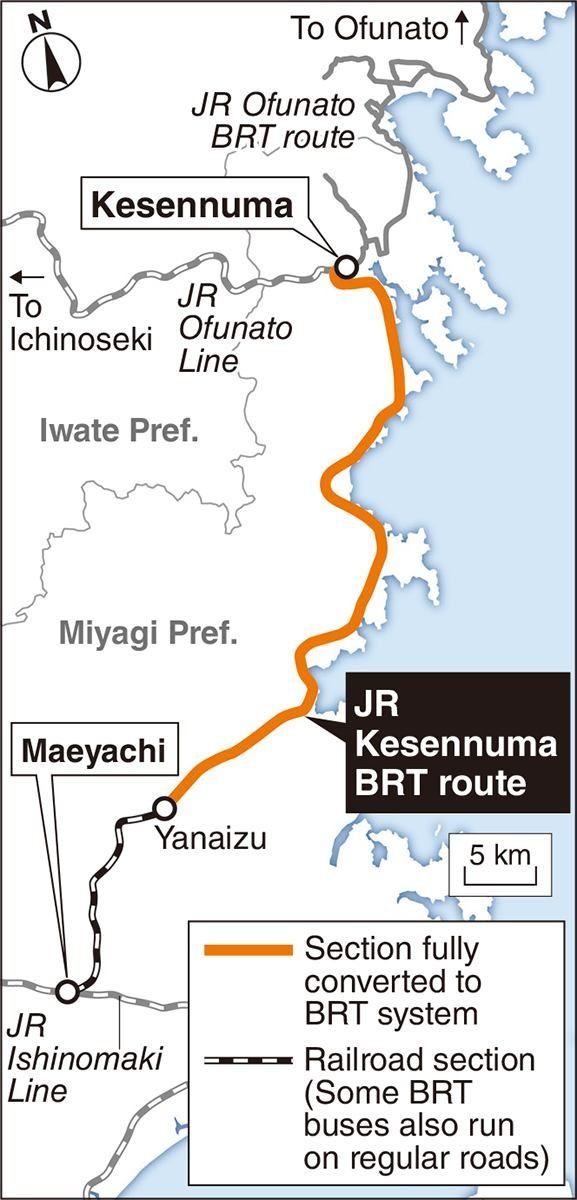 The road is for the exclusive use of buses, which do not have to stop at intersections with regular roads. If it feels like driving a train, that is not so far-fetched — the road was built along a route that used to have railroad tracks.
It is all part of the BRT (Bus Rapid Transit) system introduced about 10 years ago after the tracks of the JR Kesennuma Line were washed away by the massive tsunami triggered by the 2011 Great East Japan Earthquake.
The BRT was originally meant as a stop-gap measure, one taken by East Japan Railway Co. (JR East) in December 2012 between Yanaizu and Kesennuma stations before it would restore the railroad line. But the company gave up on rebuilding the line in July 2015, citing the exorbitant cost of ¥70 billion among other reasons.
That it was kept, and is even being expanded, is welcomed by residents.
"It's convenient as I don't have to walk to the next station any more," said Miu Sasaki, a 17-year-old second-year student at Kesennuma High School. A new BRT station was established near her home in March last year.
In recent years, JR East has added seven new BRT stations near places that were relocated after the disaster, such as a hospital and the municipal government office. By flexibly setting routes to allow buses to leave the express road and run on general streets, the BRT is playing a role in the reconstruction of areas along the former train line.
The bus has more frequent runs than the trains used to, in some areas as many as three times as much.
Making the switch
The maintenance of public transportation systems in rural areas has always presented a challenge. In areas of declining populations, the BRT system is attracting attention as a way to shift away from railway services.
The incentive has been clear ever since JR companies revealed the red ink on its balance sheets for unprofitable local lines, an indication of the difficulty in maintaining railroad lines where passenger numbers continue to decline.
JR East announced in its fiscal 2019 report that 66 sections on 35 lines had a transport density — the average number of passengers per kilometer of track per day — of fewer than 2,000, a number regarded as the level at which a JR company has difficulty maintaining the line on its own.
While increasing conventional bus services or subsidizing the lines with local public funds are among possible measures, the BRT system offers an option that holds down operational costs compared with railroads while also ensuring convenience for users.
It has helped answer the question of what to do with the increasing number of railroad lines across the nation that are damaged by successive torrential rains and flooding. In 2017, a section of the JR Hitahikosan Line ravaged by heavy rains that hit northern Kyushu region will be turned into a road for BRT buses. Operation is scheduled to start this summer.
However, even places like Kesennuma that have already shifted to the BRT are not yet out of the woods. According to JR East, passenger numbers are only 20% to 30% of what they were during the days of the railway, partly due to the post-disaster drop in population. The Yanaizu-Kesennuma section had a transport density of just 263 in fiscal 2019. In addition, operating costs have dropped only 10% to 20% compared to those incurred by the railway.
Trials on automated driving in one section were started in December last year in response to a shortage of drivers and as a means to reduce costs.
"As the population decreases, it will become even harder to maintain public transportation networks in rural areas," said Prof. Yoshiyuki Tokunaga of Miyagi University, who specializes in transportation planning.
"The system not only plays a role as a means of 'transportation for living' for residents. The system should be devised to match the actual circumstances of the region, such as using it for tourism by taking advantage of its characteristic of sometimes leaving the express road and driving on regular roads."
The BRT represents a way for a public transportation system in a disaster-hit area to survive as a shift from railways. Further innovation and ideas will be required to keep it up and running.
Add TheJapanNews to your Google News feed.