12 years after Great East Japan Earthquake / Only 18% of Residents Return to Municipalities Affected by 2011 Nuclear Accident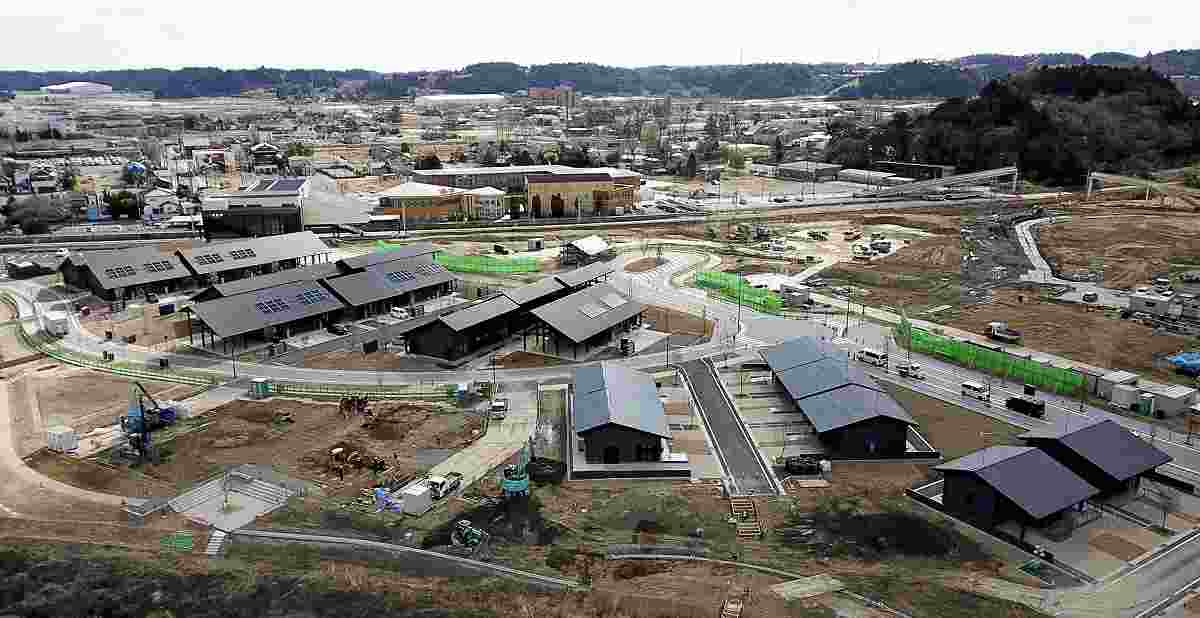 The Yomiuri Shimbun
13:10 JST, March 11, 2023
Saturday marked 12 years since the 2011 Great East Japan Earthquake. While continuing to grapple with post-quake reconstruction issues, affected communities are giving serious thought to how best to prepare for another calamity. This is the second installment of a series in which we take a close look at the main issues to be addressed.
***
Futaba in Fukushima Prefecture was the last municipality to reopen after being evacuated following the 2011 accident at the Fukushima No. 1 nuclear power plant.
Now, a cluster of new factories is taking shape on a coastal site covering about 49.6 hectares in the town, about 4 kilometers from the plant, which is owned by Tokyo Electric Power Company Holdings, Inc.
The local government started developing the industrial park in January 2018 to ensure employment for residents returning to the town. Eighteen of the 24 companies that signed a location agreement with the municipality now operate at the park. However, there are no former residents of the town among the firms' employees.
All eight staffers at transport company Tohoku Access Inc.'s Futaba office reside outside the town, spending up to about an hour commuting to work. "There are no supermarkets in the town and restaurants and rental apartments are limited in number," said office director Haruyasu Sato, 55. "I don't expect our employees to live in the town."
Residents were allowed to return to Futaba in August, but only about 60 people — or just 0.8% of the pre-accident population — live there now.
In February, Futaba Mayor Shiro Izawa was invited to a meeting of the prefectural assembly's special committee, where he explained the difficulty of persuading former residents to return, saying: "We built an industrial park so there'd be jobs for people coming back, but there are no town residents working there. I'm wondering what all our efforts were for."
About 88,000 people in 11 municipalities designated as evacuation areas relocated to areas inside and outside the prefecture. Now, following the lifting of evacuation orders, a total of about 16,000 people live in the municipalities, about 18% of the pre-accident population.
Regarding Specified Reconstruction and Revitalization Base areas in difficult-to-return zones with high radiation doses, evacuation orders were lifted last year in three municipalities of Futaba, Katsurao and Okuma. Plans are afoot to also lift the orders in spring in three other municipalities: Namie, Tomioka and Iitate. However, all these municipalities are faced with serious challenges.
Families with children, in particular, have not returned after having settled down elsewhere, with children having enrolled at local schools and adults finding jobs. As such, the total number of elementary, junior high and high school students stands at less than 10% of the pre-accident figure.
Due to such circumstances, companies are finding it difficult to secure workers. Job placement office Hello Work Soso says that of about 2,000 job seekers in the area, around half of them are age 50 or older, and nearly 30% are 60 and above. Many people are looking for part-time jobs, which does not match the needs of companies keen to hire young, full-time workers. December's effective job-to-applicant ratio stood at 2.02, much higher than the national average figure of 1.35 and the prefectural average of 1.45.
Tohoku Access has been trying to fill driver and operations-manager positions for three years, but there have been no applicants.
The shortage of workers leads to a deterioration in services for residents.
According to a 2021 survey conducted by the Reconstruction Agency and others to gauge residents' needs, 30% to 50% of respondents — the figure varied among municipalities — said well-developed nursing care facilities and other infrastructure were prerequisites for them returning home. However, such facilities have not yet been sufficiently developed. Prior to the accident, there were 18 residential nursing care facilities in the 11 municipalities. Now there are only seven.
Thirty people have registered with a day service facility opened in July by Namie's social welfare council, and an average of about 10 people use the facility each day. It is the town's sole nursing care facility, but only provides daycare services.
"If we could hire three more workers, we'd be able to provide short-stay services, too," a facility official said. However, there have been few applicants for the jobs.
Tsuyoshi Kageyama, a 52-year-old social worker, said: "We can't secure workers, so services don't improve, which discourages residents from returning. It's a vicious circle.
Add TheJapanNews to your Google News feed.