Okinawa 50 years since return: Issues hindering self-reliance 3 / Remote islands suffer infrastructure disadvantages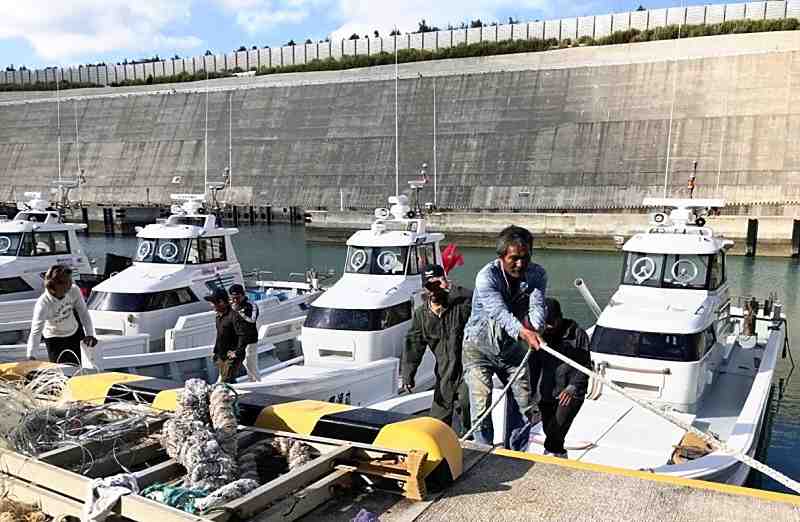 The Yomiuri Shimbun
10:38 JST, May 4, 2022
Since reverting to Japan on May 15, 1972, Okinawa Prefecture has become a major tourist destination. However, work remains to improve its economic self-sufficiency and standards of living. This series examines such efforts.
◇
Kitadaitojima island, about 360 kilometers east of Okinawa Island, was formed by a raised coral reef. The island with a population of 540 is surrounded by steep cliffs about 15 meters high. The fishermen on the island have long had to raise and lower their boats with a crane every time they go fishing.
But without a crane operator on duty at all times, the island's fishermen were unable to operate their boats for more than about seven hours a day. Minoru Chibana, head of a local fisheries association, said, "We had to get back home while seeing boats from other parts of Japan continue fishing."
About three years ago, construction of a long-awaited fishing port was completed on the island. The central government decided to subsidize the port construction project and the Okinawa prefectural government began building it in fiscal 2008. Since the project involved difficult cutting through hard rock, it took about 11 years to complete.
The opening of the port dramatically changed the island's fishing industry. In 2020, catches on the island nearly tripled to 83 tons and four young fishermen in their 20s and 30s moved to the island from other parts of Japan. Chibana, who has worked as a fisherman for about 30 years while also harvesting sugar cane and engaging in other jobs, said: "We finally got an environment comparable to that of other areas. Now I will be able to make ends meet as a full-time fisherman."
In addition to Okinawa Island, Okinawa Prefecture has 37 other inhabited islands, some of them quite remote. About 130,000 people, just under 10% of the prefecture's total population, lived on these islands as of 2019. These islands' many disadvantages compared to the Okinawa main island have been called "Shima chabi" (island woes).
During the postwar U.S. rule of Okinawa, priority was given to the stable operation of U.S. military bases. Basic infrastructure such as electricity and water systems remained insufficient in the rest of the prefecture, especially its remote islands. Development progressed only after Okinawa was returned to Japan in 1972, and fishing ports were gradually built on remote islands to support the fishing industry, the economic foundation of life on those islands. But some islands, Kitadaitojima among them, were left behind. On Agunijima island, about 60 kilometers northwest of Naha, residents relied on rainwater to drink until a water desalination facility began operations in 1987.
In the half-century since Okinawa's return, living conditions on the smaller islands have improved but the population has continued to decline, particularly on remote islands. Since those islands have no high schools, children generally move away after graduating from junior high school. Many go on to live their lives away from their home islands. However, some people now return to their hometowns and look for ways to make their islands self-sustaining.
Last year, Kazuto Namihira, who had worked for a company in Naha, returned to his hometown of Taramajima island, about 70 kilometers west of Miyako Island — which in turn is about 300 kilometers southwest of Okinawa Island. Currently, Taramajima island has about 1,100 residents. With the island's population down by more than 10% over five years, Namihira wanted to revitalize his hometown.
He thought: "There are many business opportunities. I will create my own work." He began by opening a coworking space for people who enjoy holidays while working. Tourists and visiting businesspeople use the space and interact with local residents. With supporters including a sugar production company on the island, Namihira will next year start to sell denim products made using recycled sugar cane pulp, or bagasse, which is produced when sugar cane is processed to produce black sugar. "We would like to make it a new local specialty of the island in the future," Namihira said.
The island is rich in unique features such as the slow trickling of time and a distinctive culture. Residents continue to seek ways to become self-sustaining, while also passing on these unique assets to future generations.