Okinawa 50 years since return : 'Reversion children' born in 1972 convey memories of the Battle of Okinawa to young generation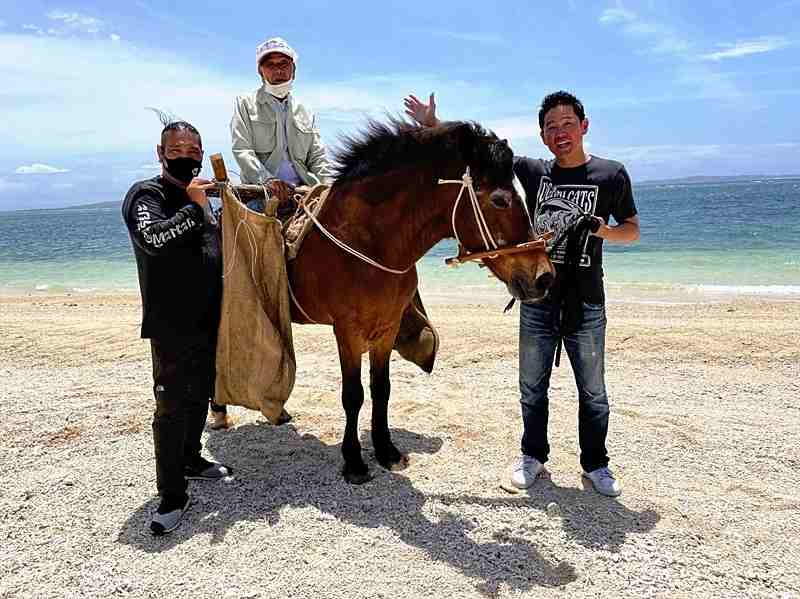 The Yomiuri Shimbun
14:40 JST, May 1, 2022
Okinawans born in 1972 are often referred to as "reversion children," as their birth year coincided with the return of Okinawa to Japan after 27 years of U.S. rule. Half a century later, a number of such people are working on a documentary film featuring testimonies from people who survived the Battle of Okinawa. The film is an attempt to preserve for posterity the words and thoughts of people who lived through the war, and, in particular, the fierce battle that took place on remote Ie Island.
The project is spearheaded by general incorporated association Yui 515, headed by Seiya Higa, 49, president of a video production company in Nakagusuku, Okinawa Prefecture, closely aided by his friend Hiroki Kawata, 49, of the comedy duo Garage Sale. The group comprises more than 300 people, who help provide food assistance to needy families.
The project was triggered two years ago following a request sent to Higa's company asking for materials aimed at peace education. As part of the project, the company recorded a video interview with 84-year-old Kamekichi Uchima, who experienced the fighting on Ie Island.
It is thought about 1,500 island residents died during the six days of fighting that occurred after U.S. forces landed on the island in April 1945.
Uchima explained how about 25 of his relatives — 12 of whom died in a poison gas attack — had huddled for safety in inside large stone tombs. Uchima spoke haltingly to the camera, detailing how the adults had discussed ways to commit suicide, and the devastating effects such events had on his young mind.
"I think the world is a happy place now, so why do so many people still commit suicide?" he said. In response to these words, Higa felt the need to record similar testimonies of war survivors to convey the value of life to today's young children.
With the 50th anniversary of Japan's reversion approaching, Higa recalled thinking, "We, the reversion children, must convey [the survivors' messages.]" When he told Kawata of his desire to make a film, Kawata agreed, saying, "We don't have that much time to listen to the voices of our grandparents."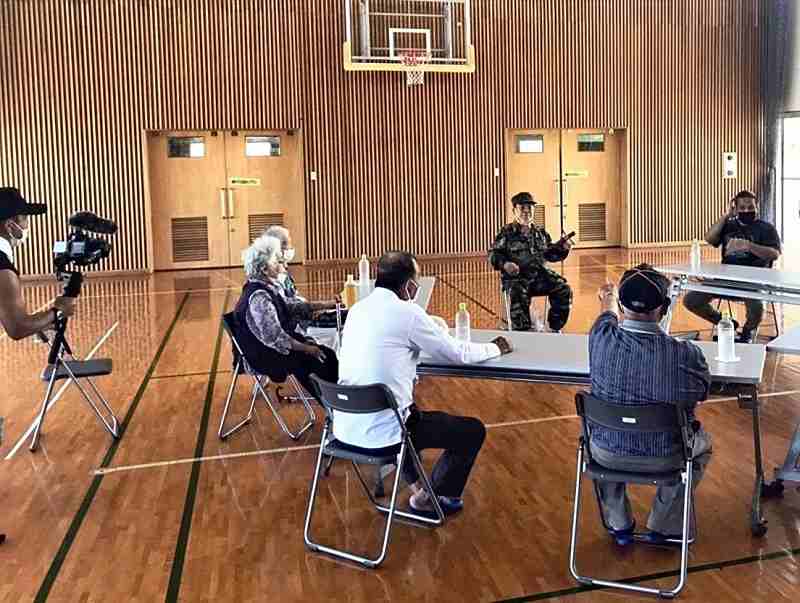 Last year, Higa and Kawata traveled to the island to talk with Uchima and other survivors. They also held a roundtable discussion and gathered testimonies from eight people. As filming proceeded, Higa decided to use a documentary format to capture testimonies simply, believing that survivors' words would have more gravitas if recorded without any kind of direction.
Higa is set to revisit the island on May 15, the date of the reversion. He plans to speak with survivors and show excerpts from the film at a commemorative online event marking the connection between the island and the Okinawan capital, Naha.
The film, titled "Yui Du Takara" (Connection is treasure), is scheduled to be completed around summer; part of the proceeds will be donated to an organization that works to combat child poverty in the prefecture.
"I believe this is the year to express our gratitude to the elderly people to whom we are connected, and to pledge to bequeath a bright Okinawa future for children 100 years from now."
According to the Okinawa prefectural government, 20,871 people were born in the prefecture in 1972. Okinawans born during the April 1972 to March 1973 school year, also are known as reversion children. As they were born after the United States' 27 years of rule, such people have recently been attracting attention as symbolic, key players in opening up a bright future for Okinawa.
Add TheJapanNews to your Google News feed.