Okinawa 50 years since return: Living with U.S. bases 3 / Okinawans born to U.S. soldiers, Japanese nationals still suffer from discrimination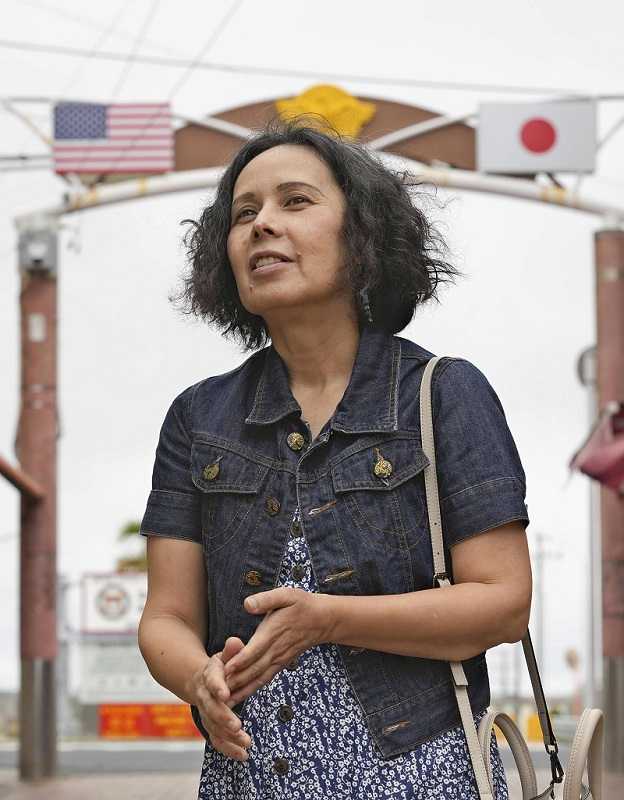 The Yomiuri Shimbun
11:48 JST, April 1, 2022
Okinawa Prefecture hosts 70% of all U.S. military facilities in Japan. The presence of U.S. bases has had an effect on the lives of residents. This series looks into the situation.
When she was little, Malia Higa was told by her mother, "Your father was killed in a war."
She was about 10 years old when her mother revealed that he was actually alive. He was a U.S. soldier who had been stationed in Okinawa Prefecture and, after fighting in Vietnam, returned to the United States.
Higa is now a homemaker in the city of Uruma. She was born in 1968, four years before Okinawa's return to Japan. By her appearance, everyone could quickly tell she was a child of a foreigner.
Elementary school classes about the Battle of Okinawa were particularly hard — when her classmates saw pictures of American troops attacking Okinawa, they taunted her, saying, "Go home, American."
After that, on the memorial day to commemorate those who died in the battle, Higa would keep her head down and her breathing quiet in the classroom.
"I think my classmates hated the U.S. bases [in Okinawa] that they remembered when they saw my face," she said.
In 1995, Higa was refused entry to an eatery where she had been a frequent customer, after an Okinawan girl was raped by American soldiers. Even though she insisted, "I'm an Uchinanchu (Okinawan)," the owner didn't relent, saying, "You look American to other customers." However, as a citizen of the same prefecture, she understood the backlash to U.S. bases and didn't hate the owner.
Stateless children
After World War II, many Okinawan women had to support their families by working at restaurants or bars for U.S. military personnel or serving as maids for U.S. soldiers' families. It was not uncommon that they dated or married American men they met at their workplaces and had children.
But U.S. soldiers often ended contact with their partners after they were transferred out of Okinawa, leaving abandoned mothers and children in financial trouble.
The children of single mothers were stateless for some time after Okinawa's return to Japan, as the father had to be Japanese to obtain nationality. This situation continued until the enforcement of the revised Nationality Law in 1985.
Stateless children weren't covered by health insurance and all medical expenses had to be paid out of pocket. They received no vouchers for vaccinations and no notices about compulsory education. They were admitted to compulsory education schools on probation only after they applied.
Children born to American servicemen and local women were the targets of frustration and anger over the Battle of Okinawa, the suppressiveness of U.S. military rule and the endless incidents and accidents caused by U.S. military personnel.
Among them, Melissa Tomlinson of Yomitan Village was born 15 years after Okinawa's return. She cannot forget what a teacher said to her, referring to an incident involving U.S. soldiers during her school days. As the teacher asked her, "What do you think about it as an American?" she was at a loss for words.
When Tomlinson, now 34, was a university student in the prefecture, she interviewed about 50 people with backgrounds similar to hers, and found many of them had been traumatized by such thoughtless remarks.
"In Okinawa, where there is strong opposition to the U.S. military, many people [born to Americans and Japanese] have difficulty living" in the local community, she said.
Slow assistance
In the city of Ginowan, there is a private school that accepts children who can't fit into the local community due to discrimination. The school was established by mothers in 1998 as a place to learn the languages and cultures of Japan and the United States. At first, the school was like a shelter, but now it aims to develop people who can play an active role in society.
The city's board of education recognizes students' attendance at the school as equivalent to going to a public school.
"We aim to raise children who can choose how to live, whether as a Japanese or an American," said principal Ayako Komine, 38.
However, support for Okinawan women has been generally slow to expand.
In January last year, the prefectural government set up a consultation center for people experiencing trouble related to marriages or romantic relationships with U.S. soldiers, among others.
Misaki Smith, a 45-year-old resident of the town of Chatan, supports the prefectural center while also pursuing consulting work for women through a private-sector project.
"Problems have continued since before Okinawa's return to Japan, but support for troubled women is inadequate," said Smith.
Coexistence continues
Higa went to the United States when she was 17 and met her biological father for the first time. Her father had another family and refused to meet her for a while, but in 2000 he visited Okinawa and apologized. They continued to communicate with each other until he passed away in 2011.
Higa has lived her life with a strong awareness that she is an Uchinanchu, despite the harsh gaze of some local residents. At a local market, she talks to sales staff in the Okinawan dialect, which has become less common.
There are still 31 facilities exclusively used by the U.S. military in Okinawa, and local people will continue to coexist with the military and American soldiers.
"I want Okinawa to be a place that accepts an Uchinanchu like me," Higa said.