Okinawa 50 years since return: Living with U.S. bases 1 / Criminal acts, bad manners fuel anti-base sentiment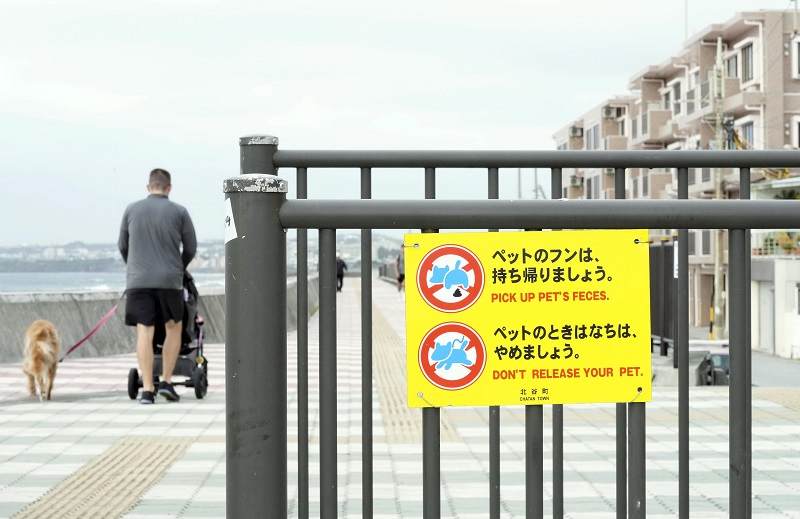 The Yomiuri Shimbun
21:00 JST, March 30, 2022
Okinawa Prefecture hosts 70% of all U.S. military facilities in Japan. The presence of U.S. bases has had an effect on the lives of residents. This series looks into the situation.
*****
Beachside houses with balconies, luxury condominiums, signs in English — these might be enough to make many visitors feel as if they were outside Japan. This is the Sunabe district of Chatan, a town in the central part of the main island of Okinawa, where many U.S. service members and people affiliated with the bases live in off-base residences. Many in the neighborhood, however, have complained about the poor manners and differences in lifestyle of their neighbors.
Some U.S. military personnel walk their dogs without using a leash and do not clean up after them. The Chatan municipal government has created signs with English such as "Don't release your pet" in parks and on the boardwalk in the district.
Many vehicles parked in the middle of the road, causing traffic jams, have plates starting with a "Y" that denotes they are owned by U.S. military personnel. People walking without masks are also drawing a strong reaction from residents, especially after novel coronavirus infections quickly spread from people working at the bases.
Under the Japan-U.S. Status of Forces Agreement, U.S. military personnel are not required to be in the resident registration system. Accordingly, they do not pay resident taxes or community association fees. The number of military personnel living in each municipality has not been disclosed since 2012 for security reasons.
"We have no other option but to pass our complaints to the base headquarters via the municipal government," said Hirokazu Teruya, 59, who heads the local community association. "I hope [as a community] to interact with them, but there are many residents who are not happy with the situation, making it difficult to create momentum for such occasions."
Explosion in anger
Opposition to the bases and U.S. military personnel is deeply rooted in Okinawa because of incidents and accidents that have repeatedly occurred in the years under U.S. rule following the end of World War II and the years since Okinawa's return to Japan.
The anger of the prefecture's people reached its peak in 1995 when three U.S. servicemen raped an elementary schoolgirl. About 85,000 people gathered to protest the incident, according to organizers. A female high school student made an appeal from a podium, saying, "Return to us peaceful islands without tragedy."
Keiichi Inamine, who later became Okinawa governor, described the explosion of prefectural residents' pent-up anger as "magma" at that time.
This swell roused political action. In 1996, Tokyo and Washington agreed that the United States would return 11 facilities to Japan, including "the most dangerous base in the world": Futenma Air Station in Ginowan. The agreement led to the consolidation and reduction of U.S. military bases.
In 1998, the U.S. Defense Department announced a policy aimed at becoming good neighbors with residents living near bases.
Friendly exchanges
Each base in Okinawa is promoting various activities in a bid to promote connections with local communities. In Nago, where the Futenma air base is to be relocated, low-key but steady efforts also continue in Camp Schwab, where people stage sit-in protests in front of the main gate.
One of the exchange programs the base has provided since 2002 is free English conversation lessons. On the evening of March 2, several residents, some in their 20s all the way up to their 70s, were learning English from uniformed U.S base personnel in a room inside the base. The atmosphere was friendly.
"In Okinawa, anti-base sentiment tends to get more attention, but here we can enjoy cultural exchanges without feeling any distance between us," said Mayumi Uenishi, a 57-year-old convenience store clerk in the city who has been attending the classes for many years.
About 3,000 residents have attended the classes over the past 20 years. They include senior citizens who wanted to speak with their grandchildren living in the United States as well as job-seeking young people hoping to brush up their English skills. One former student found a job at an organization that supports developing countries.
"The English class breaks down the walls between the community and base," said Col. Matthew Tracy, the commander of Camp Schwab. "The interplay and exchange between the students and volunteers will heal wounds, dispel fear and engender warmth."
Incidents during training
Still, there are many areas in the prefecture where mutual understanding has not been as widespread as desired.
Camp Hansen, which straddles several municipalities, continues to send its personnel to voluntary cleanups in the town of Kin and invites residents to seasonal events.
However, in the town's Igei district, where 80% of the land is used exclusively as the camp's training area, there have been a series of accidents caused by stray bullets. When Okinawa was under U.S. administration, there were cases in which residents were seriously injured.
In 2019, three flares fell on areas such as rice paddies. Wildfires caused by drills also frequently occur. Although neighboring areas are notified of exercises in advance, they often take place in different locations.
"Cultural exchanges are important, but the communities want to be informed about the drills and have measures thoroughly implemented to prevent accidents," said Minoru Afuso, the 65-year-old head of the district. "Otherwise, we cannot be good neighbors in the true sense of the word."
Add TheJapanNews to your Google News feed.