Okinawa 50 yrs since return: National political affairs / Land off Okinawa's Urasoe to be reclaimed for U.S. naval port relocation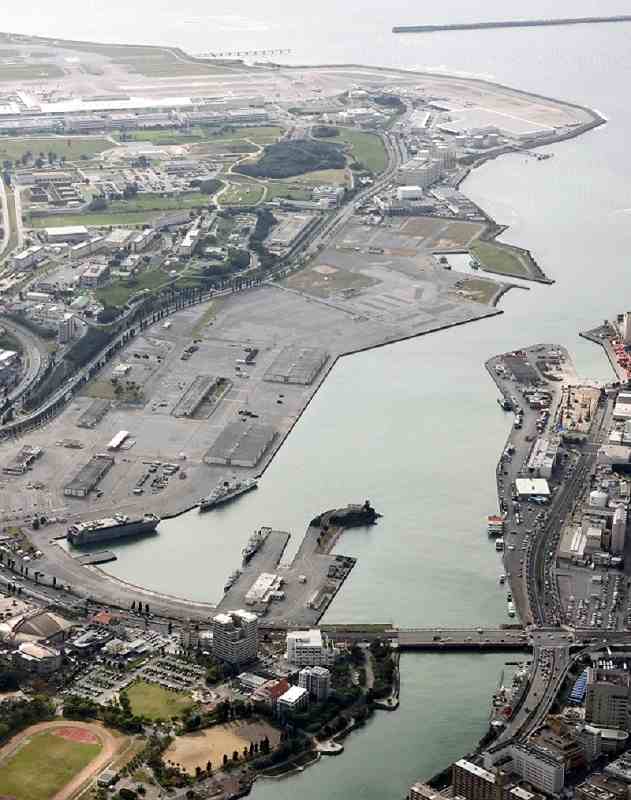 The Yomiuri Shimbun
21:00 JST, March 29, 2022
An area of about 49 hectares north of Urasoe Wharf in Okinawa Prefecture's Urasoe City will be reclaimed from the sea to transfer the functions of a U.S. military port facility that is currently in Naha, according to an outline of the central government's relocation plan.
The Defense Ministry will submit the proposal to local governments concerned — Okinawa Prefecture plus the cities of Naha and Urasoe — as early as Wednesday. If all agree, actual relocation work for the port will go into full swing for the first time since a 1974 Japan-U.S. agreement on the matter.
The central government wants to accelerate the realignment to spur Okinawa Gov. Denny Tamaki to agree ahead of the prefecture's gubernatorial election in September.
Tamaki opposes a different relocation project, the planned move of the U.S. military's Futenma Air Station in Ginowan to an area off the Henoko coast in Nago, both in the prefecture.
In 1974, the Japanese and U.S. governments agreed on the return of the port's land, which covers about 56 hectares in central Naha, on condition that the port be relocated. In 1996, the relocation to Urasoe was specified in the final report of the Special Action Committee on Okinawa (SACO).
The business community is supporting the relocation, hoping to build commercial facilities on the vacant land, which is in a highly convenient location.
The government's relocation plan calls for reclaiming the north side of Urasoe Wharf, which would have little impact on the navigation of private vessels, and building a hammer-shaped facility. A breakwater will be constructed first to protect the port from the strong waves of the East China Sea.
Once the plan is approved by the three local governments, the central government will promptly agree to the plan at a Japan-U.S. joint committee of foreign and defense officials and begin an environmental assessment. The construction work was estimated to take nine years when Tokyo and Washington agreed in 2013 to return the port land after fiscal 2028.
As in the case of the Henoko district, the governor — who serves as manager of the Naha port land — can decide whether to allow the land reclamation work. Tamaki's stance on reclamation work differs between the cases of the Naha naval port and the Futenma air station. He is in favor of the Naha port relocation, just as his immediate predecessor Gov. Takeshi Onaga was.
However, the Japanese Communist Party, which supports Tamaki, stands against the port relocation, demanding an unconditional return of the land, not a relocation of the facilities.
A senior defense ministry official said, "Aiming to get re-elected, Tamaki might not clarify his stance and delay making the decision."
Meanwhile, the central and prefectural governments have clashed over the relocation of the Futenma base. The defense ministry is pursuing the work steadily, beginning Monday a 190-meter extension of an embankment on the north side of the Henoko reclamation zone.