Okinawa 50 yrs since return: National political affairs / Suga, Onaga embodied deep divisions between central govt, Okinawa in their first meeting in 2015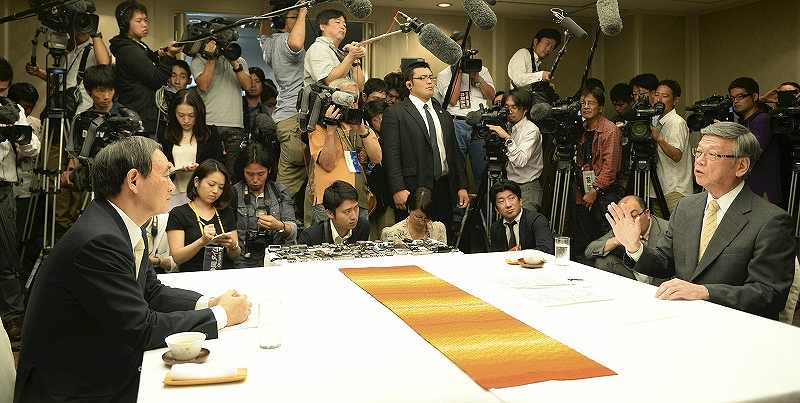 Yomiuri Shimbun file photo
Chief Cabinet Secretary Yoshihide Suga, left, tries to convince Okinawa Gov. Takeshi Onaga to accept the relocation of the Futenma Air Station to the Henoko district of Nago in a meeting in Naha on April 5, 2015.
The Yomiuri Shimbun
12:58 JST, March 27, 2022
This year marks the 50th anniversary of Okinawa's return to Japan. This is the sixth and final installment of a series that looks at the politics surrounding Okinawa's subsequent development and issues relating to the presence of U.S. bases.
Yoshihide Suga, chief cabinet secretary in the administration of then Prime Minister Shinzo Abe, had a series of heated exchanges with Okinawa Gov. Takeshi Onaga at a hotel in Naha on April 5, 2015.
Suga was overseeing issues related to U.S. bases in Okinawa. He and Onaga clashed over the planned relocation of the U.S. Marine Corps' Futenma Air Station in Ginowan to the Henoko district of Nago.
Onaga's second son, Takeharu, 34, currently a member of the Okinawa prefectural assembly, called the meeting symbol of everything about their relationship.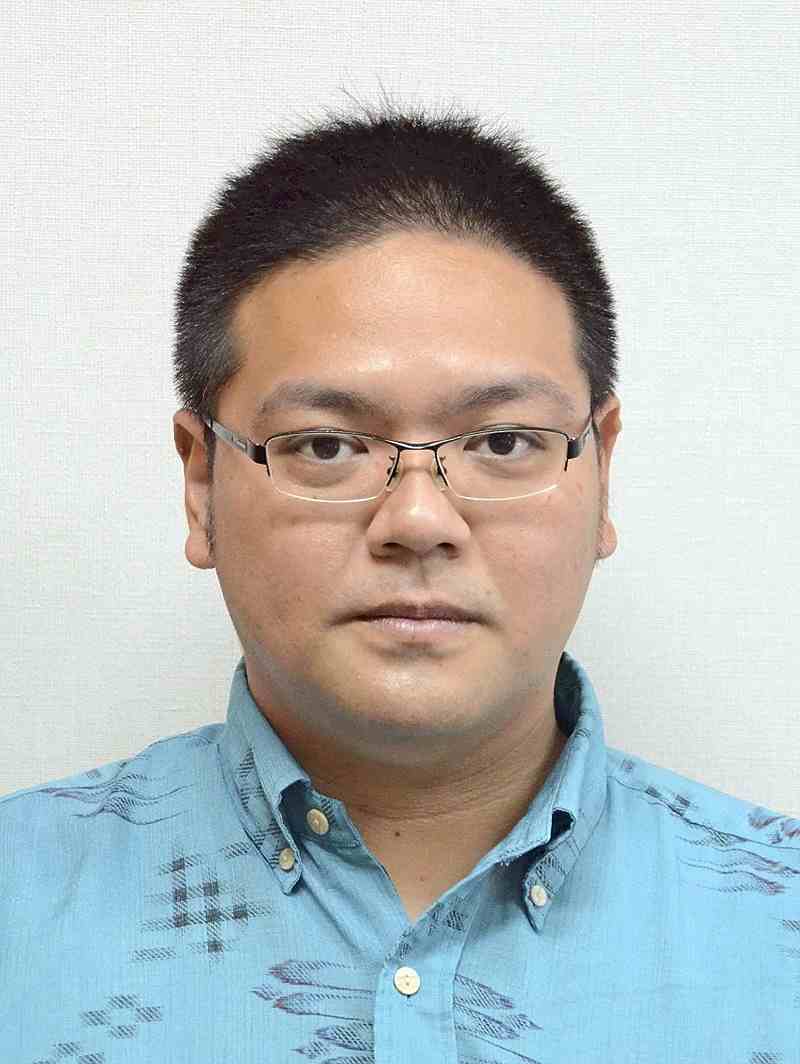 Suga, who had worked to reduce Okinawa's burden in hosting U.S. bases, stressed that "abandoning the relocation to Henoko will cement Futenma in place."
Onaga refused to budge on his opposition to building a new base in Henoko and said Suga reminded him of Paul Caraway, who served as high commissioner during the U.S. Occupation.
Caraway's reign in Okinawa in the early 1960s is synonymous with "heavy-handed politics," making it a harsh thing to say.
Onaga had won his first term as governor in November of the previous year.
The Henoko relocation had been a focus of his campaign against previous Gov. Hirokazu Nakaima, who had sought a third term and had granted approval for land reclamation work that was essential for moving the base.
Onaga, who once served as secretary general of the Liberal Democratic Party's Okinawa branch, defeated Nakaima by a large margin, despite the incumbent having the party's endorsement.
Onaga recognized the necessity of the Japan-U.S. Security Treaty. However, Onaga's "All Okinawa" movement rejected the Henoko relocation and created a union of both conservative and progressive voters.
Suga and Onaga, despite being of the same generation and both having attended Hosei University, were never in sync in their views.
Suga hoped to "move forward while discussing the issue" with Onaga, a fellow conservative politician.
Onaga, on the other hand, once told his son: "I'm going to have to fight the power of the central government. I've seen it as a core member of the Okinawa LDP and know everything. It's going to be a hell of a fight."
The government suspended work on the relocation for one month. Although the two sides engaged in intensive talks, no consensus was reached.
Suga emphasized the return of U.S. military facilities and land, sticking to tangible results.
"I approached it with the feeling that I was pouring my heart and soul into Okinawa, more than any other politician before me," he recalled.
In December 2016, the U.S. military returned more than half of its Northern Training Area to Okinawa, the largest piece of land to be returned since Okinawa reverted to Japanese control.
Onaga did not attend a ceremony commemorating the return in Nago, while Suga did attend.
In August 2018, not long before dying of cancer before the end of his term in office, Onaga told his son: "We have to bring the people together. Whether or not I was right is up to the Uchinanchu [Okinawans] of the future."
Denny Tamaki won the next gubernatorial election and has carried on Onaga's work.
Since losing Onaga, All Okinawa has been shaken by the departure of prominent business leaders, though its confrontational line with the government and ruling parties has continued.
Add TheJapanNews to your Google News feed.