Digital tech rushes forward / Despotic regimes threaten internet access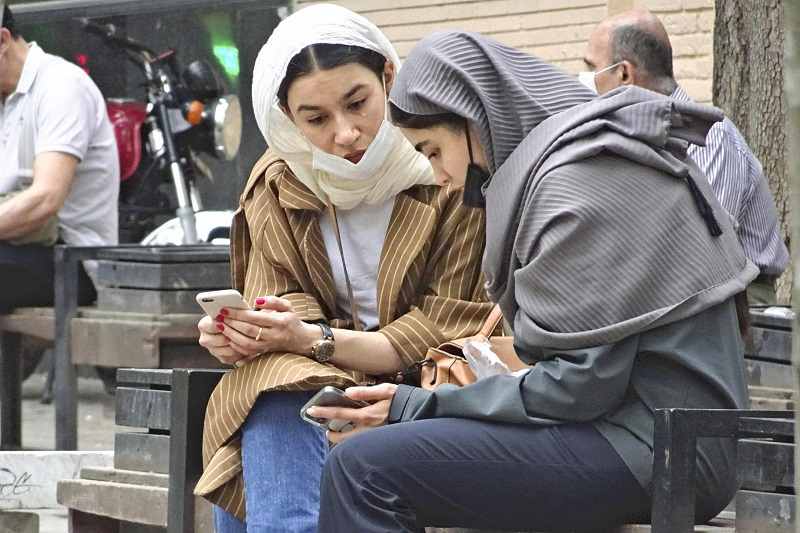 The Yomiuri Shimbun
17:02 JST, May 20, 2021
In late March, about 4,000 Iranians, including those living outside Iran, took part in a four-hour discussion on the topic of whether it was right that women are legally required to wear a headscarf. The practice of wearing a headscarf is based on the Koran. Given the closely intertwined relationship between politics and religion in Iran, even holding such a discussion would previously have been unthinkable.
The forum that enabled this debate was the Clubhouse social media app that allows auditory communication. Users can join in or just listen to conversations and discussions on various topics held in virtual "rooms."
Joining Clubhouse requires an invitation from an existing user and this sense of "exclusivity" is among the reasons why this new app has become popular in many countries.
It is unusual for a global trend such as Clubhouse to quickly develop a following in Iran, where freedom of speech and cultural activities are strictly controlled. On top of that, Clubhouse was developed in the United States, a nation that has been at loggerheads with Iran on several issues in recent times.
Samad Khatibi, a designer living in Tehran, was fascinated by the remarkable audio conversation about headscarves.
"I could hear the true opinions of many different people," Khatibi, 40, said. "This technology is fantastic."
Delicate balancing act
The Iranian public is able to use Clubhouse simply because the authorities are allowing them to out of a political calculation.
A presidential election will be held in June so the Iranian leadership wants to boost public interest in politics and raise the voter turnout, which is a "gauge of support for the ruling regime," according to a diplomatic source. Using apps is one way to achieve this.
In late March, Iranian Foreign Minister Mohammad Javad Zarif joined a Clubhouse chatroom and addressed about 8,000 people to explain the significance of a comprehensive agreement that will strengthen ties with China. Several days later, the head of Iran's Atomic Energy Organization also joined a Clubhouse conversation, where he insisted Tehran was trying to help revive a nuclear agreement the United States is hoping to patch back together.
It's unclear just how long the current situation will continue with people in positions of authority and the general public both using the app. In recent years, Iran has yo-yoed back and forth as residents utilize the internet in quest of greater freedom, while authorities are prepared to crack down as soon as they notice anything that appears worrisome to the regime.
In 2009, Iranian authorities used force to suppress demonstrations that were organized through Facebook and Twitter after suspicions there were irregularities in the results of that year's presidential election. When protests over Iran's economic policies erupted in 2019, residents were unable to view any foreign websites even if they used software designed to get around internet restrictions.
Facebook and Twitter are currently still banned in Iran. Many residents believe Clubhouse will eventually end up with the same fate.
TikTok fined in Russia
In authoritarian states and territories, the extent of internet freedom is at the discretion of those wielding power. Restrictions are quickly imposed if the "effect" of any political propaganda shared online is outweighed by the "cost" of allowing criticism of the government and demands for greater democracy.
In January, protests against the detention of Russian opposition leader Alexei Navalny spread through the video-sharing app TikTok. In April, a Russian court fined TikTok 2.6 million rubles (about ¥3.75 million) for failing to delete content related to the protests.
Participants in the 2014 Hong Kong "Umbrella Movement" of street occupation protests frequently used the WhatsApp messaging and calling app to stay in contact. During antigovernment protests in 2019, the pro-democracy camp mostly communicated via the Telegram and Signal apps, which reportedly offer greater anonymity. This tactic was spurred by protesters' fears police might intercept their messages.
Protests were also mobilized through Telegram and Signal in Myanmar, where the military overthrew the democratic government in February. The military responded in March by blocking data traffic between mobile phones and shutting down public Wi-Fi.
Wired connections remain the only reliable method of communication in Myanmar. The military appears, for the time being, to be resisting a move to block wired communications due to concerns about the negative impact such a move could have on the domestic economy. There have been reports of residents assembling at the homes of people with access to wired communications, scraping together evidence of the military's crackdown and sending this information to recipients elsewhere.
It was only in 2011 that a democratically elected government took power in Myanmar after many years of military rule. Access to the internet became increasingly liberalized in the years since that transfer of power. But now, a decade later, the situation does not look promising.
"If the government goes further and cuts all the cables, we'll be left in the dark," said Wai Yan Min, a 22-year-old Yangon resident.
Add TheJapanNews to your Google News feed.