Resilient Evacuation Center Drew Water from a Mountain after Great East Japan Earthquake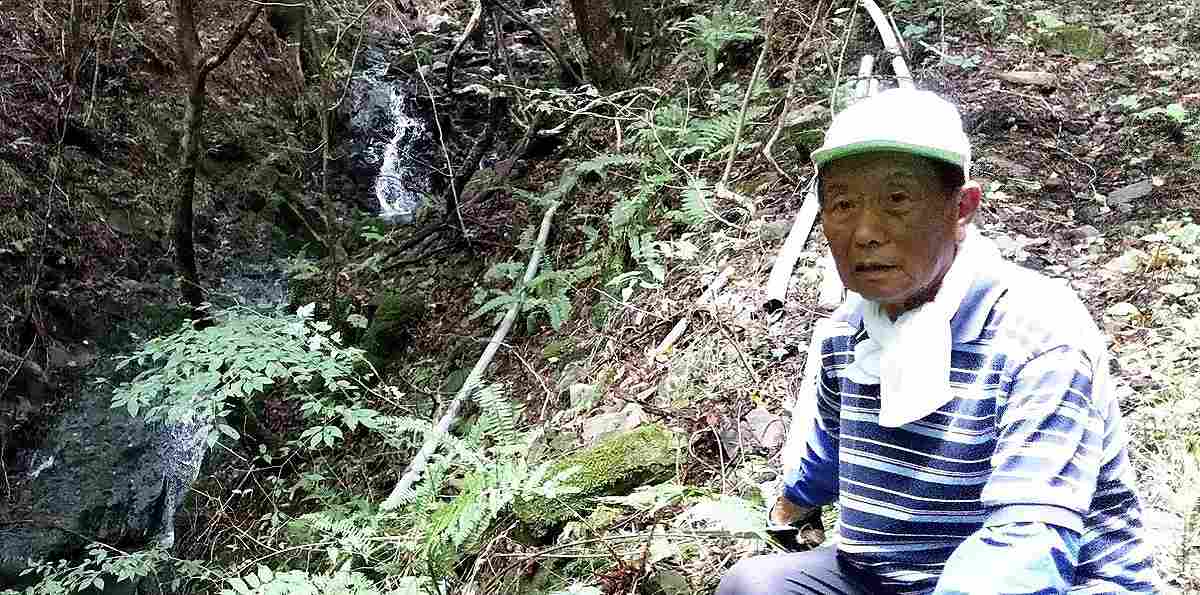 The Yomiuri Shimbun
11:58 JST, January 18, 2021
Takekazu Inoue entered the downtown area of Ishinomaki, Miyagi Prefecture, as a volunteer after the 2011 Great East Japan Earthquake. In April 2011, the 51-year-old was asked by a local organization to work in the Aikawa district of the city, which they said had not been able to receive sufficient relief supplies for a month because the only road was cut off.
Originally, the district was part of the former Jusanhama village. The village became a town in the Showa era (1926-1989), and it was merged into a northern tip of Ishinomaki in 2005, when large-scale mergers of municipalities took place.
Inoue conducts research on local communities at the Japan Research Institute, Ltd., and it pained him to imagine the hardships facing the small, isolated community. He thought they would be in great trouble without enough supplies.
He loaded a car with food, clothes, toilet paper and other supplies and headed for the district with other volunteers. There were walls of debris on the sides of the road where the Self-Defense Force had just finished emergency operations. They also saw a broken boat lying there. Nearby beaches were full of garbage and there was nothing left of the beautiful Sanriku region.
In the Aikawa district, you see steep mountains when you stand with your back to the sea, which is typical of small communities in the Tohoku region. About 350 people lived in the district. Reportedly, 14 residents living near the sea were killed or went missing due to the tsunami and nearly 60 houses were washed away.
Inoue and others went to a daycare facility on higher ground, as they heard that residents who had lost their homes had evacuated there. They could hardly believe their eyes.
At the entrance of the daycare was a large tank to store water, and water constantly flew into it through a pipe. The water was used for drinking and washing people's faces and hands. The aroma of cooked rice came from a furnace made of debris.
What about bathing? At an evacuation shelter in Ishinomaki's downtown area, evacuees could take a bath just once a week. Poor hygiene and stress became notable.
Inoue was surprised by the residents' solution in the Aikawa district — they drew all the water they needed from a mountain. They converted a tank for seaweed cultivation into a bathtub, and all the residents took a bath in turn. To Inoue's surprise, it was the paperback novels and picture books he'd brought from Tokyo that were popular among the supplies he delivered.
Residents in the isolated community ate freshly made onigiri rice balls and hot miso soup every morning and took a bath every day. How was this possible? Inoue was shaken by the true strength of a regional area.
■ Cooking food using debris
A small bay where ropes used for the cultivation of wakame and hijiki seaweed floated was totally changed at around 3:40 p.m. on March 11, 2011. The community of about 350 people in 90 households was engulfed by the tsunami, which washed away 55 houses, killed eight people and left six missing.
The Aikawa daycare center, which was scheduled to open in April 2011, was located on higher ground and affected residents gathered there one after another. More than 200 people, including elderly people with only the barest necessities, evacuated there.
Evacuees could protect themselves from rain and wind, but all communications were shut down and a bridge connecting the district and an inland area collapsed. A municipal government branch called the Kitakami Sogo Shisho over the bridge was completely destroyed. No help would be coming. Anxiety rapidly grew among residents as they realized they were isolated.
"Just remember the times when we didn't have much. This is a traditionally isolated area, so we will be fine," Manabu Suzuki, 76, the head of the residents' association, said while trying to be light-hearted. He had taken up that post just a year earlier, but he had worked for a local post office for many years, so he knew almost all the residents in the district.
After he retired, he had an opportunity to learn about disaster response. Suzuki steeled himself, thinking, "I may have lived my life so as to help the residents in this situation."
Residents worked together to resolve even small issues one by one.
First was toilets. In the early days after they started to live in the evacuation shelter, people relieved themselves in random places. When the smell started to bother them, someone said one day, "Let's make a traditional vault toilet." By the end of the day, gender-segregated vault toilets separated by plywood had been built on a vacant lot dozens of meters from the shelter.
Electricity and heating power were also provided quickly. A plumber who happened to be visiting the district when the quake occurred had a generator. Residents removed fuel from damaged fishing vessels and used the fuel to power light bulbs. For cooking, they dried wooden debris and set it on fire.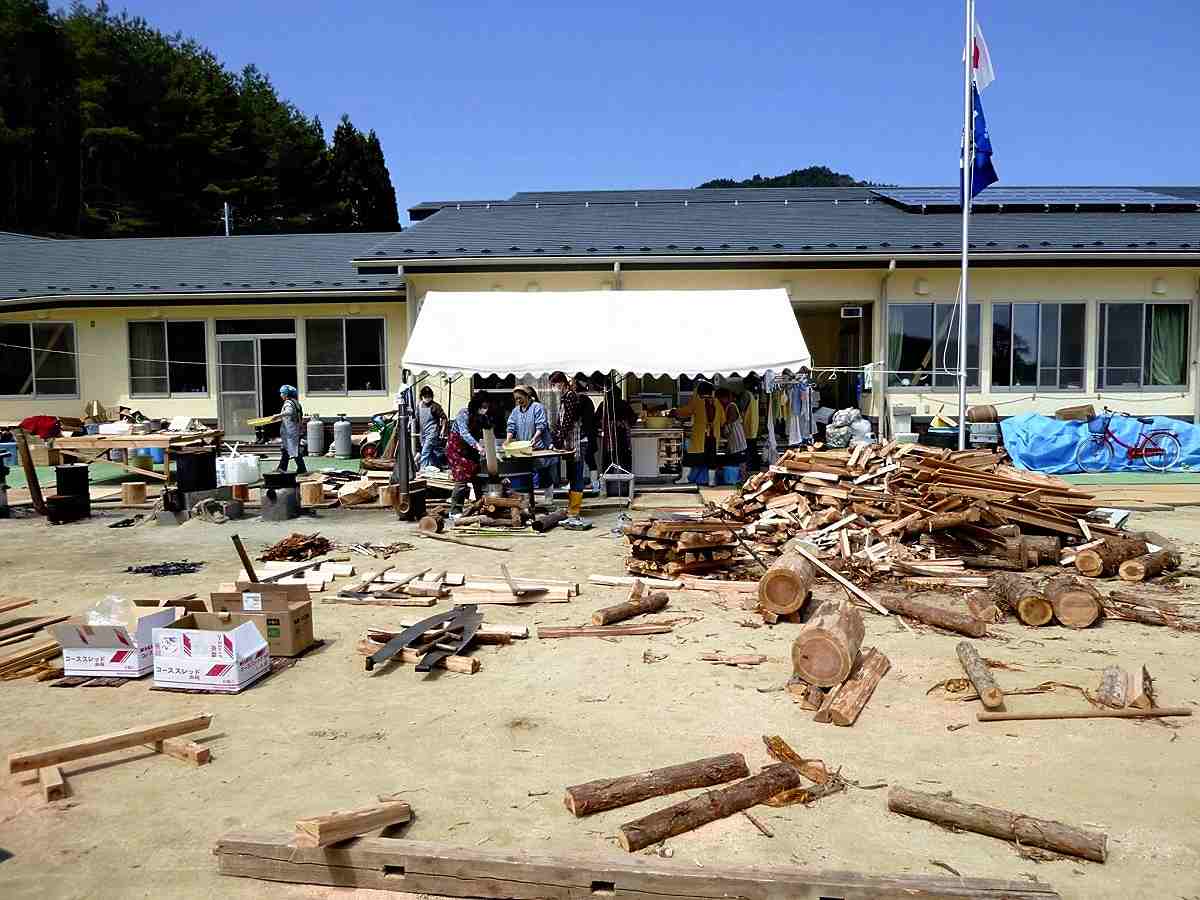 ■ Bathtub made from seaweed tank
"I'll draw water from the mountain," said Tadahiko Sasaki, 77. Fishing villages do not just face the sea, especially in the Tohoku region where there are steep mountains near the ocean. When Sasaki was young, he grew rice on higher ground in the district, so he knew where a water sources was.
Sasaki asked acquaintances and collected several hundred 2- to 4 meter-long pipes for agricultural water supply and connected them. Then he linked the pipes to spring water deep in the mountain. About a week after the earthquake, water clean enough to drink came in a straight line through the pipes to the daycare center, about two kilometers away from the water source.
Once they had secured the strongly desired water, residents also wanted to take a bath. The perfect tools for that were lying on a quake-hit beach: a tank and boiler for boiling cultivated wakame seaweed. They built a makeshift bathhouse of plywood, equipped with a fine "public" bathtub that could accommodate four or five people at once.
There was abundant food. Residents near the daycare center whose homes escaped damage from the tsunami offered rice and seasonings. Their families had moved to higher ground after their houses were washed away by the 1933 Showa Sanriku Tsunami. There were scallops and other seafood in fishermen's freezers, and they were offered to evacuees soon after the disaster, as fishermen said they should be eaten before they went bad due to power outages.
Inoue cannot forget the shock he felt when he entered the district as a volunteer. "The rich natural environment and the skills of residents were clear. They made me realize the skills necessary to live, as people in an downtown area became panic-stricken and had difficulty finding toilets," Inoue said.
Residents gradually moved to their relatives' houses or temporary houses, and the Aikawa daycare center finished its role as an evacuation shelter on July 15, 2011.
"We were able to close the shelter thanks to your cooperation. We appreciate your support and cooperation." Thank-you letters saying this could be quickly sent to relevant people because Machiko Sasaki, 23, who was a junior high school student at the time of the disaster, and others took care of all clerical work. They kept records of addresses and other information every time relief supplies were delivered to the shelter.
"Adults were busy operating the shelter and preparing meals, so I naturally thought I should do what I could do," Suzuki recalled. She was very busy distributing supplies, serving meals and doing other work every day. She cannot say it was a good memory but she sometimes thinks, "I can't find how to draw water from a mountain or build a bathtub on the internet, but such things might be the most important knowledge."
In August 2011, a month after the shelter was closed, the Aikawa daycare center opened four months behind schedule. Now, 14 children go to the daycare.
Add TheJapanNews to your Google News feed.