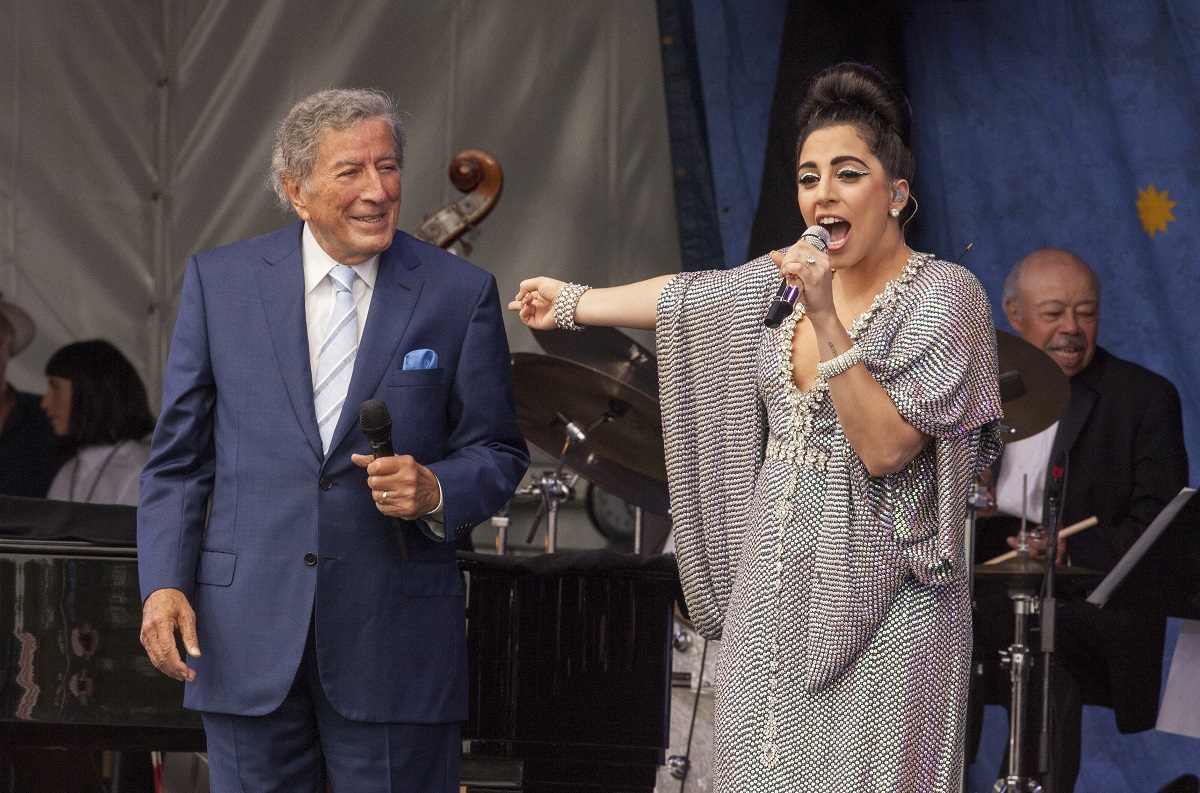 12:25 JST, July 23, 2023
NEW YORK (AP) — What do Paul McCartney, Queen Latifah, Lady Gaga and Stevie Wonder have in common?
Oh, and Aretha Franklin, k.d. lang, Bono and Billy Joel. Not to mention Carrie Underwood, Judy Garland, John Legend and Placido Domingo. And let's not forget…
Stop. Listing all of the musicians who performed duets with Tony Bennett would take up our remaining space. His place in music history is already secure.
Bennett, who died at 96 on Friday, was indeed "the last of the great saloon singers of the mid-20th century," as Charles J. Gans wrote for The Associated Press. Yet that summation befits a man frozen in time, consigned to a specific era, and Tony Bennett was anything but that.
Instead, Bennett transcended generations in a way few musicians have.
He was rightly beloved by older listeners for the way he interpreted the works of songwriters Irving Berlin, Cole Porter, Jerome Kern and George Gershwin in a strong and stalwart voice that remained true into his 90s. He was influenced by and helped popularize jazz, and marched with the Rev. Martin Luther King to fight for civil rights.
He was also admired by those who, if they left their hearts in San Francisco, it was at the corner of Haight-Ashbury, or a trendy dance club.
"I have to think it comes down to the man itself," said singer Ben Folds, at age 56 four decades younger than Bennett was at the end.
"You hear his voice, it's super kind, casual and in the moment," Folds said. "His phrasing is that way, too. There's nothing that sounds uptight. It's very generous. A lot of people in his generation didn't have that appeal because at the end of the day, you didn't feel that they cared about you."
Many of Bennett's successful late-career duets were a tribute to the savvy marketing of his son and manager, Danny, who kept his dad's career going long past most peers hit their expiration date.
But famous duet partners could have said no. Few did.
Don't think they didn't notice the sweet and tender manner he brought to the studio working with people like Lady Gaga and Amy Winehouse, Folds said. Bennett's duet with Winehouse on "Body and Soul" was the last studio recording she made before she died.
Gaga, the New Yorker born Stefani Germanotta who could appreciate the New Yorker born Anthony Benedetto, became like family and ushered him through musical triumphs with love even as he suffered from Alzheimer's Disease. Bennett drew and signed an image of Miles Davis' trumpet that Gaga wears as a tattoo on her arm.
k.d. lang's formidable voice bowed to no one when she brought it to a series of memorable performances with Bennett in the 1990s.
"He was a place of refuge for the American songbook," lang told the Associated Press. "He made sure that he loved a song. He would not sing any song that he didn't love."
Make no mistake: Bennett brought the goods. Watch a video of him coming on to a Shea Stadium stage to sing "New York State of Mind" with Billy Joel. His guest steals the song, and Joel beams as he watches.
His handiwork has just been blessed by Tony Bennett.
At a San Francisco fundraiser a few years ago, with Alzheimer's insidious impact already apparent, Folds watched stunned as Bennett switched from remarks to a few bars of "I Left My Heart in San Francisco," in perfect pitch.
Bennett exuded an older generation's class, always performing in a tuxedo or tailored suit. In a Los Angeles hotel room in 1994 when an earthquake hit before dawn, Bennett took the time to change into a suit before joining bathrobe-wearing evacuees, the Los Angeles Times noted.
In all of the work he did with contemporary artists, he never sounded age inappropriate, said music critic Jim Farber. Bennett always bent them to his musical will, never the other way around, he said.
"There's this multitude of singers, from Gaga to Diana Krall to John Mayer," lang said. "Now they can carry a certain understanding that they received firsthand from him."
Something more important was usually happening in the audience.
Two years ago, writer Christine Passarella recalled sitting in lawn chairs in a Brooklyn park in the 1980s with her mother and baby daughter, listening to Bennett sing.
"Seeing him live felt like watching an uncle embracing me and my mom, as his music helped us remember my father, my mom's one and only love," she wrote.
Countless numbers of people remember similar moments with family over the years, hearing Bennett's voice wash warmly over them while sitting with a mother or father, a son or daughter. I'm among them.
That is, ultimately, a legacy to be treasured above all.
Add TheJapanNews to your Google News feed.