90% of Ex-Jehovah's Witnesses Beaten as Children; Legal Team Strongly Calls for Official Investigation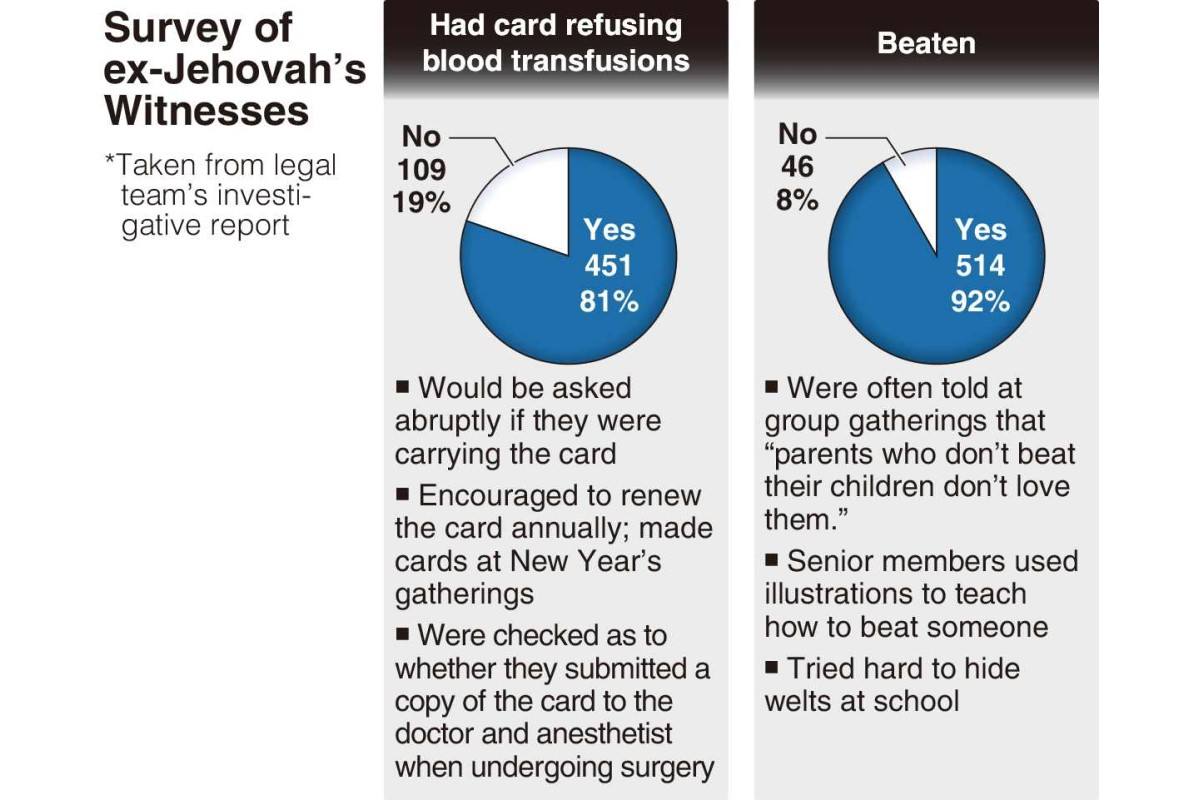 17:18 JST, November 21, 2023
About 90% of former Jehovah's Witnesses were beaten by their parents or others during their childhood, according to an investigative report released Monday by a legal team tackling issues related to the religious group.
The report also said that about 80% used to carry a card refusing blood transfusions in accordance with the group's doctrine.
Beating children and refusing to allow them to have blood transfusions are defined as child abuse in guidelines released by the government last December. On Monday, the legal team submitted a letter to the Children and Families Agency requesting an official investigation.
"It is strongly presumed that abuse and human rights violations are continuing," the letter said.
According to the report, a survey was conducted on former Jehovah's Witnesses and others in their teens to 70s. Respondents answered 194 questions about beatings, refusal of blood transfusions and other issues.
Of the 560 respondents, 514 — or 92% — were beaten by their parents or other people during their childhood for reasons such as being disobedient to their parents or falling asleep during religious meetings. Whips, belts, rulers or bare hands were used.
A total of 451 — or 81% — had a "no blood" card in their possession. Among this group, 350 people said they carried the card because they were told to by a guardian, while 140 said senior members checked whether they had the card.
Jehovah's Witnesses who withdraw from the group are reportedly denied any communication or contact with their family or other members they were close to. According to the report, the religious group "strongly encourages" members to follow this practice.
"In combination with the mental health problems caused by abuse, this makes it difficult for followers to leave the group," the report read.
Family's suffer
A 40-year-old man from Saitama Prefecture whose parents and older brother are Jehovah's Witnesses told The Yomiuri Shimbun that he used to be beaten by his mother in his childhood whenever he displeased her.
The man said he use to wear the "no blood" card around his neck. When he begged to join an after-school club, he was told, "Devote that time to missionary work."
When he was 20 years old, the man left the Jehovah's Witnesses when he began dating a woman who was not a follower. He then started to be rejected by his family.
He was not informed of his parents' relocation or his brother's marriage. He asked his mother to interact beyond religion but was told "I can't do that unless you come back [to the group.]"
"The rejection by my family is so painful that it tears me apart," the man said. "I hope the authorities investigate the situation and take firm action."
Add TheJapanNews to your Google News feed.