Kyoto Hotels Facing Serious Labor Shortages After Post-COVID Tourism Rebound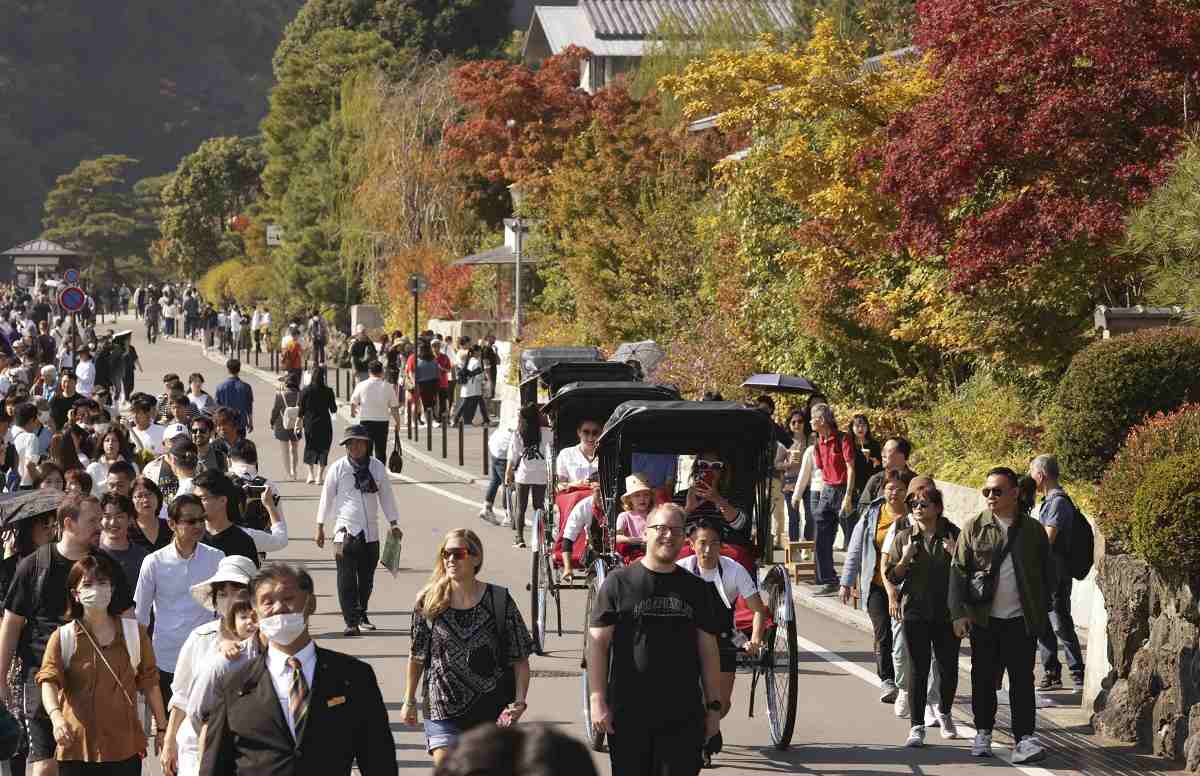 16:05 JST, November 19, 2023
KYOTO — As Kyoto enters autumn tourism season, its hotels and accommodation facilities are facing serious labor shortages. After the subsiding of COVID-19, the number of foreign tourists visiting Japan has steadily increased and the percentage of occupied hotel rooms in Kyoto is expected to reach nearly 90%. However, competition for workers is increasingly fierce due to the opening of many new hotels in the city as well as chronic labor shortages, making it more difficult for accommodation facilities to hire enough workers.
Canceled group reservations
On Nov. 3, the first day of a three-day weekend in early November, the Togetsukyo bridge in the Arashiyama district of Kyoto was crowded with tourists.
Despite that, hotel representatives did not look cheerful. "Even though we try to recruit workers, we do not have enough applicants. We are managing to operate by increasing work shifts for existing employees," a hotel representative said. The hotel has failed to fill staff positions for its restaurant, which had laid off employees during the pandemic when it had less customers. The hotel manages to make up for the labor shortage by hiring short-term casual workers via phone apps, but it sometimes must cancel reservations from large groups of guests, according to the representative.
The Kyoto Ryokan Watazen in Nakagyo Ward, Kyoto, which has been in operation since the Edo period (1603-1867), cut its capacity in half during the pandemic. Now, accommodation demand has improved due to students on school excursions, but the ryokan still operates at half-capacity.
Masayo Ono, 39, the okami proprietress of the ryokan, said, "We cannot compromise the quality of our hospitality just because we are short-handed. We must also protect the work environment of our employees."
According to the Kyoto City Tourism Association, about 43.61 million tourists visited Kyoto last year. By month, November, which is the fall foliage season, saw the largest number of visitors at about 4.68 million and the room occupancy ratio at hotels was 80.2%, exceeding 80% for the first time in three years. As many foreign tourists have spent nights in hotels this year, the ratio is expected to reach 89.2% in November this year, the same as the pre-pandemic level.
Specific to Kyoto
Labor shortages at hotels are a national problem. According to the labor force survey by the Internal Affairs and Communications Ministry, the number of people working in the hotel industry stood at 530,000 people in 2022, which is 120,000 down from before the pandemic in 2019.
In June, city tourism association conducted a survey on 152 businesses in Kyoto including accommodation facilities. According to the results, 70% of the respondents said they were short-staffed. By industry, 46% of respondents in the hospitality industry said they faced labor shortages. Many people apparently avoid working in the industry due to being required to work at all hours of the day and night and working conditions such as wages. On top of that, there are reasons specific to Kyoto.
According to the Kyoto municipal government, the city has 650 hotels and accommodation facilities, up 100 over the past six years. Many large foreign-capital hotels and luxury hotels have opened recently, and they are competing to secure workers.
Many tourists spend nights in Kyoto, which also has an impact. A hotel group introduced automatic check-in machines two years ago to address the labor shortage. However, it has stopped using the machines and receptionists handle check-in and other operations now. "If there is no one at the front desk of the hotel, we are not able to provide information on tourism and restaurants for our guests," a representative of the hotel group said.
Subsidies for recruitment
Aiming to address labor shortages at hotels, the city tourism association launched a subsidy program in October to provide up to ¥50,000 to hotels and accommodation facilities to place online recruitment ads. The association also plans to create a video to communicate the appeal of working in the hotel industry.
Mitsuo Fujiyama, a researcher at the Japan Research Institute Ltd. who is knowledgeable about the tourism economy, said, "The central government and municipalities, which aim to make Japan a travel destination, need to provide long-term support for accommodation facilities to secure and train workers. Accommodation facilities should make efforts to improve efficiency in their operations by utilizing means such as information technology."
Add TheJapanNews to your Google News feed.