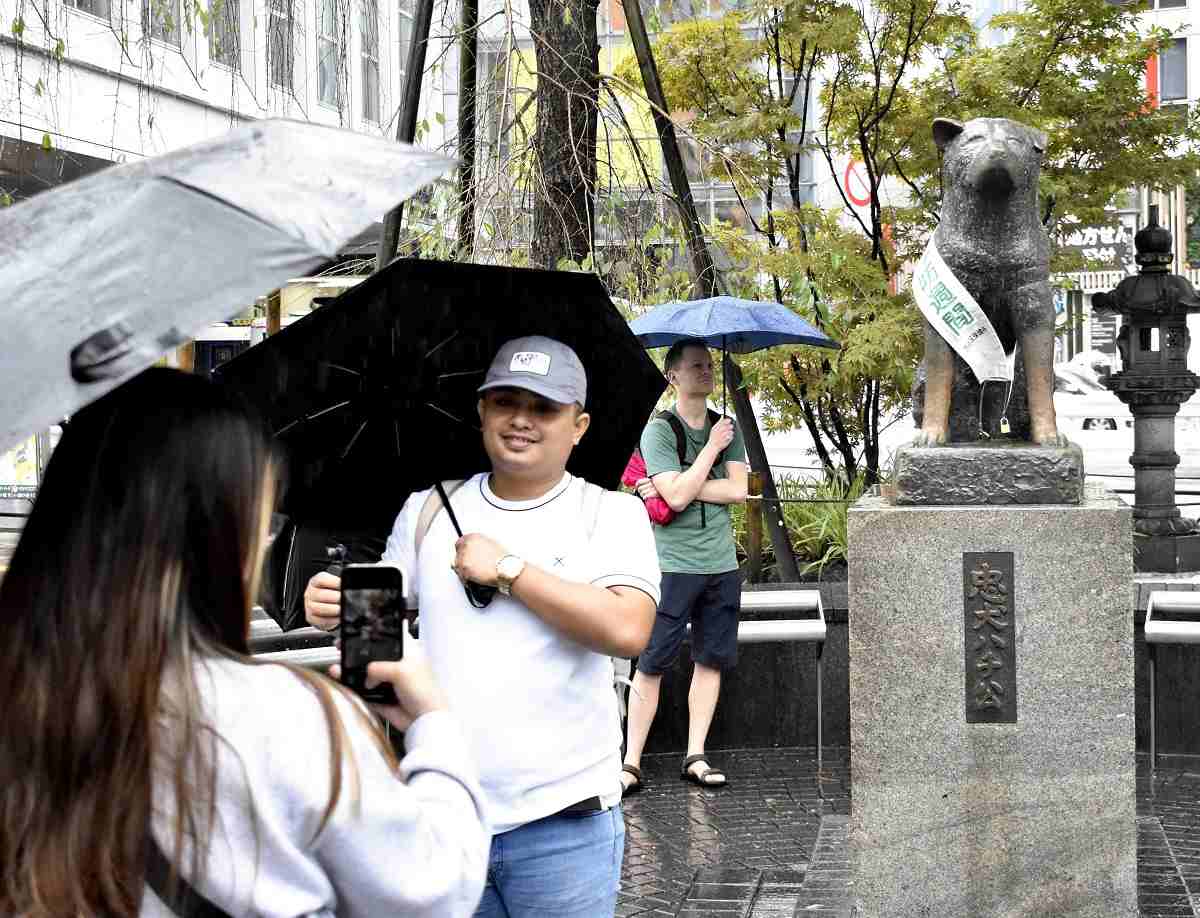 12:48 JST, November 5, 2023
TOKYO (Jiji Press) — This month marks the 100th anniversary of the birth of Hachiko, the loyal dog who continued to wait for his deceased owner at Tokyo's Shibuya Station.
The statue of Hachiko in front of the station is known as a meeting place and also a popular spot for foreign tourists.
As to why Hachiko is still so beloved today, one expert says, "It may be because the dog resonates with people of all ages, genders and nationalities, as it overlaps with the experience we all have of wanting to meet someone we love but can't."
According to a folk and literary museum in Shibuya Ward, Hachiko was born in November 1923 in the city of Odate, Akita Prefecture.
From January 1924, Hachiko was kept by Hidesaburo Ueno, who was a professor at Tokyo Imperial University and a dog lover. However, Ueno died suddenly in May of the following year.
Hachiko was then moved from place to place, including the home of a relative of the professor's wife, before being placed in the care of a gardener near the station. Around that time, he began to go to the station every morning and evening.
Keita Matsui, 55, a curator at the museum who is familiar with Hachiko, said, "When Prof. Ueno returned from his business trip, he found Hachiko at Shibuya Station, and he was happy to see Hachiko and gave him lots of love. So, Hachiko must have thought that if the professor was absent for a long time, he could see the professor at the station."
At first, Hachiko was thought to be a stray dog and was chased away or mistreated. But after he was introduced in a newspaper in October 1932 as "a dog waiting for the return of his late master," he suddenly became very popular.
He was praised and a bronze statue of him was erected, but he died in March 1935 at the age of 11.
Although the first bronze statue of Hachiko was destroyed during the war, the current statue was built in August 1948.
Matsui points out that Shibuya Ward was established in the same year that Hachiko appeared in the newspaper. "At that time, Shibuya was still underdeveloped, and thanks to Hachiko, it became known throughout the country."
During Halloween this year, the area around the Hachiko statue was unusually cordoned off out of concern for possible crowd accidents. The statue itself, however, has rarely been damaged in the past.
"It's amazing that no one has damaged the Hachiko statue," Matsui said. "Maybe he is like a friend that everyone knows."
The museum's Hachiko exhibits are very popular and attract many devoted fans, according to Matsui.
In Odate, an event will be held on Nov. 11 and 12 to celebrate the 100th anniversary of his birth.
Add TheJapanNews to your Google News feed.