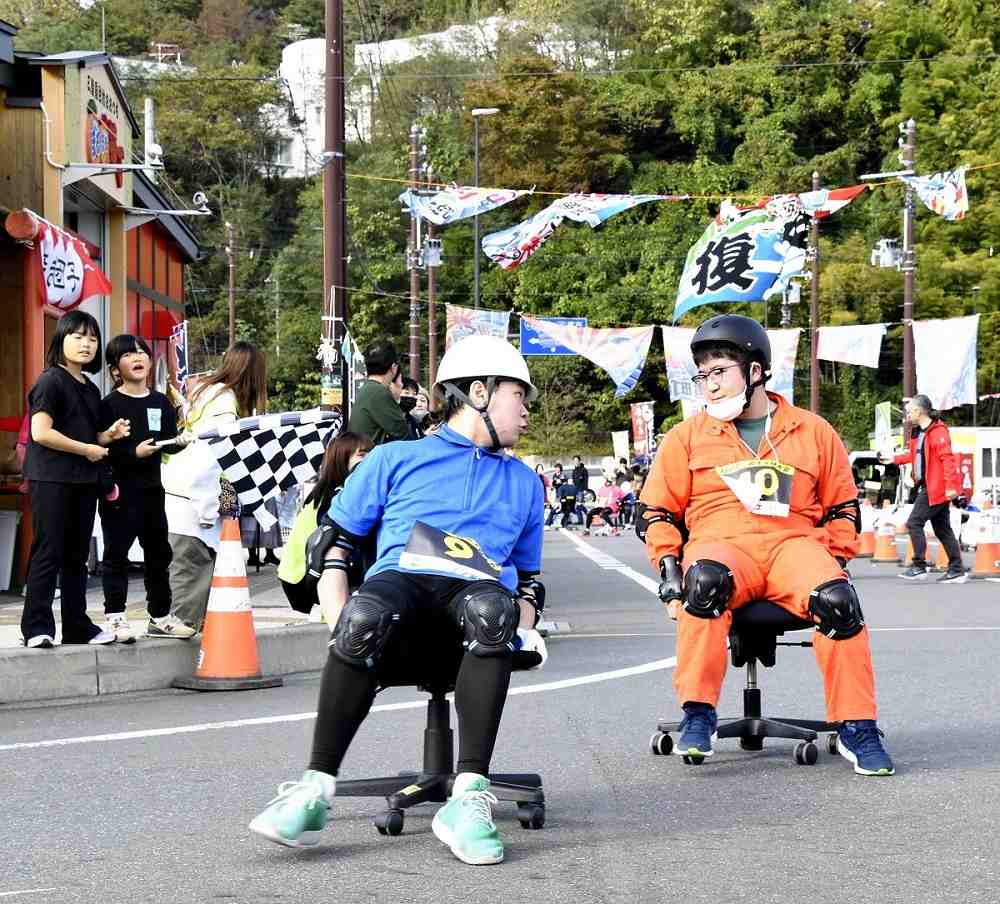 16:03 JST, October 29, 2023
It wasn't exactly the 24 Hours at LeMans, but the 50 or so competitors participating in a team endurance race on Saturday in Otsuchi, Iwate Prefecture, could feel the exhilaration of speed and power. Or at least as much speed and power as they could generate sitting in an office chair.
The "Isu-1 Grand Prix in Otsuchi" ("isu" means chair) consisted of teams of three members each taking turns over two hours propelling themselves in an office chair around a 170-meter circuit in front of Otsuchi Station.
The event was organized by the youth division of the Otsuchi chamber of commerce and industry with the aim of boosting community spirit.
Sixteen teams from both inside the town and out participated in the general category for high school students and older. The air reverberated with the rattling sound of the chairs' wheels speeding over the pavement.
When the time expired and the dust had settled, the team representing Otsuchi High School came out on top by completing 117 laps, a total of about 19.9 kilometers.
"Thanks to my teammates' support, I was able to keep on going," said out-of-breath first-year student Yo Onihara. "It's an amazing feeling. Slowing down for the curves took energy, so it was pretty tough."
Yukio Kanesawa, the head of the town's youth division, expressed satisfaction with the event. "We were able to create an opportunity for many people to gather in Otsuchi," he said. "I hope we can hold it again next year."
Add TheJapanNews to your Google News feed.