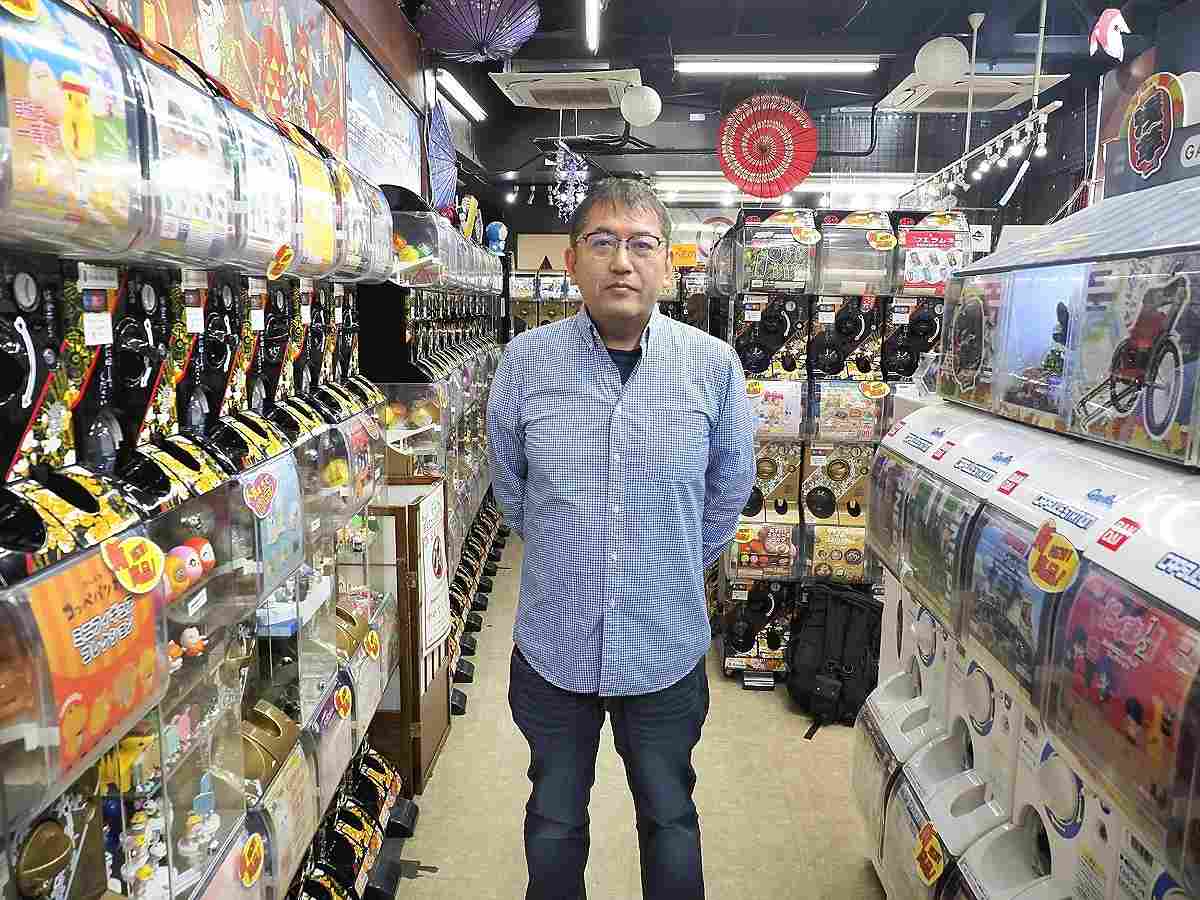 20:00 JST, October 28, 2023
FUNABASHI, Chiba — Clink. Gacha, gacha. Roll. Pop. Capsule toy vending machines can be found nearly everywhere and their sounds conjure up memories from childhood. However, these capsule toy machines can also offer a lesson in economics.
The head of the Japan Gacha Gacha Association has published a book on capsule toy vending machines, commonly called gacha gacha or gacha in reference to the sound the machine makes when the dial is turned.
Katsuhiko Onoo, 57, hopes his book "Gacha Gacha no Keizaigaku" (The economics of gacha gacha), published by President Inc., will help spread the appeal of the small toy dispensers.
Onoo is also involved in helping to revitalize local communities in Funabashi, Chiba Prefecture, where he lives, by using machi-gacha, which dispense key chains featuring local tourist attractions.
From the U.S. to Japan
Onoo was born and raised in Funabashi. In 1994, when he was 29, he started working for the toy manufacturing company Yujin, which has since become T-ARTS Co. (Takara Tomy Arts), where he worked in the capsule toy division for 25 years.
"I can get direct feedback from customers on products I've developed from scratch," said Onoo, explaining what he enjoys about gacha.
In 2019, he started his own business and became a consultant for companies in the capsule toy industry.
As the head of the Japan Gacha Gacha Association, a general incorporated association of capsule toys founded in 2022, he works to publicize the industry.
Since 2021, he has been involved in the machi-gacha project for Funabashi, working with the city's tourist association, and about 30,000 capsules have been sold so far.
Capsule toys were invented in the United States, but became a cultural phenomenon in Japan. In the book, Onoo includes the history of gacha, as well as an analysis of the industry's growth amid the pandemic and price hikes for raw materials.
Recession resistant
The value of the capsule toy market reached a record ¥61 billion in fiscal 2022, according to a survey by the Japan Toy Association.
Onoo believes the market has been boosted by capsule toy specialty shops, which are stores that have dozens of gacha machines, as well as those who want to post unique gacha toys on social media. He also thinks that the skills required to make gacha toys attract people from overseas, as well as the mystery of not knowing what will come out next.
"It's more about enjoying the experience of using a gacha machine rather than obtaining the object itself," Onoo said. "That's the real appeal [of gacha].
"Gacha is recession resistant. It also doesn't require a person to man the machine, so it's contact-free and unaffected by labor shortages. A person can learn a lot about business by looking at a gacha, and I think those ideas can be applied to various businesses.
Add TheJapanNews to your Google News feed.