Ritual Held for 1,250th Anniversary of Death of 1st Chief Priest of Todaiji Temple in Nara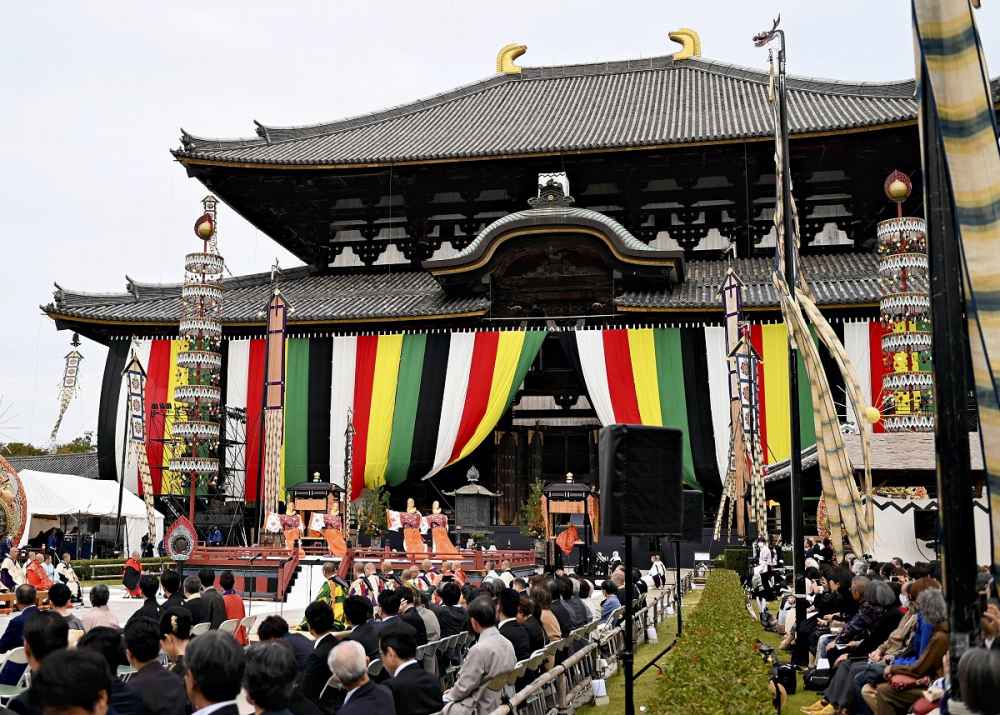 17:13 JST, October 15, 2023
NARA — A Buddhist ritual marking the 1,250th anniversary of death of the first chief priest of Todaiji temple in Nara began Saturday. The ritual, Go-ongi Hoyo, is to remember Roben (689-773), who founded the temple, which is also World Heritage site, during the Nara period (710-784).
Roben gave Japan's first lecture scripture of the Kegon sect at Kinshoji temple, the predecessor of Todaiji temple, and oversaw the construction of Todaiji temple and the Great Buddha statue.
The Kanso-mado viewing window in front of the Daibutsu-den (Great Buddha Hall) was opened for the special occasion so that the approximately 600 ritual participants could see the face of the Great Buddha statue, the principal deity of the temple.
During the ritual, which started at 10 a.m., nogaku plays were performed at a stage in the front garden of the Great Buddha Hall, and tea and flowers were placed as an offering to Roben. Participating priests read out Buddhist scriptures and flower petal-shaped papers called Sange were scattered in the air from the roof of the Great Buddha Hall.
Koei Hashimura, current chief priest of the temple, read a statement praising Roben's achievements. The ritual lasts for three days until Monday.
Add TheJapanNews to your Google News feed.