University of Tokyo Researchers Developing Full-body Electronic Skin to Measure Physiological Data and Analyze with AI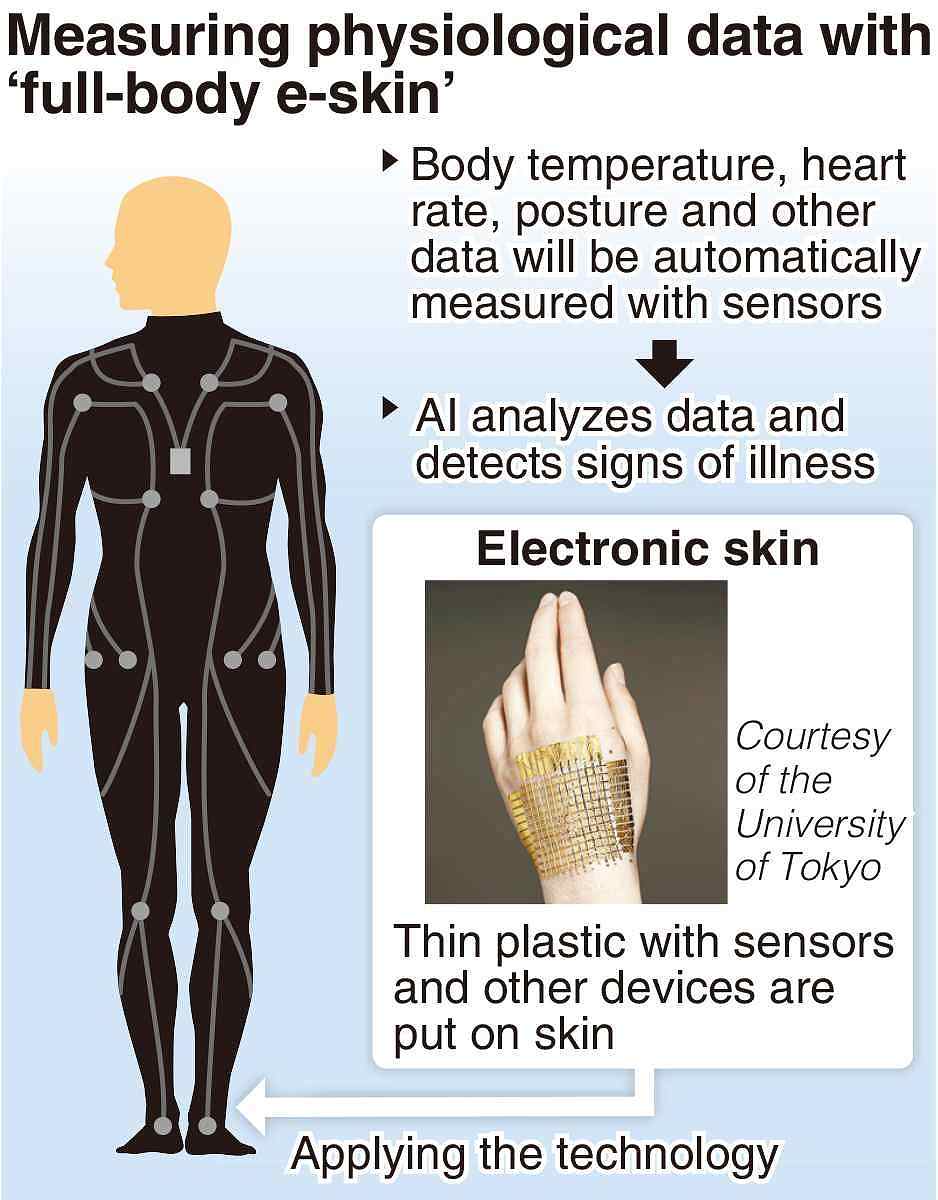 11:59 JST, September 4, 2023
An international team led by researchers at the University of Tokyo has begun developing a "full-body e-skin," which covers the entire body with a suit embedded with electronic circuits. Just by wearing the e-skin, physiological data such as heart rate, muscle movement and posture can be measured, which is then analyzed by artificial intelligence to detect signs of illness. The team plans to complete the full-body e-skin in the late 2020s after testing.
Electronic skin, composed of thin, soft plastic with sensors and electronic circuits, can now be used practically to measure brain waves, take electrocardiograms and collect other data when it is stuck to the skin. However, data can only be obtained from the area where the device is attached. This led the team of researchers to start developing a full-body e-skin to measure the entire body.
Headed by University of Tokyo Prof. Takao Someya, the team has about 50 members, including people from Riken and the Technical University of Munich in Germany. The government is expected to allocate about ¥700 million by fiscal 2028 from Grants-in-Aids for Scientific Research funds.
The researchers plan to incorporate electronic circuits and sensors into the suit using the technology for the electronic skin. Temperatures of various body parts, heart rate, electrical signals of muscles, and body posture will be measured while people wear the electronic suit when going about their day. The researchers also plan to make it possible to collect data over an extended period by combining the suit with ultra-thin solar cells and a wireless recharging system.
AI will analyze the large amount of collected data with the aim of detecting changes in physical condition and signs of illness. Athletes may use the suit for daily physical checkups, and the collected data could be useful in developing new medical technologies. The research team is also considering founding a startup company.
Currently, the researchers are developing various components for the full-body e-skin, and they plan to conduct experiments to see whether the e-skin can measure data while it is worn.
"To prevent disease, it is important to observe people's physical conditions when they are healthy," Someya said. "I believe it will be easy to use as people find it more convenient to wear a clothing-like monitor."
Add TheJapanNews to your Google News feed.