Rapid Aging Forecast in Possible Tsunami-affected Areas in Japan Nankai quake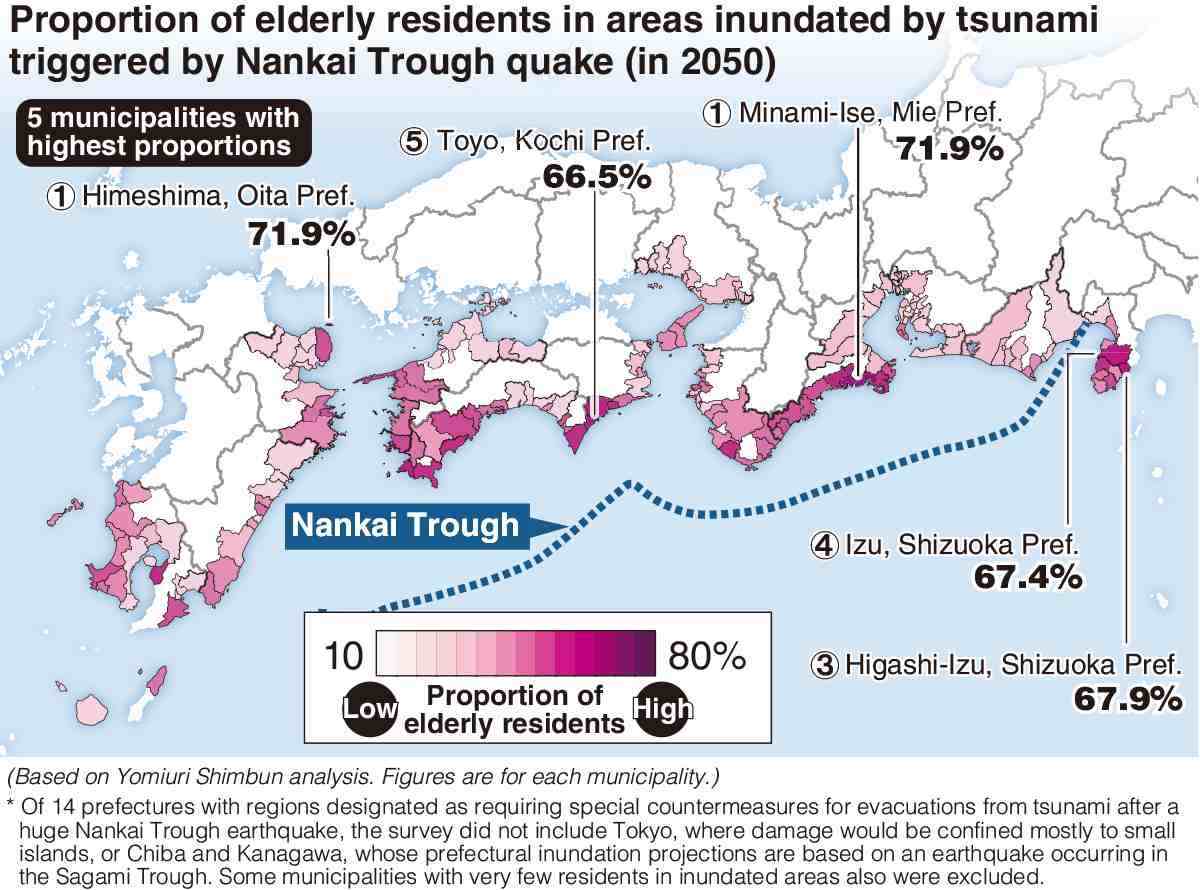 14:39 JST, September 2, 2023
Elderly people — 65 or older — will make up at least half of the populations in significant part of the areas expected to be inundated by tsunami following a massive earthquake in the Nankai Trough, according to a Yomiuri Shimbun survey.
About one-third of the municipalities concerned will have such aging communities by 2050.
As it is believed that the earthquake could occur within the next 30 years, this finding raises concerns that many residents will have difficulty helping each other evacuate in the event of a quake.
A massive earthquake with a focus in the Nankai Trough, which stretches along an area off the Pacific Coast between Shizuoka and Miyazaki prefectures, is estimated to have a 70% to 80% chance of occurring within 30 years. The temblor could be as strong as magnitude 9 and leave up to about 231,000 people dead or missing. The disaster is expected to inundate areas in 187 cities, towns and villages of 11 prefectures stretching from Shizuoka to Kagoshima.
The Yomiuri Shimbun analyzed the rate of population decline and shifts in the proportion of residents that will be aged 65 or older from 2020 to 2050 in those areas, using tsunami-inundation area data and population figures released by the Land, Infrastructure, Transport and Tourism Ministry based on projections provided by the National Institute of Population and Social Security Research. University of Tokyo Prof. Miho Ohara, an expert on disaster risk reduction, supervised the survey's research methods.
In Japan, communities in which elderly people account for over 50% of the population are called genkai shuraku, meaning rural areas that have reached the limits of sustainability due to depopulation and aging. According to the survey, while 10 of the 187 municipalities had such communities in their possible tsunami-affected areas, this figure will increase to 58 municipalities by 2050. Areas in the town of Minami-Ise, Mie Prefecture, and the village of Himeshima, Oita Prefecture, will have the highest proportion of elderly residents, at 71.9%. The figure in all the possible tsunami-affected areas will be 39.2%, slightly higher than the 37.2% forecast for the entire nation.
The proportion of elderly people among Japan's overall population is forecast to increase by 8.3 percentage points between 2020 and 2050. However, this figure will be 10 percentage points or higher in half of the 187 municipalities.
The population also will decline quickly in the areas. Japan's overall population is forecast to drop by 18.7% by 2050, but the population in the possible tsunami-affected areas will plunge by 23.4%. In tandem with this change, the working-age population capable of helping elderly residents evacuate — people aged 15 to 64 — also will decline. The survey estimated that in 2050, possibly affected areas in 88 of the 187 municipalities will have more elderly people than people of working age.
In the areas at risk of flooding in Minami-Ise, people aged 65 and over had already accounted for 50% of the local population as of 2020. The town has started researching optimal evacuation methods for residents, and some welfare facilities have already prepared lifeboats.
The Muroto municipal government in Kochi Prefecture has built tsunami evacuation towers in 11 locations, but has yet to figure out how to secure the necessary personnel to guide residents to the towers. There are strong concerns that more and more municipalities will encounter similar problems in the coming years.
The central government has set a target of reducing fatalities by 80% by installing tsunami evacuation towers and implementing extensive measures to ensure people evacuate immediately after an earthquake. However, Ohara suggested these steps alone might not be enough.
"Given the falling population and increasing proportion of elderly residents, a medium- to long-term measure will be needed," Ohara said. "It's necessary to encourage residents in risky areas to move to safer areas such as higher ground."
Add TheJapanNews to your Google News feed.