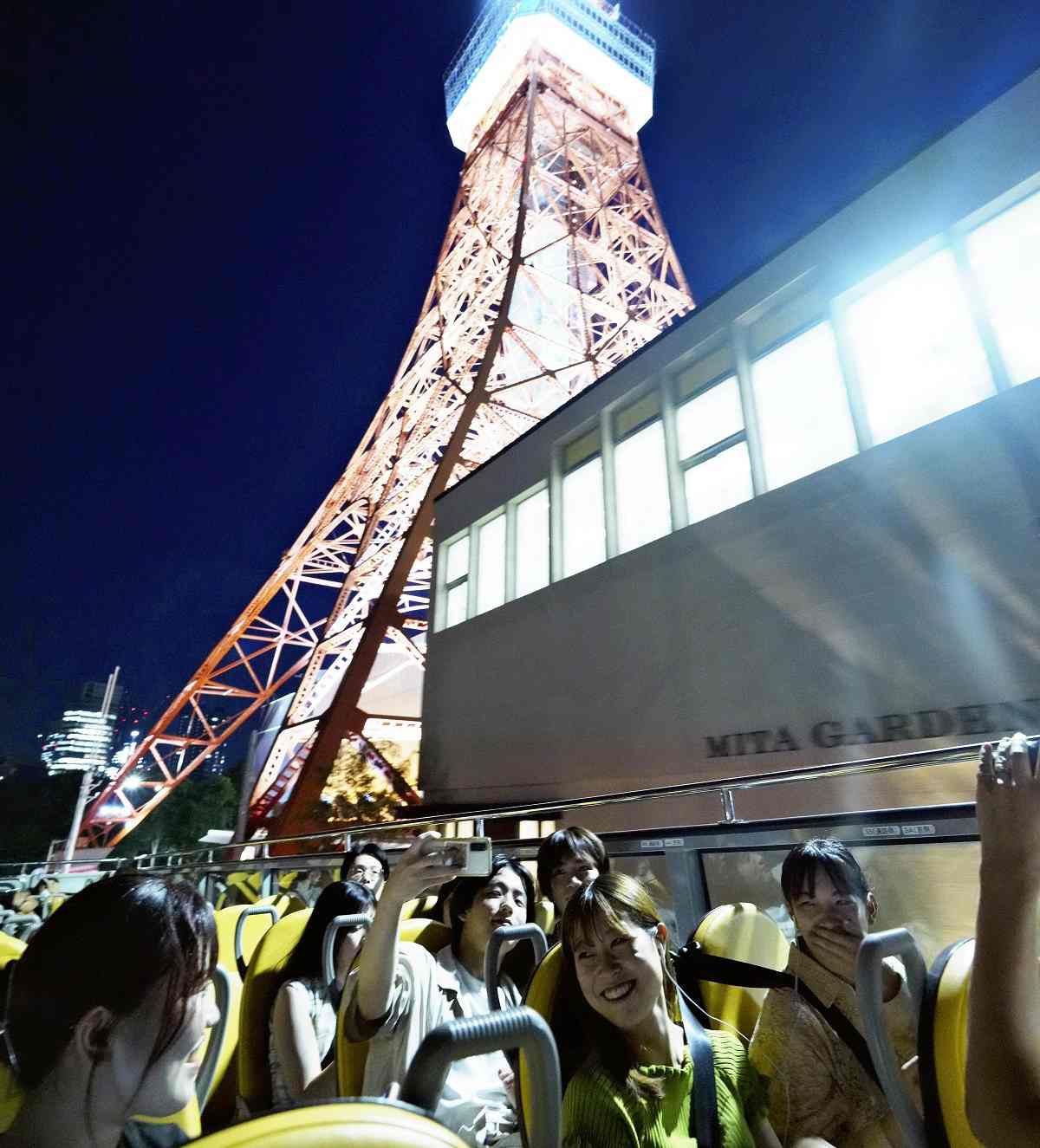 14:12 JST, August 16, 2023
Amid the tourism sector's recovery from the COVID-19 pandemic, efforts are turning to the nighttime economy, or entertainment provided from 6 p.m. to 6 a.m. the next morning.
The nighttime economy took a hit during the pandemic, but now the private sector and local governments are working on initiatives to take advantage of the influx of foreign visitors.
Bus tours
About 30 passengers cheered as their open-top double-decker sightseeing bus approached Rainbow Bridge in Odaiba, Tokyo, on a Friday in late July.
"It's so beautiful!" "Let's take photos" were among the comments from passengers as the view of Tokyo Bay appeared just after 7 p.m.
The passengers were being transported around the city on the Neo Tokyo Tour, a night bus journey jointly organized by students of Rikkyo University's College of Tourism and a bus company.
Aimed at foreign visitors and young people, the route includes Tokyo Tower, Kabukicho in Shinjuku Ward and the Odaiba area.
"We planned a route with night views so passengers can take great photos to post on social media," said Sumire Seizo, 20, a second-year student of the college.
"It's great to see various places in the cool air," said Wei Lusha, 36, a teacher from China.
Efforts to boost Japan's nighttime economy kicked off in the mid-2010s, with initiatives taking advantage of local charms to create new ways to enjoy night entertainment.
The nighttime economy in London was estimated to be worth £26.3 billion (about ¥3.7 trillion) in 2017, with public transportation operating until late at night on weekends so people can visit pubs and theaters without worrying about the possibility of missing the last bus or train home.
Meanwhile, in Japan, antiquated legislation that prohibited dancing in venues after midnight was changed in 2016, allowing revelers to dance through the night at some venues.
The move thrust Japan's nighttime tourism resources into the spotlight, and in 2017, the Liberal Democratic Party launched a Diet members league to take advantage of the nighttime economy.
A private sector organization was launched in Osaka in 2019 to promote the nightlife in the Dotonbori area and similar organizations followed in other locations.
The Japan Tourism Agency appropriated ¥1 billion in fiscal 2020 to conduct trials to increase nighttime spending, extending museum opening hours, among other measures.
However, the situation changed drastically when the COVID-19 pandemic broke out that year, bringing the nighttime economy to a halt.
Three years on, the focus has again turned to nighttime activities, following the downgrading of coronavirus to Category V under the Infectious Diseases Law, the same level as seasonal influenza.
This summer, Utsunomiya plans to offer subsidies of up to ¥1 million to businesses that operate at night in the city center. The city has already received an application from a company that wants to conduct tours of local restaurants and bars. Many day trippers from the Tokyo metropolitan area visit Utsunomiya, which wants more visitors to stay overnight
Nagasaki has a similar system, offering subsidies of up to ¥2 million. One beneficiary is the Nagasaki Port Yacht Cruise & Dinner. 70% of seats has been booked for the current season lasting through October.
The Japan Tourism Agency, which plans to support such initiatives, wants to promote nighttime activities to increase the amount foreign tourists spend in Japan.
Challenges remain
Standing in the way of efforts to boost the nighttime economy include transportation issues.
Train timetables were changed during the pandemic and the last service of the day was set earlier on many lines. As many railway firms have not reverted to pre-pandemic schedules, the lack of transport at night could stymie efforts to boost the nighttime economy.
Another issue is labor costs. Many businesses might be reluctant to open late at night as labor expenses are higher than during daytime hours.
Safety is also an issue. Britain has a system to certify areas that meet safety standards regarding crime rates and other criteria to ensure that visitors can enjoy nighttime events in a safe environment.
Add TheJapanNews to your Google News feed.