14:59 JST, August 11, 2023
Three months have passed since COVID-19 was recategorized as a Category V disease under the Infectious Diseases Law, putting it on par with seasonal flu.
Since then, the infection situation has steadily worsened, with the number of COVID-19 patients across the country increasing for 11 weeks in a row. During the years of the pandemic, we have seen waves of infection each summer.
Ahead of this year's Bon summer holiday period, when many people travel, medical institutions and local governments were increasingly vigilant against the disease.
'Unpredictable'
"Given our experiences in past summers, we don't know when the number of COVID-19 inpatients will surge, so we can't let down our guard," said Yutaka Ueki, assistant director of Tokyo Medical and Dental University Hospital in Bunkyo Ward, Tokyo, which accepts COVID-19 patients.
Since COVID-19 was recategorized as Category V, the hospital's intensive care units have held two COVID-19 patients with severe symptoms on average, while the number of patients with moderate symptoms has increased since July.
Most of the patients are people aged 60 or older with at least one chronic condition. Lately, there are also many people with heatstroke, and the hospital accepts patients from more than 30 ambulances each day.
"It's more difficult now to correctly ascertain the infection situation, making it impossible for us to make predictions," Ueki said in a concerned tone.
According to the Health, Labor and Welfare Ministry, the average number of COVID-19 patients reported by about 5,000 designated medical institutions across the country stood at 15.91 per institution in the week that began July 24. This is about nine times the 1.8 patients per institution that was recorded in the week that began May 1, just before the reclassification.
The number was also about half of the peak level of 29.83 during the eighth wave of infections in December 2022.
Slight rise in outpatients
During the fifth wave of infections in the summer of 2021, the Delta variant of the coronavirus was rampant and there were many cases in which relatively younger people became seriously ill with pneumonia. In the seventh wave last summer, the BA.5 subvariant of the highly contagious Omicron variant of COVID-19 spread, causing an explosive increase in the number of infections.
This summer, more and more people have been actively traveling for the first summer holidays after the COVID-19 reclassification.
Hiroki Ohashi, director of Tama Family Clinic in Kawasaki, said: "I expect the number of COVID-19 patients to increase after the Bon holiday period. I want to make sure all people in the community receive medical care and get through this summer."
According to the health ministry, a total of 19,299 people were in the hospital as of Aug. 2, and 350 of them were severely ill. An advisory body to the ministry said at a meeting on Aug. 4 that the medical system did not seem under excessive pressure nationwide.
However, severely ill patients are increasing and the situation is unpredictable. The number of medical institutions with COVID-19 outpatient departments increased to about 49,000 across the nation, up about 7,000 from the level before the recategorization. However, the figure is far from the goal of about 64,000.
Protect senior citizens
Municipalities are increasingly vigilant in Kyushu, where infections are particularly spreading. Starting on Aug. 1, the Oita prefectural government established its own standards for issuing a "caution" or "warning" according to the number of COVID-19 patients per medical institution. The most recent figure was 24.33, equivalent to the level for issuing a caution for seasonal flu.
"We want to encourage people in an easy-to-understand manner to take precautions before the Bon holiday period," a prefectural government official said.
When people return to their parents' homes or take other trips during the Bon holidays, they have more opportunities to be in contact with elderly people they don't usually meet. It is important to prevent elderly people who are at the risk of serious symptoms from being infected.
Kazuhiro Tateda, a professor of infectious diseases at Toho University, said: "Since COVID-19 remains a threat for elderly people and those with health conditions, special attention must be paid when coming into contact with such people.
"When people have cold-like symptoms, they should consider the possibility of COVID-19 and might need to refrain from going out or going on a trip."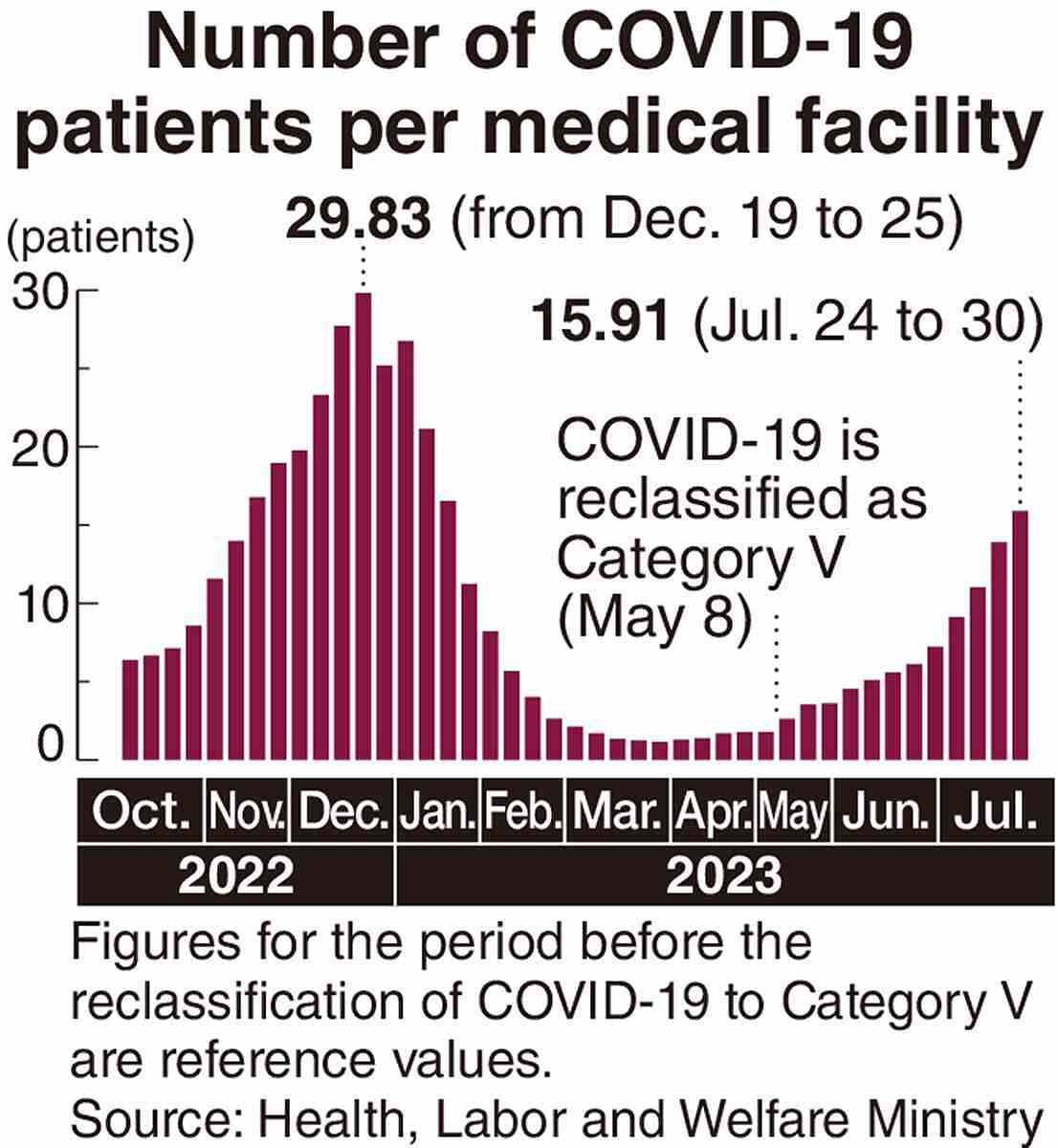 Add TheJapanNews to your Google News feed.