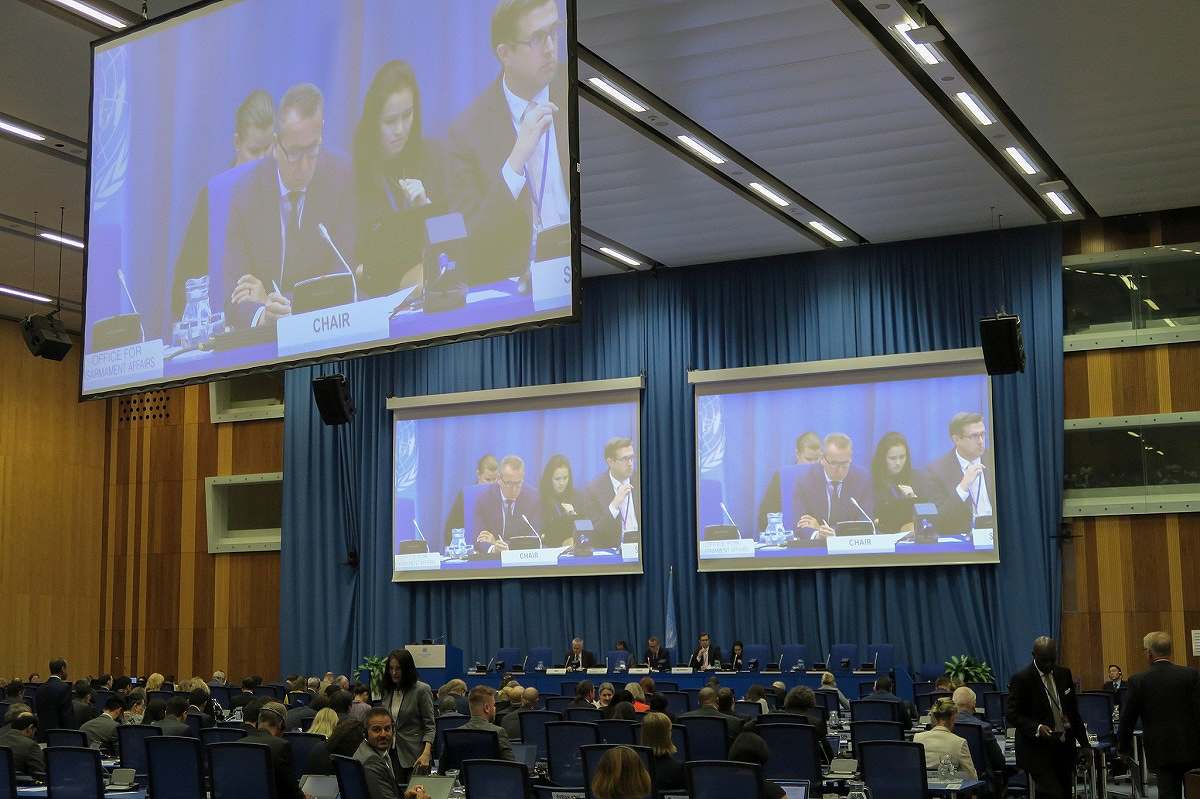 16:41 JST, August 7, 2023
BERLIN — International differences regarding nuclear disarmament and other issues have again come to the fore at meetings of the preparatory committee for the next conference on the Treaty on the Non-Proliferation of Nuclear Weapons (NPT), underscoring the harsh reality surrounding nuclear arms.
The Russian representative argued during Thursday discussions in Vienna that possessing nuclear weapons is the only possible protection against external threats. The delegate insisted that if Russia reduces its nuclear arsenal, its security environment will worsen in the face of the expansion of the North Atlantic Treaty Organization.
The Russian official expressed the nation's wariness over matters including so-called nuclear sharing, in which the U.S. nuclear umbrella is extended to NATO member nations.
In response, the U.S. representative criticized Russia's statement, saying irresponsible remarks on nuclear weapons further undermine efforts to make progress on disarmament. The current tensions were created by Russia, which launched an invasion of Ukraine, the U.S. delegate said.
The preparatory committee is an annual forum to sort out issues related to such matters as nuclear disarmament and nonproliferation, ahead of the next NPT conference in 2026. However, heated arguments have taken place, and there is little cooperative momentum.
The preparatory committee discussions have highlighted the confrontational relationship between Russia and the countries that support Ukraine. Poland emphasized that NATO's nuclear sharing is vital for its national security in light of the Russian invasion, while Finland, which joined the alliance in April in response to the invasion, stressed that Russian deployment of tactical nuclear weapons in Belarus will further escalate tensions.
Although each party takes a stance of contributing to nuclear disarmament and nonproliferation in general, Russia's invasion has exacerbated the conflicts between different interests.
China, which has been strengthening its nuclear capabilities, has said that imposing blanket obligations on countries with widely different sizes of nuclear arsenals would bring the nuclear disarmament process to a standstill. It argues that such countries as the United States should take the lead in nuclear disarmament.
The preparatory committee began holding discussions late last month and will continue through Friday. In her opening remarks on the first day, Izumi Nakamitsu, the U.N. undersecretary general and high representative for disarmament affairs, called on each party to hold constructive dialogue.
The world is witnessing the highest level of geopolitical competition, heightened tensions and deepening divisions among major powers in the past several decades, Nakamitsu said.
Add TheJapanNews to your Google News feed.