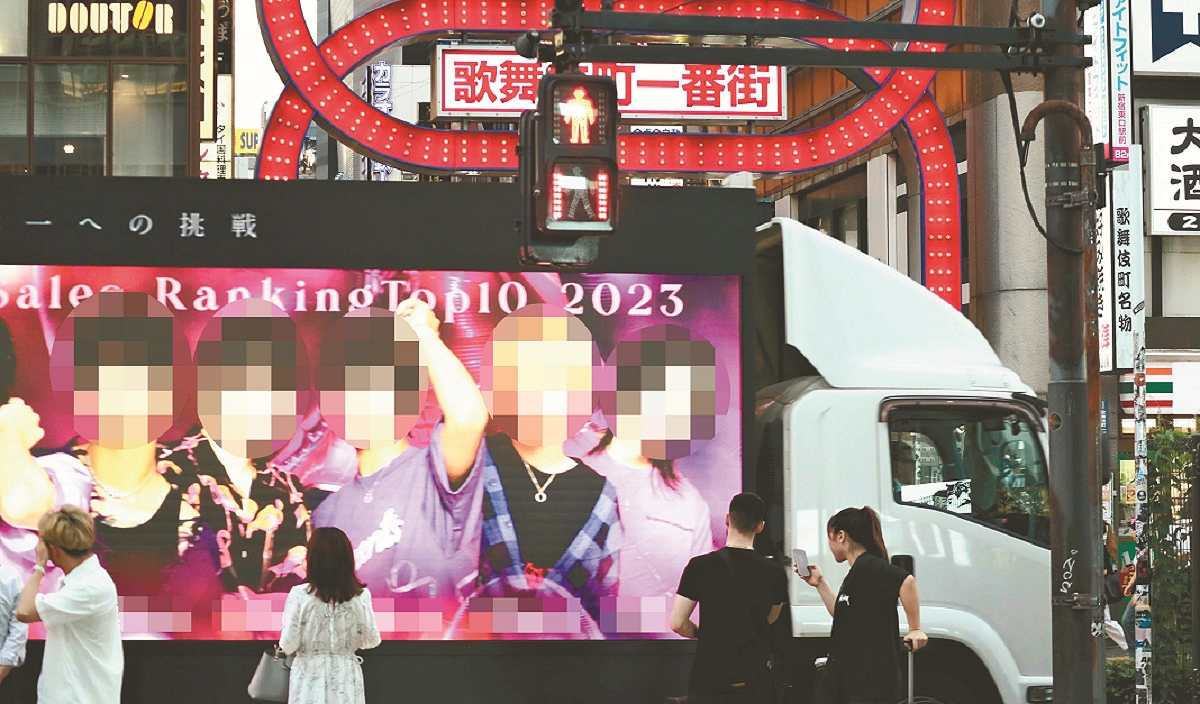 15:26 JST, August 7, 2023
A council advising the Tokyo metropolitan government on billboard trucks has started discussing tighter regulations for such vehicles. The metropolitan government aims to revise relevant ordinances by the end of this fiscal year.
While some advertising companies have voiced understanding of the move, others have expressed concern over possible adverse effects on their sales.
On an evening in early July, billboard trucks featuring faces of popular hosts at host clubs could be seen here and there driving through the streets of the Kabukicho entertainment district, in Tokyo's Shinjuku Ward. The ads' text encouraged men to apply for positions and women to visit the clubs.
In just one hour, from 6 p.m. to 7 p.m., a total of 39 ad trucks were confirmed in the area. More than 90% of these were carrying ads for host clubs, and all of them had license plates registered outside Tokyo, such as in Yokohama or Nagoya.
"It's so bright," said one pedestrian, who raised a hand to block the truck lights.
"They should be a little more considerate," said a 21-year-old woman in the service industry.
'We'll stop running ad trucks'
In 2011, the Tokyo metropolitan government revised an ordinance on outdoor advertisements. A system was introduced where an industry organization screens designs, and excessively flashy designs were prohibited. But as these regulations only applied to vehicles with Tokyo license plates, ad trucks from outside the capital became a more common sight. This spring, the Tokyo government announced its plan to make all plate numbers subject to the screening system. At the end of June, the metropolitan government asked its council on advertising materials to consider further regulations on ad trucks.
Takayuki Makita, chief operating officer of groupdandy, which runs 40 host clubs in the Kabukicho area, says the metropolitan government's plan is "unavoidable."
The group's five ad trucks are all registered outside of Tokyo. The COO said the group decided to use out-of-prefecture plates because it is difficult to secure parking spaces in Tokyo, coupled with the fact that they would not have to undergo screenings by the metropolitan government.
About ¥2 million in expenses is incurred each month per ad truck, such as to pay drivers.
"It's great that [ad trucks] make us widely known across Kabukicho," said a 26-year-old host, whose face was previously featured on such vehicles.
Makita says the ad trucks are aimed at motivating male hosts rather than raising clubs' sales.
"I assume we'll stop running ad trucks because I don't think they will pass the metropolitan government's screenings once restrictions are tightened," he said.
Calls for smoother screening
Minoru Tsukamoto, president of LUX, an ad firm in Shibuya Ward, Tokyo, gave high marks to Tokyo's plan to strengthen regulations, saying it would help make the industry sound and improve its image. But he is also concerned that advertisers may shy away from using ad trucks if the screening process ends up taking even longer than at present.
Currently, the Tokyo Outdoor Advertising Association, which comprises ad firms and other parties, is in charge of screening ad trucks. Based on such criteria as "not being contrary to public order and morals" and "restraint in light brightness and no flashing lights," the association spends about a week screening individual ads.
It had screened a total of 620 ads by the end of March this year. But given that many ad trucks operating in Tokyo are registered outside of the capital, the number of screenings is expected to rise drastically in the future.
LUX, which handles ads for CD sales and other products, owns ad trucks with license plates registered both in and outside of Tokyo. The firm has gone though the screening process multiple times. Based on its experiences, the firm says the association's screening criteria are ambiguous, which necessitates further exchanges with the association.
As ads are usually supposed to be placed on specific dates, Tsukamoto called on the association to work toward a more streamlined screening process. "With restrictions about to tighten, we want the association to make a smoother screening process, such as by presenting examples of inappropriate designs in advance," he said.
An official at the association said it will have to consider what to do if the number of screenings increases.
Unified rules
Besides tightening rules within the capital, the Tokyo metropolitan government is also aiming to draw up unified regulations on ad trucks with neighboring local governments, including those for Saitama, Chiba and Kanagawa prefectures.
Tokyo Gov. Yuriko Koike called for cooperation in a meeting in April that was attended by the governors of three neighboring prefectures as well as heads of ordinance-designated cities in the Tokyo metropolitan area. She had concluded that the trucks are a collective problem for cities with entertainment districts as they cross prefectural borders, and that this requires a collective solution.
But the situation differs between local governments. Some local governments do not have a screening system run by an industry organization like the one Tokyo has.
"We share the view that some measures have to be taken to address the problem. But as for specific measures, that's something we'll be considering going forward," said an official from the Saitama prefectural government.
Add TheJapanNews to your Google News feed.