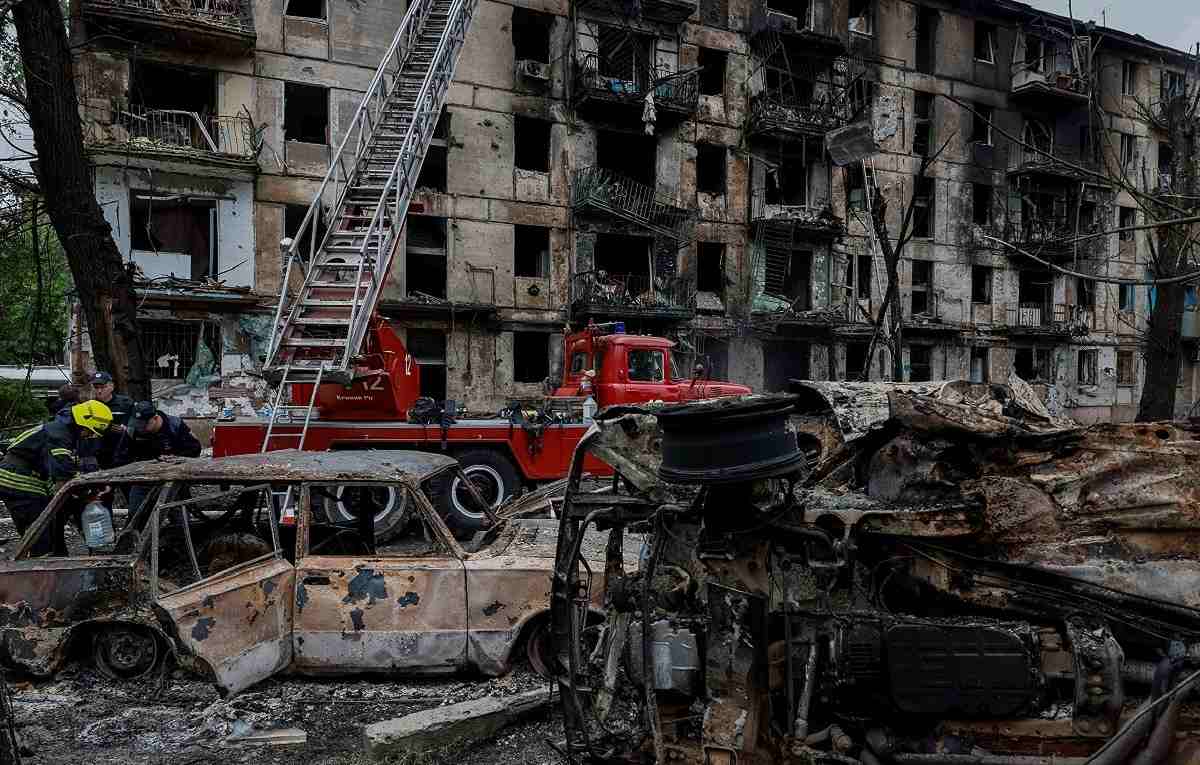 1:00 JST, August 7, 2023
High-precision components produced in the United States, Europe and Japan have been discovered in missiles and other weapons that Russian forces have used in their invasion of Ukraine.
In their economic sanctions against Russia, Western countries have banned and restricted components that can be used for military purposes. However, experts say such products are being shipped to Russia after going through companies in third countries, such as China.
The global supply network is being used as a loophole to evade economic sanctions.
Foreign-made microchips
On June 13, a Russian missile attack hit Kryvyi Rih in southern Ukraine, the hometown of Ukrainian President Volodymyr Zelenskyy. The president said that same day that the missile used in the assault contained about 50 components produced in other countries.
According to a report compiled by experts at Kyiv School of Economics, Stanford University and other institutions, their analysis of Russian weaponry captured on the battlefield showed that 58 pieces of equipment, including missiles and drones, contained 1,057 individual foreign components, including microchips.
Most were high-precision components, including 336 microchips and 146 (micro-)processors, the brain of a computer. They are believed to be used for guiding missiles and drones as well as for night vision devices and military telecommunications.
A total of 155 companies from 19 countries and regions were involved in the production of the 1,057 components. By the location of their headquarters, 705, or about two-thirds of the total, are in the United States, followed by 75 in Japan, 72 in Germany and 52 in Switzerland. Products from 19 Japanese companies, including semiconductor and telecommunications products, were discovered.
Russia microchip imports recover
Sanctions by the European Union and Group of Seven leading countries restrict exports to Russia of high-tech products that could be used for military applications. Following the sanctions, Russia's imports of microchips drastically declined in terms of value. However, the figures subsequently started rising again and recovered to pre-invasion levels by the end of 2022.
Imports are believed to have increased again as a result of such products being channeled through third countries and regions that are not subject to the West's economic sanctions. The report named China, Hong Kong and Turkey as locations used for detours.
China, in particular, has increased its share of semiconductor exports to Russia. The report said China plays a key role as an intermediary for Russia's military procurement as well as an alternative supplier.
Former Soviet states, such as Kazakhstan, Georgia and Uzbekistan, have emerged as bases for transshipping such products.
According to a research institute in Liechtenstein, the export of microchips from Kazakhstan to Russia rose from $245,000, or about ¥35 million, in 2021 to $18 million dollars, or about ¥2.5 billion yen, in 2022, a level more than 73 times higher.
Kazakhstan and some other countries are importing an increasing number of machines and devices that can be diverted to military use from the United States and European countries.
The institute said such countries are acting as intermediaries to channel goods subject to Western sanctions to Russia.
Add TheJapanNews to your Google News feed.