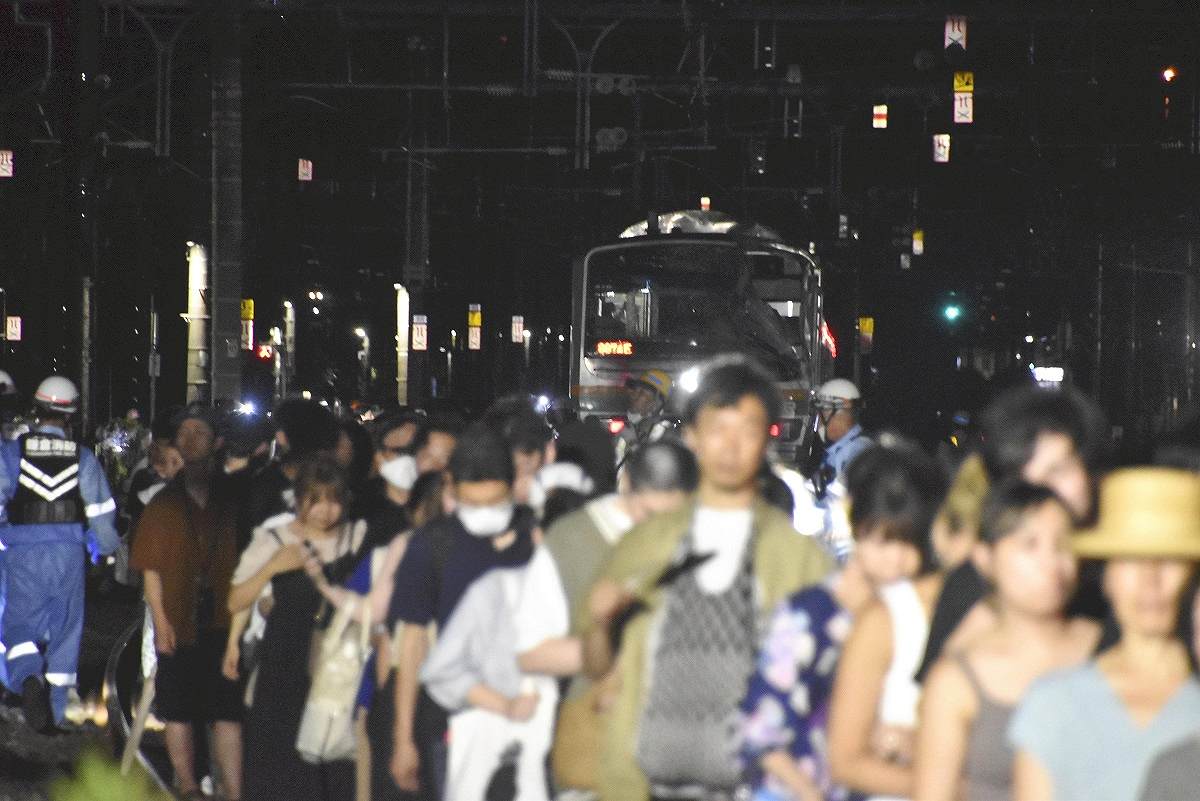 15:46 JST, August 6, 2023
Service on the Tokaido Line was suspended Saturday evening after a train collided with a sagging overhead wire near Ofuna Station in Kamakura, Kanagawa Prefecture.
According to the Kanagawa prefectural police, the accident occurred around 9:25 p.m. The 15-car train on a special service from Odawara to Yokohama collided with the sagging overhead wire, causing operations on the Tokaido Line to be suspended for the rest of the day. The cause of the accident was unknown.
East Japan Railway Co. announced that the section between Tokyo and Atami resumed operation at 8 a.m. on Sunday.
The train had more than 1,000 people on board at the time of the accident, according to JR East. Passengers were able to descend onto the tracks at about 10:20 p.m. and walk about 700 meters to Ofuna Station.
A male driver, 62, was injured in his eye as a result of breakage in the front windshield, and a male passenger, 59, in the lead car sustained a minor head injury, the police and fire department said.
Passengers were trapped inside the train for about an hour. At least eight people reported feeling ill and were transported by ambulance.
A woman in her 40s from Kamakura recalled hearing a crashing sound and initially thought the train had derailed. "The power went out, and babies were crying. It was chaotic," she said.
A female college student in her 20s from Yokohama, who was on her way back from a fireworks festival, said in an exhausted tone: "I saw sparks outside the window, and then the air-conditioning inside the car stopped working. I was worried."
Add TheJapanNews to your Google News feed.