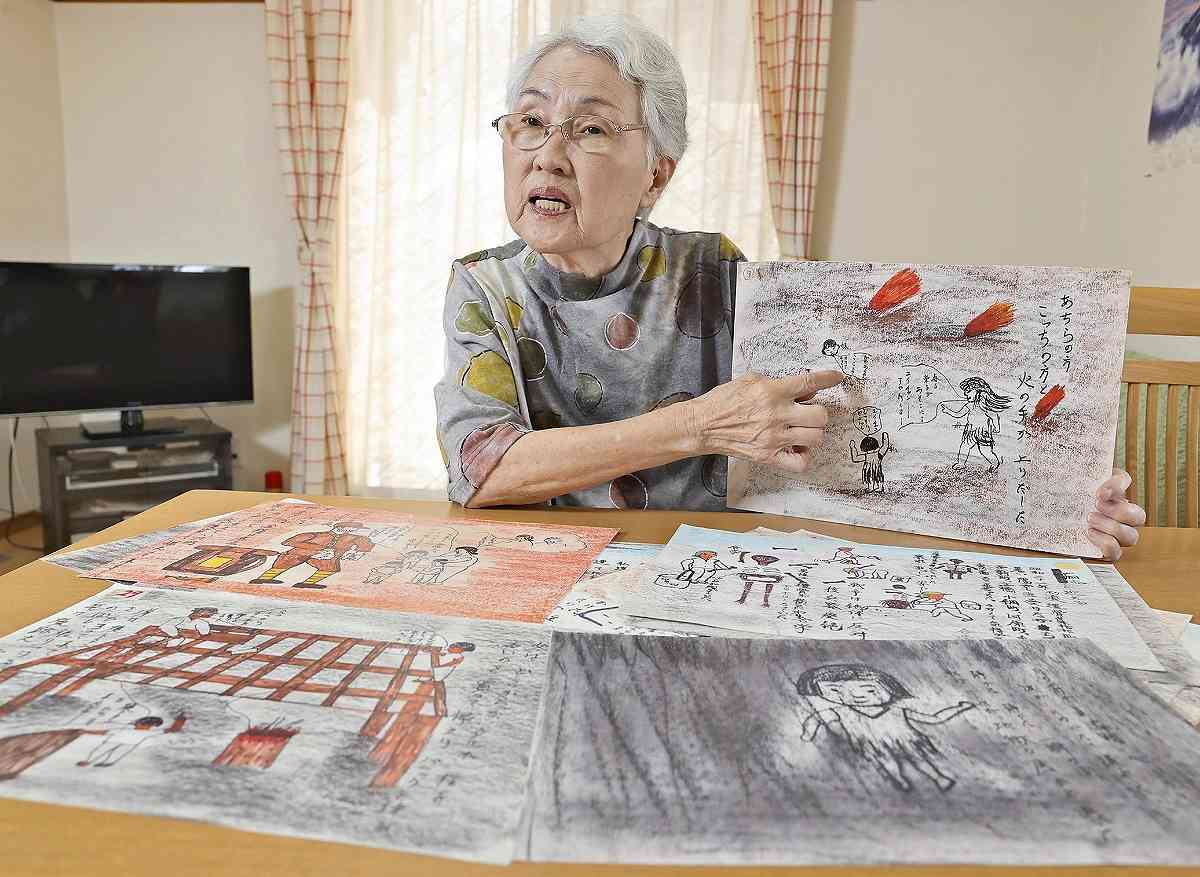 16:13 JST, August 5, 2023
HIROSHIMA — An 82-year-old survivor of the atomic bombing of Hiroshima plans to spread a message of peace by sharing stories about the tragedy with younger generations, following in the footsteps of her late sister.
Sunday marks the 78th anniversary of the atomic bombing of Hiroshima. Eiko Mito of Higashi Ward, Hiroshima, was 4 when the bomb was dropped on the city on Aug. 6, 1945.
Mito has few memories of the bombing and has never spoken publicly about her experience before, but she has decided to pass down stories with picture cards her sister used to teach others about the devastation.
"I hope we can move one step closer to a world without nuclear weapons. That was my sister's wish," she said.
Mito's home was 1.2 kilometers from the bomb's hypocenter, and she, her mother and elder sister Haruko were exposed to the blast. Images of the scorched city and sleeping under a bridge the day after the bombing are the only things Mito remembers from that period.
All three survived, but Mito said her right elbow was bleeding heavily, and her sister, who was 9 years older than her, suffered burns to her face and shoulder, as well as fever and vomiting.
Mito has lived with a fear that she could develop a disease linked to exposure to the atomic bombing. When she married at the age of 25 and was pregnant with her first son, she was worried about whether the baby would be born safely.
Her sister, who had been in and out of hospital due to poor health, died of liver cancer in November 2003 at the age of 71. Haruko used hand-drawn picture cards to share her experiences of the bombing until a few years before her death.
Mito said she had always felt unqualified to talk about the bombing because she doesn't have many memories of the tragedy.
Mito's husband suffered a cerebral hemorrhage in April 2011, and she devoted her days to caring for him until he died in January of this year.
Sumiko Yamada, an 80-year-old atomic bomb survivor and nursing care services case manager who had helped her husband, asked her to get involved in activities to share stories about the bombing.
Yamada is a member of an atomic bomb survivors' organization and has served as a storyteller for many years.
"With the growing threat of nuclear weapons, there are fewer and fewer people who can talk about [the bombing]. I want you to do it with me," Yamada said, which helped to sway Mito, who had initially been reluctant to get on board.
Mito's niece gave her a set of 18 picture story cards created by her sister. In autumn, she plans to use them to give oral presentations to students on field trips in Hiroshima.
"In the event of a nuclear war, there will be no winners," she plans to tell students.
The average age of atomic bomb survivors is currently over 85. Mito said that seeing survivors in her sister's generation pass away one by one triggered alarm bells.
"I want to convey a message of peace in my own words," she said. "I want to conduct activities for as long as I am physically able to do so, for my sister's sake."
Add TheJapanNews to your Google News feed.