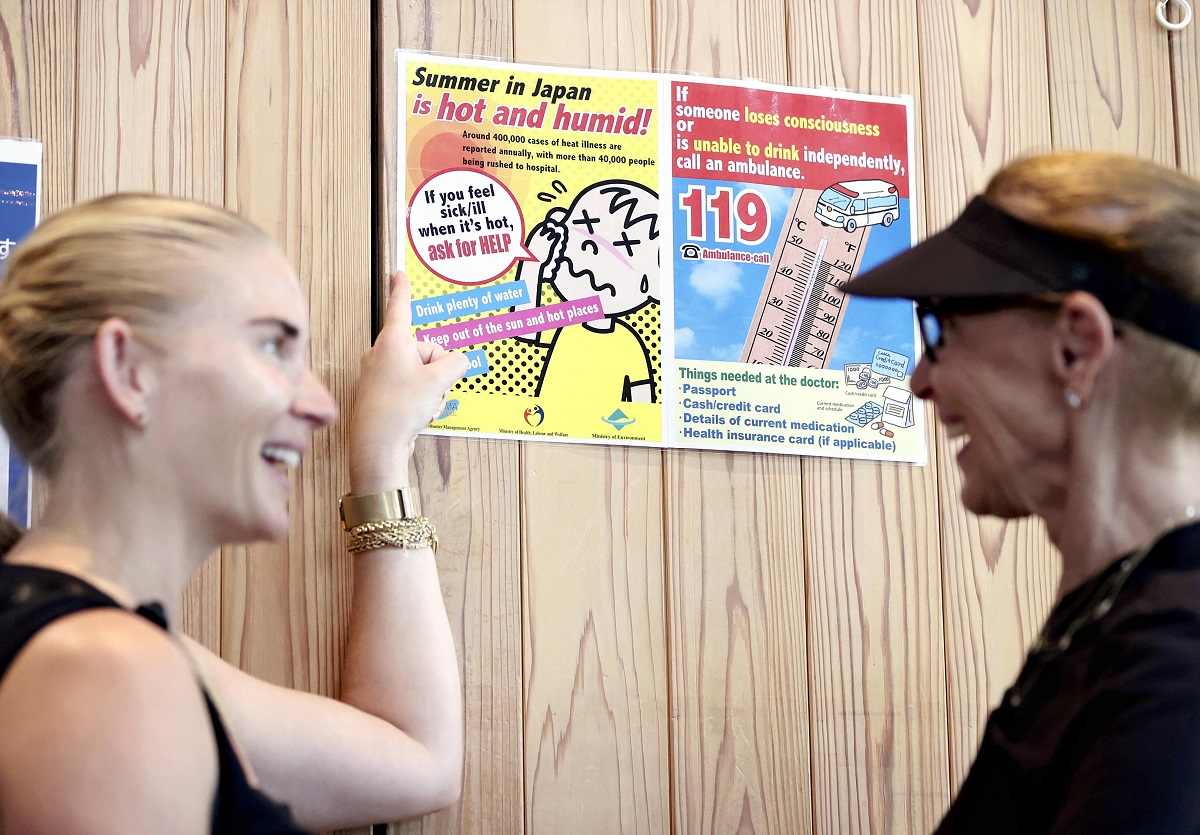 1:00 JST, August 3, 2023
With international visitor numbers increasing again as COVID-19 border control measures have been eased, moves are being made to help those unfamiliar with the Japanese language and Japan's summer heat to cope with the sultry season.
On July 25, a German couple in their 50s on their first trip to Japan were shocked by the heat during their visit to the Asakusa district of Tokyo. Not only was it hotter and more humid than where they live in Berlin, but the brutal weather made them susceptible to heatstroke.
The temperature that day hit 36.6 C in central Tokyo. Combined with an average humidity of 65%, the Wet Bulb Globe Temperature (WBGT) — a heat index that indicates the risk of heatstroke — reached 31 or higher, meaning it was at the highest alert level of "Danger (exercise prohibited)."
The Japan Weather Association conducted a survey in April 2020 on international visitors who were in Japan anytime during the summer from 2017 through 2019. Of the 200 people surveyed, 57% said they had experienced symptoms of heatstroke. Of these 114 people, 27.5% felt dizziness or hot flashes in the face and 26.5% felt lethargy and nausea, with multiple responses allowed. By location, 36.8% felt ill when walking outdoors and 18.4% felt so when inside crowded trains or buses.
Hard to call for aid
According to the Tokyo Fire Department, international visitors accounted for only 1 to 3 out of every 1,000 heatstroke patients transported to a hospital in the capital from 2013 through 2019.
"We expect many foreign visitors will become ill this summer," a JWA spokesperson said. "We must cope with many who cannot call for aid."
The estimated number of visitors from overseas in June was 2.07 million, about 70% of the level during the same month in 2019, according to the Japan National Tourism Organization (JNTO).
This summer is expected to be affected by heat that comes once in a decade. The series of days with temperatures 35 C or higher started even before the end of rainy season, mainly in the Kanto region that includes Tokyo. The capital recorded 13 such days in July, blowing away the previous record of seven days in the month in 2001.
In July, JNTO called on about 1,500 authorized tourist information centers nationwide to provide English leaflets warning that "Summer in Japan is hot and humid!" The leaflets also tell people what to do to make an emergency call when feeling unwell.
The Environment Ministry has also requested hotels and souvenir shops to inquire if international visitors need health-related assistance.
Importance of hydration
Tour guides are taking into consideration the physical condition of sightseers under their watch.
The Tokyo metropolitan government's volunteer guide service offers reservation-only guided tours. Staff are also dispatched to 10 locations across Tokyo to provide sightseeing guidance. This dispatch is cancelled on days with a WBGT of 31 or higher.
Tours that have already been booked go on if the participants wish. If carried out, guides bring with them items such as cold compresses and candy that contain salt for participants to use. They also alter the routes to those with more shade, take frequent breaks and have participants hydrate often.
"Some foreign visitors tend to force themselves to go on as they came all the way from abroad," said guide Hiroaki Otsuka. "Their physical condition might break down easily due to jet-lag or exhaustion from travel, so we pay close attention to their facial expressions and behavior."
Add TheJapanNews to your Google News feed.