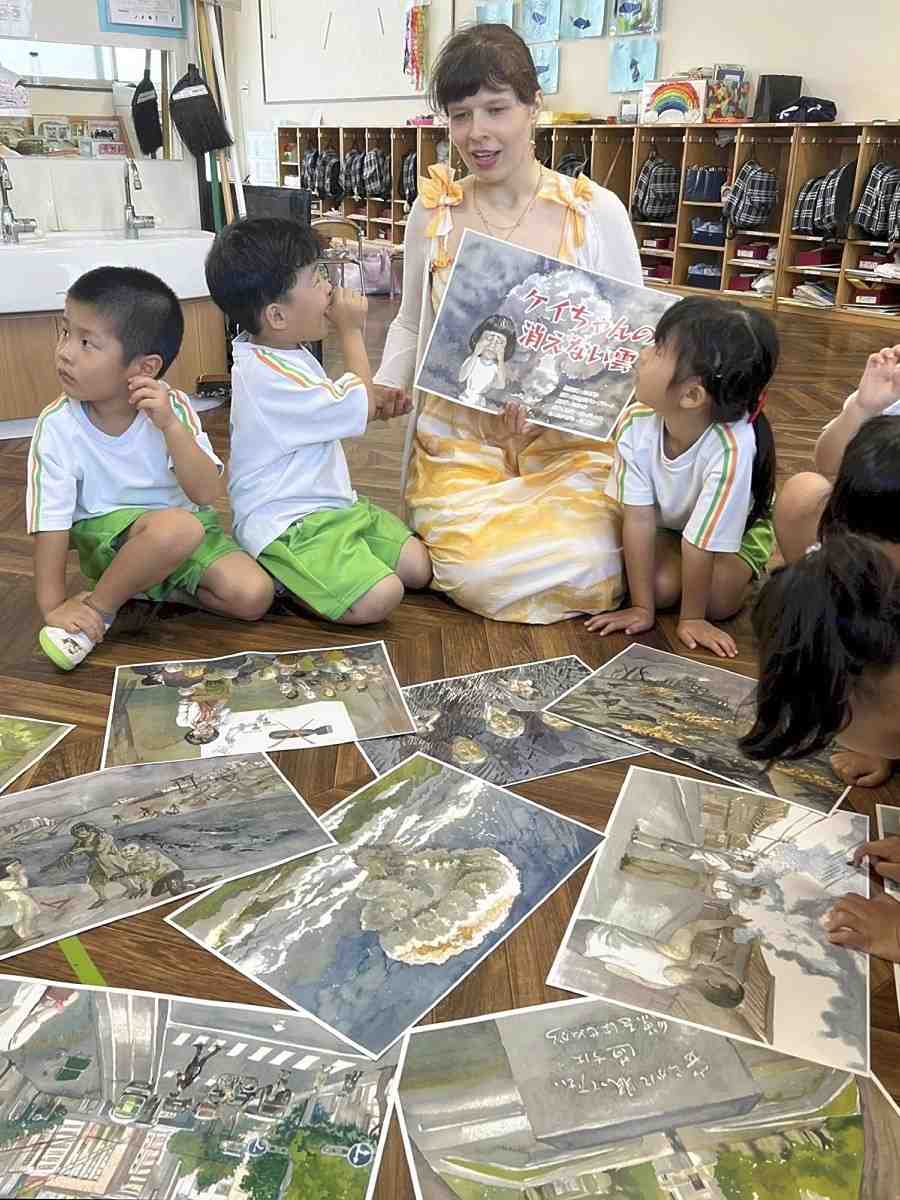 6:00 JST, August 3, 2023
A Ukrainian artist who fled Russia's invasion of her country has created a kamishibai picture-card show modeled on Keiko Ogura — an 85-year-old storyteller who shared her experience of surviving the Hiroshima atomic bombing with world leaders at the Group of Seven summit in May.
Julia Bondarenko, 31, has put her show online for free. The Japanese-language work has been translated into English, Russian and Ukrainian, with these versions planned to be released in stages.
"I want people to think about what they can do to make the world free of nuclear weapons," Bondarenko said.
Following Russia's invasion, Bondarenko fled from Chernihiv in northern Ukraine to Germany, where her sister lives. She had been studying Japanese before the war boke out, and this led her to come to Japan by herself in June last year. Since moving to Kyoto, she has been holding exhibitions across Japan.
When Bondarenko was concerned about Russia's possible use of nuclear weapons last October, she visited Hiroshima on an invitation from Daisaku Yoshimura, a 43-year-old executive of Next Age, a consulting firm in Osaka involved in nuclear abolition work. During the visit, she met with Ogura, who continues to share her experience of being exposed to the atomic blast at the age of 8 near her home, which was only 2.4 kilometers from ground zero.
"I thought she was a brave person who overcame a painful experience and has conveyed the message of nuclear abolition to the world," Bondarenko recalled.
This meeting prompted the Ukrainian artist to take up her brush to help spread the message.
The title of her kamishibai show is "Kei-chan no Kienai Kumo" (Kei-chan's stubborn clouds). Bondarenko created 12 watercolor paintings depicting the atomic bombing of Hiroshima, where 8-year-old Kei-chan lives, and Kei-chan's subsequent work to convey the horror of nuclear weapons to the world today. The paintings show a mushroom cloud rising into the sky and people who have had their skin burned off. Kei-chan is depicted as a storyteller in the show, in the way that Ogura acts as one today.
After seeing the picture-card show, Ogura expressed her gratitude, saying, "The beautiful colors convey the importance of peace."
The kamishibai also depicts a rebuilt Hiroshima. "The work makes me feel the horrors of nuclear weapons as well as hope at the same time," Ogura said. "I hope children, too, will think about what they can do for peace."
The Japanese-version of the show can be downloaded for free from the website of Glove Heart, a Nagoya-based company that runs nursery schools and supports the project. (https://www.kodomonomachi-group.jp [Japanese] )
In late July, the show was performed at a nursery school that the company runs in Kasugai, Aichi Prefecture.
"I thought it was wrong to use nuclear weapons because everyone would die," a 6-year-old girl said.
Yoshimura, who wrote the story, plans to translate the show into French and more languages of nuclear-armed states and is seeking donations. For inquiries, contact Next Age by emailing [info@na2030.jp].
Add TheJapanNews to your Google News feed.