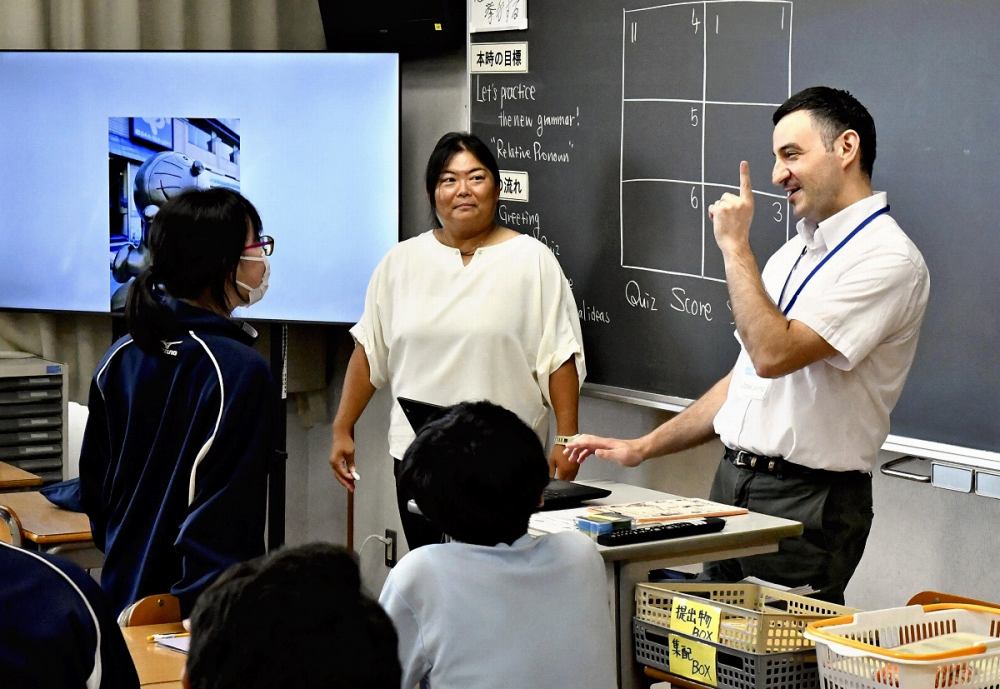 20:00 JST, August 1, 2023
The results of this year's National Assessment of Academic Ability highlighted the poor English skills of third-year junior high school students.
In particular, more than 60% of the students failed to answer even one question correctly in the speaking section of the test.
The English examination consists of speaking, listening, reading and writing sections. This year marked the first time in four years that third-year junior high school students were given the exam.
The Education, Culture, Sports, Science and Technology Ministry has been calling for classes that emphasize the development of communication skills, to allow students to cultivate practical communication abilities in English. Actually conducting such classes, however, is not easy.
Low scores nationwide
In mid-July, third-year students were divided into groups of several people to learn English grammar in a quiz format at municipal Haruhino Junior High School in Kawasaki.
Kawasaki achieved some of the best results among government ordinance-designated major cities on the national achievement test, as did Saitama, in terms of the average percentage of correct answers in English.
The July class at Haruhino Junior High School was held entirely in English. Even when a student gave a wrong answer, assistant language teacher Jose Simo, 41, said, "Nice try!" and encouraged the students to communicate with each other in English.
"It's easier to learn vocabulary and grammar through conversation," said 15-year-old student Tomoka Orihara.
Kawasaki has been promoting linguistic activities in which students use English to communicate their thoughts and feelings from the time they enter junior high school, in accordance with the curriculum guidelines that were introduced in the 2021 academic year.
The results of the latest test also showed that students who give speeches in English or are involved in other linguistic activities in class in their first and second years of junior high tended to have a higher percentage of correct answers. They were also less likely to not answer a question at all.
Nationally, however, the average percentage of correct answers in speaking was quite low, declining by 18.4 percentage points to 12.4% from 30.8% in the previous test. More than 60% of the students failed to answer any of the five questions correctly.
Questions beyond abilities
Globalization has heightened the importance of English speaking abilities, and there have been calls to introduce more advanced English education in Japan. Under the current curriculum guidelines, junior high and high schools are required to conduct their English lessons primarily in English.
The number of English words to be taught in three years of junior high school was also increased from about 1,200, up to a range of about 1,600 to 1,800.
The questions on the English achievement test were "designed to test students' ability to listen to a conversation based on a real situation and express their opinions," said Nobumitsu Ogane, director of the Curriculum Research Center at the National Institute for Education Policy Research, which developed the questions for the test.
However, it cannot be denied that the questions did not match the students' abilities. Among the five questions, the one that got the lowest percentage of correct answers — just 4.2% — asked students to express their opinions on an environmental issue.
Students were asked to think of answers in just one minute and express their opinions in English within 30 seconds after listening to a presentation by an English-speaking student from overseas who said stores in Japan should stop selling plastic bags since the abundance of plastic bags in the sea was a serious problem. Relevant images also were shown in the test.
Fifty percent of the examinees failed to give answers that meet the criteria for a correct answer. Among the invalid answers were statements like "I'm surprised."
Twenty percent of the students did not give any answer at all.
A survey found that 35.8% of the students understood what they heard but could not think of what to say.
'Superficial communication'
Local governments for areas that ranked low in the speaking category have been worried because the English skills sought by the ministry differ from what is taught at schools.
"The national government is raising the hurdles in English education, but many teachers are struggling with how to engage in linguistic activities. Many of them still teach English straight from textbooks in a one-way manner," an official of the Kochi prefectural board of education said.
An official of the Saga prefectural board of education said: "Some teachers feel burdened by teaching a class in English. We also need to teach students based on their actual academic skills."
Yukio Otsu, a professor emeritus of linguistics at Keio University and an expert on English education, said the low percentage of correct answers in the speaking may be due to a combination of factors, including poor design of the test questions and a failure to develop speaking skills at schools.
"Emphasis may have been placed on casual, superficial communication in which only simple English words and phrases are exchanged. Students may not have mastered some basics such as grammar and vocabulary," Otsu said. "The government needs to analyze the test results by comparing them with the reality in classes and enhance the training of teachers, among other things."
Add TheJapanNews to your Google News feed.