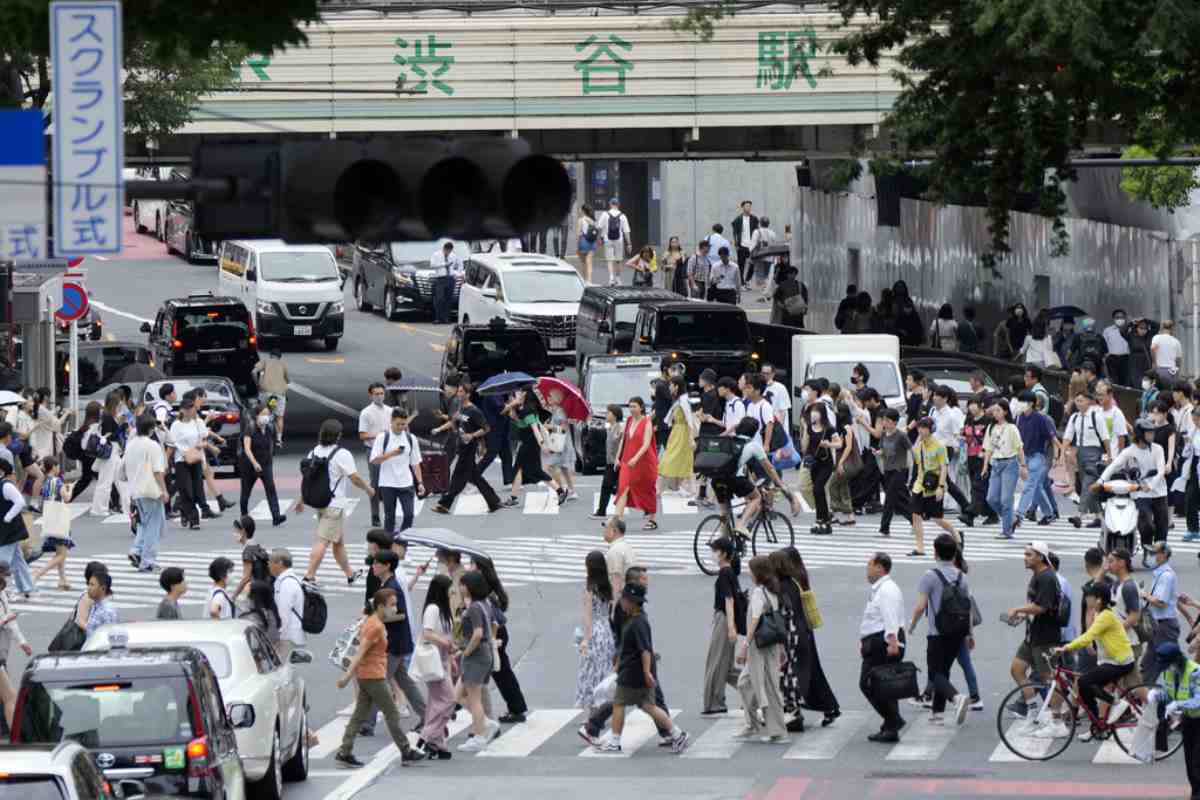 11:02 JST, July 26, 2023
Tokyo, July 26 (Jiji Press)—An internal affairs ministry survey showed Wednesday that the number of Japanese residents as of Jan. 1 dropped from a year before in all of Japan's 47 prefectures for the first time since Okinawa Prefecture joined the survey following its reversion to the country from U.S. occupation in 1972.
At the beginning of 2023, Japanese population totaled 122,423,038 across the country, down by 800,523, or 0.65 pct, falling for the 14th straight year. The decrease of 800,523 was steepest on record, according to the survey, based on the nation's basic resident register.
Japanese population in the Tokyo metropolitan area, comprising the Japanese capital and neighboring Saitama, Chiba and Kanagawa prefectures, dropped for two years in a row.
Meanwhile, the number of foreign residents in Japan rose by 289,498, or 10.70 pct, to 2,993,839, the highest since the ministry started collecting such data in 2013, apparently because the substantial easing of entry restrictions related to the COVID-19 pandemic prompted many foreigners to move to Japan. Foreign residents increased in all 47 prefectures.
The combined number of Japanese and foreign residents in Japan declined 0.41 pct to 125,416,877.
The number of Japanese babies born in the country in 2022 hit a record low of 771,801.
The natural population decrease, or the excess of deaths over births, expanded to 793,324.
By prefecture, Akita suffered the biggest decline in Japanese population, at 1.71 pct, followed by Aomori and Iwate, with a drop of 1.498 pct and 1.497 pct, respectively. The three prefectures are in the Tohoku northeastern region.
Okinawa, southernmost Japan, which had been posting growth in Japanese population, logged a fall of 0.23 pct this year.
No prefectures logged a natural population increase.
Meanwhile, nine prefectures enjoyed net social population growth, or a state in which the number of people moving into a prefecture is larger than that of those moving out. Of them, Tokyo marked the biggest net increase of 31,083.
The combined number of Japanese and foreign residents in the Tokyo, Osaka and Nagoya metropolitan areas stood at 66,083,144, registering a drop for the third consecutive year but still making up 52.69 pct of the country's overall population.
Add TheJapanNews to your Google News feed.