Public Workers Allowed to Harvest Cherries as Side Job in Yamagata Pref.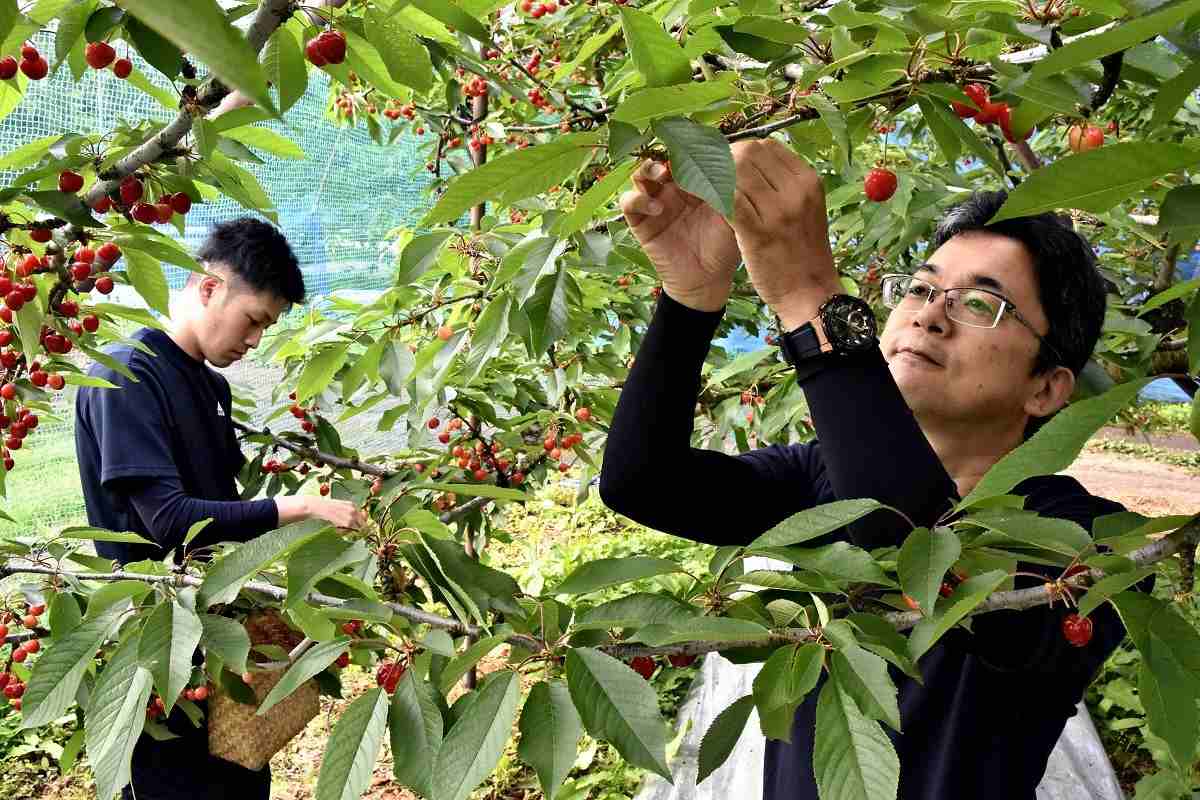 6:06 JST, July 25, 2023
YAMAGATA — Local governments in Yamagata Prefecture, Japan's largest producer of cherries, are increasingly permitting civil servants to have side jobs harvesting cherries in a bid to deal with labor shortages amid a decline of farmers and an aging population. Currently, the prefecture and six cities have incorporated this side job system for public employees.
The move is also expected to help deepen employees' understanding of agriculture, which is a key industry in the region.
In April, Higashine was one such city that began permitting civil servants to have side jobs to ease labor shortages for cherry farming. The city is the largest producer of cherries in the prefecture.
"Harvesting cherries needs to be done intensively, within about a month and a half. Some cherries are left unharvested due to labor shortages," according to the city's agriculture and forestry department.
One Saturday in June, Tadashi Fukase, 48, and Sota Kohei, 20, busily picked bright red Sato Nishiki cherries in Higashine. The two were employees from the city's living environment department and worked from 5 a.m. for two hours at ¥1,200 an hour after receiving permission from the city.
They worked in an about 0.8-hectare field owned by Atsuyoshi Yoshida, 51, that had roughly 100 cherry trees.
During the harvest season, Yoshida is forced to compete with neighboring farmers for labor. "We put out help-wanted ads, but can't get enough workers. Even one more picker would be very helpful for me," said Yoshida.
"Labor shortages have been an issue for a long time, but I didn't know how I could help," said Fukase. "I felt a sense of satisfaction doing this job since I get paid," he added.
"Cherries are a local specialty, so it feels like I am contributing to the local community," said Kohei. "I want to continue working through this system."
Local governments in the prefecture are increasingly encouraging their employees to help cherry farmers as a side job. Last year, the prefectural government and the Sagae municipal government implemented the system.
In Sagae, 23 employees, or about 6% of the workers eligible for side jobs, took advantage of it last year.
Five cities, including Higashine, began implementing their own systems this year.
Of them, Nanyo allows having side jobs related to any fruit in addition to cherries. Kaminoyama allows having non-agricultural side jobs if it serves the public interest.
The prefecture and all the cities set time limits for side jobs so that normal work hours for employees are unaffected.
In the past, some public employees took time off to help their family with farming during busy periods such as rice planting and harvesting seasons. However, the new system focuses on public employees working outside their families in order to relieve labor shortages in their communities.
A volunteer group of local government staff conducted a multiple choice survey among 156 civil servants in the prefecture in 2020. When asked about the benefits of side jobs, 71 respondents — the largest amount — chose "expanding personal connections." The second most popular answer chosen by 67 respondents was "contributing to the local community." These results indicate that public employees feel positive about doing side jobs.
"Encouraging employees to do side jobs is beneficial for local governments in demonstrating their attitude in solving local community issues," said Hiroaki Inatsugu, a professor specializing in local government at Waseda University. "Similar moves are spreading in the private sector. Local governments need to regard doing side jobs as the trend of the times and handle it flexibly."
Regional revitalization
The law on local civil service in principle bans public employees from running a company or earning income without permission. However, it permits activities that can contribute to community revitalization, such as helping with traditional community-based ceremonies, festivals and events.
Among local governments nationwide, the city of Kobe pioneered lifting the ban on side jobs in 2017. The city set requirements for having side jobs and allowed activities such as sign language interpretation and coaching for extracurricular club activities at junior high schools.
Many local governments followed suit and allowed farming side jobs: Arida, Wakayama Prefecture, for mikan oranges in 2020; Hirosaki, Aomori Prefecture, for apples in 2021; and Fukushima for peaches and pears in 2022.
According to the Agriculture, Forestry and Fisheries Ministry, the number of people engaged in farming for their primary work nationwide declined from 2.05 million in 2010 to 1.36 million by 2020, aggravating labor shortages.
As well, an Internal Affairs and Communications Ministry survey showed that 41,669 permits were issued in fiscal 2018 for local government employees nationwide to do side jobs. However, only about 40% of local governments have established criteria for issuing such permits.
In 2020, the ministry told local governments nationwide to establish and announce specific permission criteria to ensure fairness and transparency, and to make it easier for employees to apply for having side jobs.
Add TheJapanNews to your Google News feed.