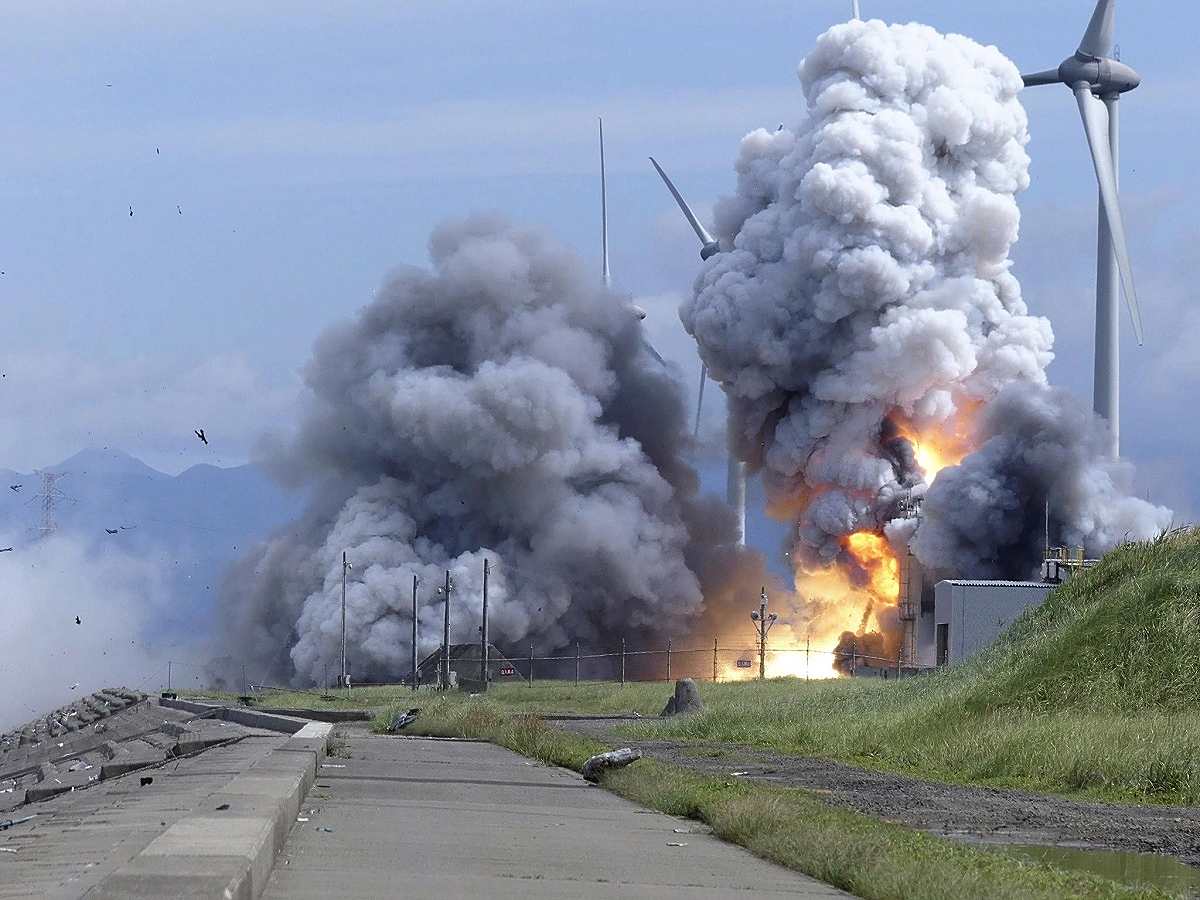 16:53 JST, July 14, 2023
NOSHIRO, Akita — An explosion occurred Friday morning during a ground combustion experiment involving the second-stage engine of Japan's new Epsilon S solid fuel rocket.
Staff were evacuated from the Japan Aerospace Exploration Agency's Noshiro Rocket Testing Center in Noshiro, Akita Prefecture following the incident, which occurred at around 9 a.m. No injuries were reported.
JAXA plans to investigate the cause of the accident, which could affect the launch of the first Epsilon S rocket scheduled for fiscal 2024.
According to the local fire department, 11 fire trucks were dispatched to extinguish the fire, which was finally quenched at 11:01 a.m.

The 27-meter-long, three-stage Epsilon S was developed by JAXA and IHI Aerospace Co. to succeed the Epsilon domestic flagship rocket. In October, the launch of an Epsilon-6 rocket went awry, resulting in JAXA commanding the rocket to self-destruct.
According to JAXA, the second engine of the Epsilon S rocket was supposed to burn for about two minutes while measurements were taken of such elements as pressure and temperature.
JAXA said an anomaly occurred 57 seconds after ignition, and the explosion apparently occurred shortly thereafter. To facilitate increased propulsion, the second-stage engine of the Epsilon S rocket is larger than that of its predecessor.
"[The explosion] was totally unexpected," said a Noshiro resident who watched the experiment from about 600 meters away along with around 30 JAXA officials and members of the press. According to the resident, a popping sound was heard about a minute after the engine ignited, and the area around the rocket began to burn.
---
---
Add TheJapanNews to your Google News feed.