(UPDATE 1) Heatstroke Alerts Issued in Tokyo, 8 Other Prefectures in Japan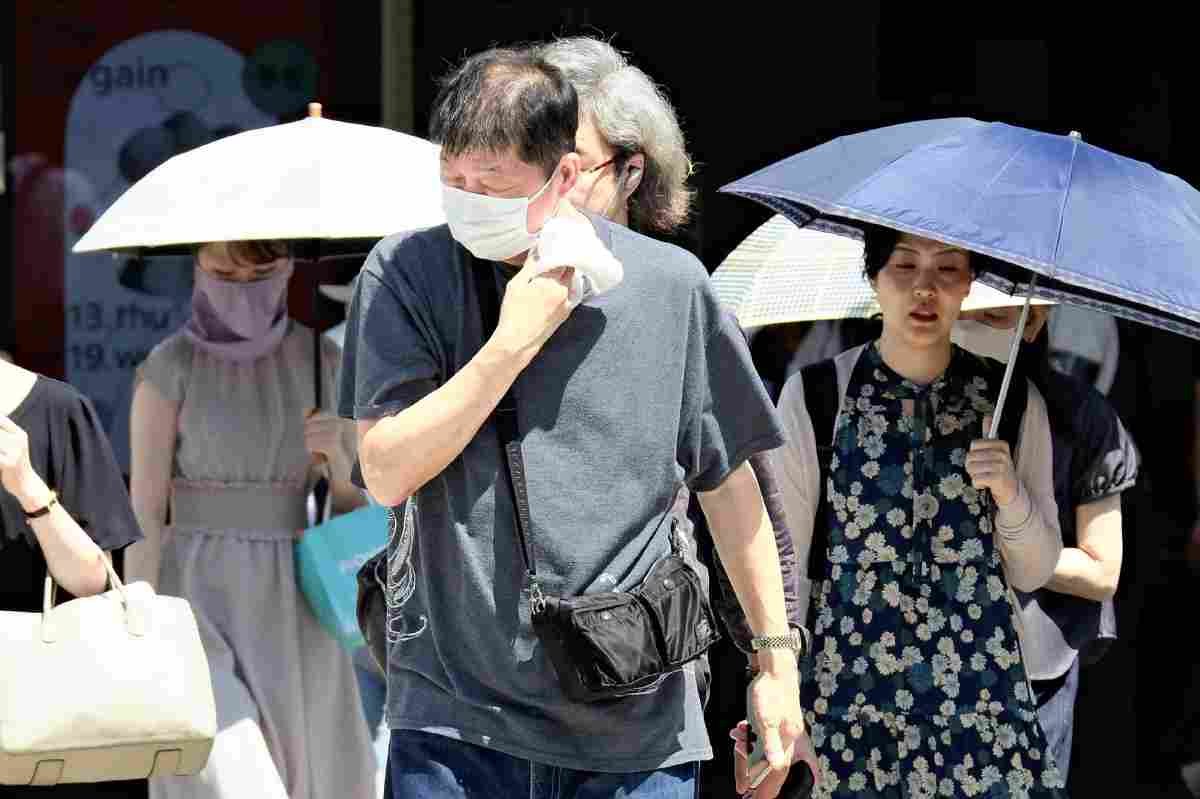 13:18 JST, July 10, 2023 (updated at 17:10 JST)
Heatstroke alerts were issued in Tokyo and eight prefectures across the nation Monday, as the mercury soared above 35 C in the capital for the first time this year.
Temperatures rose from the morning, bringing scorching weather to many parts of the country, particularly in the Kanto region, due to a high-pressure system over the Pacific Ocean.
In addition to Tokyo, heatstroke warnings were issued in Ibaraki, Saitama, Chiba, Aichi, Tokushima, Miyazaki, Kagoshima and Okinawa prefectures.
According to the Japan Meteorological Agency, central Tokyo experienced 35 C heat at 11:20 a.m. on the day.
Some locations registered blistering temps as early as 10 a.m., including Koshigaya, Saitama Prefecture (34.2 C); Nerima Ward, Tokyo, (33.7 C); Kasama, Ibaraki Prefecture (also 33.7 C); and Ebina, Kanagawa Prefecture (33.6 C).
The agency advised people to stay inside as much as possible and to refrain from exercising outdoors. It urged elderly people to take extra care, use air conditioners and hydrate frequently.
Peak temperatures in areas on the Pacific Ocean side of the country, including the Kanto region, are expected to reach around 35 C throughout the rest of the week.
Warm air flowing in from the south of the Japanese archipelago meant many parts of the nation logged thermometer readings of over 30 C on Monday morning.
The agency and the Environment Ministry issue heatstroke alerts when the wet bulb globe temperature (WBGT) is predicted to be 33 C or higher. The index is calculated each day based on such factors as temperature, humidity and solar radiation.
Many people are taken to hospital with possible heatstroke symptoms on days when alerts are issued. To prevent heatstroke, people should stay home, avoid outdoor exertion and hydrate often, even when not thirsty. Around-the-clock air conditioner usage also is recommended, with temperature adjustments as required. Using ice packs and cold towels to help cool down is another effective measure.
Senior citizens and people with chronic illnesses who are prone to suffering from heatstroke symptoms should take particular care.
Elderly people have lower levels of body water than younger people and are less likely to be aware of feeling parched. The agency advised senior citizens to drink water regularly at set times, even if they do not feel thirsty.
Add TheJapanNews to your Google News feed.