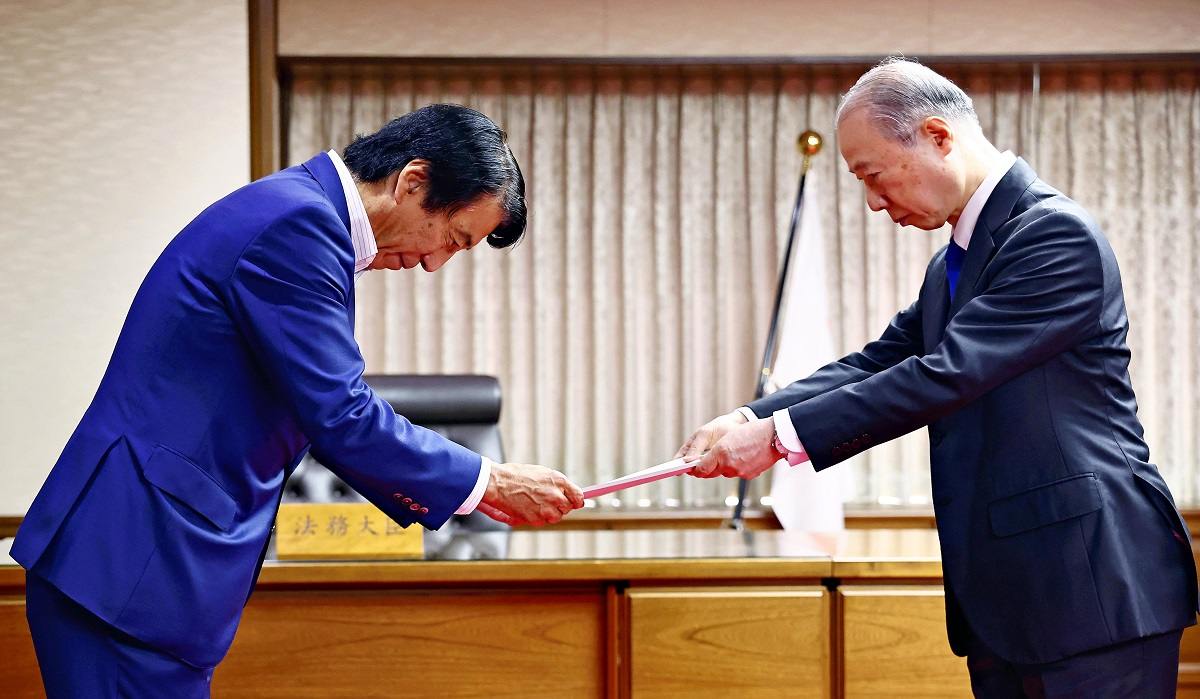 1:00 JST, June 24, 2023
Nagoya Prison correctional officers who repeatedly assaulted inmates lacked a sense of human rights, according to a report by a third-party expert panel.
The panel, chaired by Toshio Nagai, former chief judge of the Osaka High Court, submitted its report on the assaults to Justice Minister Ken Saito on Wednesday, outlining the causes and putting forward measures to address the issue.
The report flagged a lack of awareness of human rights among staff and said efforts must be made to prevent recurrence at facilities across the country.
400 misconduct incidents
The report summarized the problem as follows: "Young officers repeatedly engaged in what could be described as bullying and abusive behavior as an outlet for stress."
From November 2021 to last September, 22 correctional officers at the prison were responsible for more than 400 acts of misconduct, including slapping and threatening three male inmates in their 40s to 60s.
Papers have been sent to the Nagoya District Public Prosecutors Office on 13 officials in connection with the Penal Code's Assault and Cruelty by Specialized Public Employees. The prosecutors are currently investigating the cases.
The Justice Ministry had previously withheld information on the three inmates, other than their gender and age range, saying it feared they could be identified. However, the report mentions that one or more of them were suspected of having intellectual difficulties.
The report concluded that the three men had difficulty communicating and understanding instructions. The prison officers became upset that the inmates would not follow directives and rules, and assaulted them treated them inappropriately.
The report also noted that the officers often referred to inmates as "penal laborers" and "bastards" when chatting with each other.
The report criticized the use of such language as "condescending and disrespectful to inmates and wholly inappropriate.
Common practice nationwide
Nagoya Prison houses inmates with advanced criminal tendencies, and a number of prisoners have a history of gang affiliation.
Some 17.3% of officers at the facility had less than three years of service — and thus tended to be younger and less experienced — higher than the figure of about 10% at comparable institutions.
The 22 officers who mistreated the inmates were in their 20s and 30s. The report states the "harsh work environment" was the underlying cause of the incidents.
After the Nagoya Prison assaults came to light, a survey uncovered a total of 122 cases of mistreatment at 14 similar facilities across the nation.
"A lack of awareness of human rights and organizational cultures that overemphasize discipline and order are common in institutions across the country," the report stated.
The report also emphasized that "maintaining discipline and order is important, but overly focusing on keeping order can cause problems."
Dysfunctional system
In 2001-2002, death and injuries to inmates occurred as a result of assaults by correctional officers. This gave rise to calls for the improved treatment of prisoners.
A system was introduced to allow inmates to file complaints and for penal institution inspections — conducted by a committee comprising lawyers, doctors and other citizens — to monitor institutional operations. However, this system was deemed to be dysfunctional.
Two of the three prisoners involved in the Nagoya Prison incidents attempted to use the system to file complaints, but prison officials refused to acknowledge their requests.
Furthermore, the facility did not address inspection committee findings that noted "inmates were complaining."
The report outlines measures to prevent recurrence, focusing on reforming organizational culture and improving inmates' treatment.
To tackle organizational cultures that put undue emphasis on discipline and order, the report recommends that managers and others take training programs to help change their thinking. It also recommends that the practice of calling prisoners by their names without the use of honorifics be abolished to help facilitate the building of positive relationships between correctional officers and inmates.
Add TheJapanNews to your Google News feed.