Japan, U.S., Australia plan undersea cable to support Pacific island nations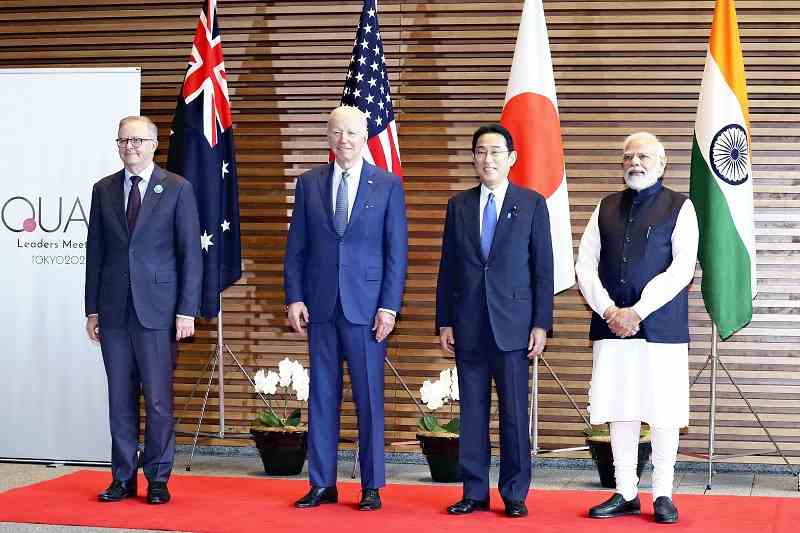 17:22 JST, June 18, 2023
Japan, the United States and Australia plan to jointly create an undersea cable to boost internet access in Pacific island nations with the aim of countering growing Chinese influence in the region.
The three countries will pour a total of around $95 million dollars (¥13 billion yen) into the project. Japan's NEC Corp. will play a leading role in the undertaking, which is expected to be completed by around 2025.
The approximately 2,250-kilometer subsea fiber-optic cable will connect Micronesia, Nauru and Kiribati.
Tokyo, Washington and Canberra will also help build associated ground-based facilities and extend technical assistance.
Japan's Foreign Ministry announced June 6 that NEC had won the contract to install the submarine cable. The Japanese government plans to use official development assistance to fund the project.
According to Japanese government sources, an existing undersea cable currently connects Guam — a U.S. territory with U.S. military bases — with Micronesia, which has close security ties with the United States.
The new project will extend the existing cable from Micronesia to Kiribati via Nauru.
Initially, the project was spearheaded by the World Bank. However, after a company that was formerly under the umbrella of China's Huawei Technologies Co. submitted a bid for the project, concerns were raised regarding potential information leaks and blockages of certain countries. Consequently, it was agreed that the project would be led by the three countries.
Nauru and Kiribati currently rely on satellites for the majority of their internet connections, according to Japan's Foreign Ministry. The planned undersea cable will give the more than 100,000 people on the three Pacific island countries access to high-speed, high-quality telecommunications.
Pacific island countries constitute a strategic stronghold that connects Asia with the Pacific and are a key factor in the free and open Indo-Pacific promoted by Japan, the United States, Australia and other countries.
In recent years, however, China has been attempting to boost its presence in the region by investment in local infrastructure, among other means. In April last year, Beijing signed a security agreement with the Solomon Islands, prompting fears that China could station forces in the region someday.
On May 20, the leaders of the QUAD countries — Japan, the United States, Australia and India — held a summit in Hiroshima. The leaders reaffirmed their intention to build a high-quality undersea cable in the Indo-Pacific region. In light of this, India is also expected to join forces with the three other countries in a similar project in the future.
Add TheJapanNews to your Google News feed.